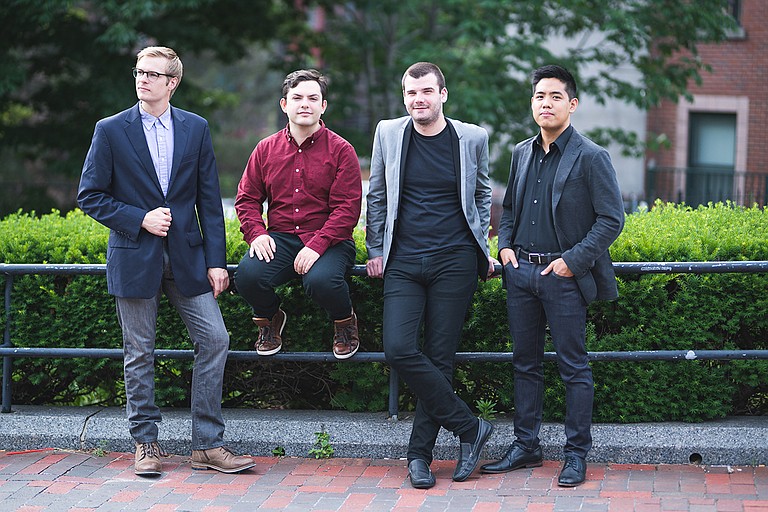 Wednesday, October 25, 2017
Chamber music, in the minds of many, belongs in a stuffy and insular world, where players just rehearse and rehash the same classical pieces within university recital halls. On Friday, Oct. 27, Hub New Music aims to change a few minds.
Hub is what executive director and flautist Michael Avitabile describes as a "multifaceted chamber-music organization that's devoted to playing 21st-century works." The mixed quartet, which also features cellist Jesse Christeson, violinist Zenas Hsu and clarinetist David Dziardziel, performs commissioned work from composers who are reimagining what is possible with classical instrumentation.
"Ninety percent of the time, what we play is by living composers, and we get to work with them on their pieces," Avitabile says. "So we get a direct line to them and their whole creative process, and we get to share that with the audience."
He says that "New Music," as a genre, is independent from classical music in many ways, though it shares similarities.
"It's a matter of instrumentation, and the kind of construct it involves artistically," he says. "It involves instruments that you typically associate with classical music, and then also, the construct of a composer (writing) a notated piece, and then we play it. But what's really exciting about 'New Music,' especially the music that Hub plays, is that we're seeing a lot of those traditions kind of get expanded and diversified a bit more than they ever have been."
Hub began as a student project at the New England Conservatory in 2013, and its mission reflects its genesis in the classroom. Hub is not only a performing group but also an educational entity, traveling to schools nationwide in order to share its vision for the contemporary arts. In addition to its performance at Mississippi College on the evening of Oct. 27, the quartet will lead a master class at 1 p.m., which will be free and open to the public.
"We'll be running a class for the students on what it's like to run an artist-led chamber music organization," Avitabile says, "going over how we plan our concerts, our programs, the music we play, how we fundraise, how we market ourselves, and all the efforts that go behind the scenes of running a chamber-music organization."
There is a Jackson connection for Hub, as well, as Christeson was the previous principal cellist for the Mississippi Symphony Orchestra. When he learned that Mississippi College's James S. Sclater Chamber Music Series had an opening, he hopped on the opportunity.
Avitabile says that the Jackson-metro audience can anticipate an adventurous and forward-thinking performance that breaks free from some of chamber music's established traditions.
"A lot of New Music—and you'll hear this in the program that we're bringing to Mississippi College—has infusions of popular music, of groove-based rhythms, so it's not quite as square as we'd associate with classical music," he says. "We're kind of seeing this blurring of genres with very new repertoire, which I think makes it especially exciting to be playing this type of music now. I think it has a larger reach."
Hub New Music performs at 7:30 p.m., Friday, Oct. 27, at Mississippi College (200 S. Capitol St., Clinton). The concert will be in the Aven Fine Arts Building. Tickets are $20 for general admission or $5 for students. Visit hubnewmusic.org.