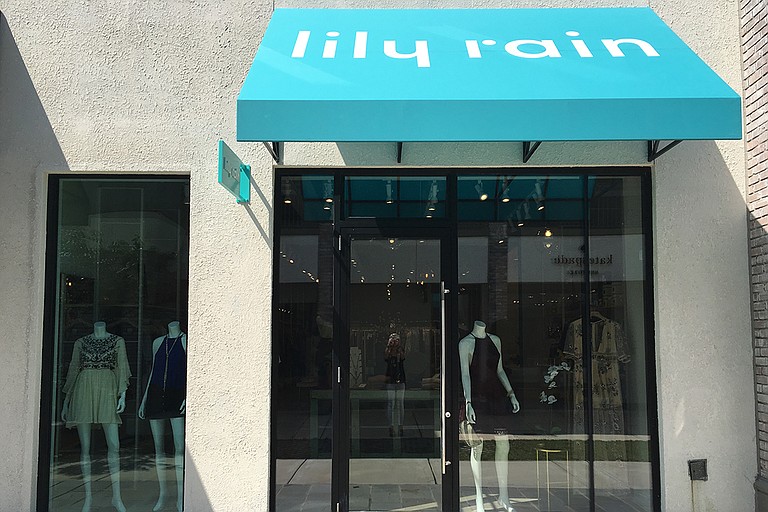 Tuesday, October 24, 2017
Lily Rain, a Houston-based clothing, accessories and home decor retailer, recently held a grand opening for its first Mississippi location in on Oct. 14. The 1,508-square-foot store is located along Highland Village's recently renovated north corridor between lululemon and J. McLaughlin.
"We're a generational store that caters to all ages," Manager Jane Henderson told the Jackson Free Press. "We offer women's apparel, handpicked gift items like candles, books and phone cases; home decor like picture frames and dish towels; and accessories like jewelry, handbags and belts."
Lily Rain (4500 Interstate 55 N., Suite 121) is open Monday through Saturday from 10 a.m. to 6 p.m. and Sunday from noon to 6 p.m. For more information, call 601-990-4333 or visit lilyrain.com.
MDA Ambassadors Program
Mississippi Development Authority's Ambassadors Program graduated its 2017 participants during a luncheon and awards ceremony at the Fairview Inn.
MDA began the Ambassadors Program, which chooses nine economic developers each year to form teams that work to support industrial development in their respective counties, in March 2016. The nine participants each form teams of up to six members, which include local elected officials and community leaders in their home counties. The teams then conduct a yearlong project to help their communities become more attractive to outside corporations, and also attend forums on workforce, economic and community development.
Clarke, Marion, Monroe, Pike, Prentiss, Stone, Tate, Washington and Winston counties all took part in this year's program.
For more information on the Ambassadors Program, contact Chance McDavid, director of MDA's Asset Development Division, at [email protected] or 601-213-8116.
Halloween and Fall Drinks at Cantina Laredo
Cantina Laredo, which opened in Jackson in July this year, is preparing to celebrate the Halloween and Dia de los Muertos season with the debut of a new drink dubbed "El Diablo." The drink consists of Hornitos Reposado Tequila, Creme de Cassis, agave nectar, mole and Angostura bitters, limejuice and Fever-Tree Ginger Beer. "El Diablo" will be available for $6 from Saturday, Oct. 28, through Thursday, Nov. 2, and will be $12 afterward.
The restaurant has also introduced two other new cocktails for the fall, both of which will be available for a limited time. "Flor de Jalisco" consists of Avion Silver Tequila with agave nectar, lemon juice, orange marmalade and orange zest, and costs $12. "Anejo Fashioned" consists of Patron Anejo Tequila with mole and Angostura bitters, orange peel and Luxardo cherries, and costs $13.50
Cantina Laredo is also offering 10 percent off catering and events at the restaurant before Nov. 30 and a $10 bonus gift card with the purchase of $50 in gift cards through the end of the year. The bonus card is valid Jan. 1 through Feb. 28, 2018.
The restaurant is open Monday through Thursday from 11 a.m. to 10 p.m., Friday through Saturday from 11 a.m. to 11 p.m., and Sundays from 11 a.m. to 9 p.m. For more information, call 601-982-7061 or visit cantinalaredo.com.
Pho Huong Opens in Ridgeland
Flowood resident Tiffany Hoang opened Vietnamese restaurant Pho Huong (6547 Old Canton Rd., Ridgeland) about three weeks ago. Her restaurant specializes in noodle dishes and soups—particularly pho, a traditional Vietnamese noodle soup that is made with broth, rice noodles and beef or chicken.
"The restaurant is named in honor of my mother, Huong Phan, who came to America from Vietnam 22 years ago and passed away last year," Hoang told the Jackson Free Press. "'Huong' means 'aroma' in Vietnamese, and I decided to open this restaurant as a way of sharing her home cooking with everyone."
Pho Huong's menu features seasonal soups such as seafood noodle and spicy beef noodles with beef bone broth, thin-sliced beef shank, lemongrass, shallots, peppers and shrimp paste; egg rolls and veggie spring rolls; tofu vegetarian dishes; a vermicelli bowl with stir-fried tofu and veggies; exotic drinks such as salted plum lemonade; and a dish called "Thai dessert," which is made with ice, coconut milk, durians and other exotic fruits.
Pho Huong is open Monday through Thursday from 11 a.m. to 9 p.m., Friday and Saturday from 11 a.m. to 10 p.m. and Sunday from 11 a.m. to 6 p.m. For more information, call 769-208-8086 or find the restaurant on Facebook.