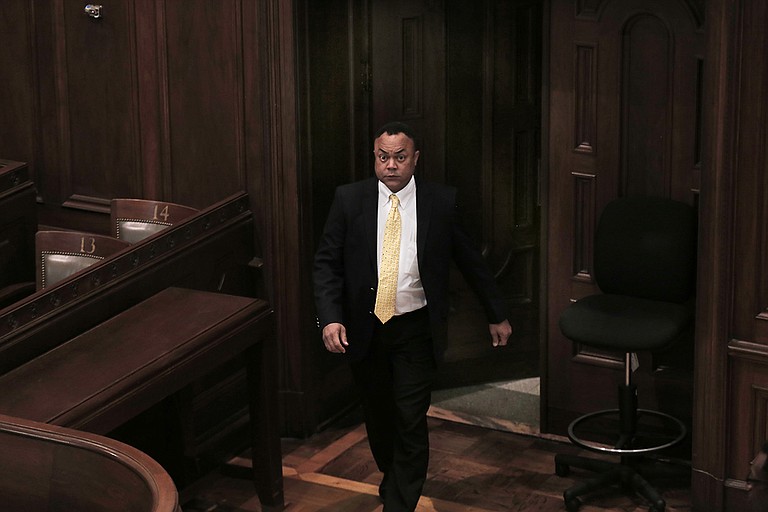 Thursday, October 19, 2017
JACKSON — The Mississippi Supreme Court denied Hinds County District Attorney Robert Shuler Smith's appeal on Wednesday, Oct. 18.. That means his trial in Rankin County for charges of aggravated stalking, robbery, and two counts of domestic violence, all involving an ex-girlfriend, will move forward as the judge considers whether to block damaging evidence involving prior alleged domestic violence and Smith's potential drug use from the jury.
Smith's appeal included a series of requests for the court to vacate charges against him because, he argued, the attorney general's office does not have the right to try the case against him without the Rankin County district attorney's explicit permission. That DA, however, said he does not object. Smith also requested the court to stay his trial, establish a schedule for briefing and arguments, and prioritize these matters by granting a motion for all of these things to happen expeditiously.
The Mississippi Supreme Court swiftly denied all of these requests in a page-and-a-half order that did not state the court's reasoning, clearing the case to move forward.
On Monday, Rankin County Circuit Court Judge John Emfinger pushed back the trial proceedings until Oct. 30 to give time for Smith's appeal to get a response, but also to give his counsel a chance to respond to evidence he referred to as "late discovery."
A deeper look into Smith's appeal to the Mississippi Supreme Court reveals that the attorney general's office and Smith's lawyers disagree about whether or not testimony alleging prior abuse and Smith's alleged drug use should be allowed in the upcoming trial.
Attorney General Jim Hood's office entered a motion on Oct. 4 for the following items to be entered into evidence: testimony from the alleged victim regarding at least four other violent assaults since 2006 Smith allegedly perpetrated; testimony from a second woman who has allegedly been physically assaulted by Smith and held at gunpoint with the claimant in this suit; testimony from the executive director of a domestic-abuse shelter who had been made aware of the claimant's abuse allegations in the past; testimony from another ex-girlfriend about physical abuse she allegedly suffered; and testimony regarding Smith's alleged drug use.
The domestic-violence incident for which Smith is being charged took place on Aug. 13,
2015 in Rankin County. Smith and his counsel want to keep any abuse allegations predating this alleged incident out of the trial proceedings because of "danger of unfair prejudice" and "hearsay."
Rankin County District Attorney Michael Guest previously testified at a hearing on Oct. 2 in Judge Emfinger's courtroom that the alleged victim told him that the "event" occurred on some family property that Smith's family owns in Rankin County. Smith routinely uses his parents' home in west Jackson in legal documents as his home address.
Smith's counsel wants to bar any mention of a telephone call made by the alleged victim to Smith on Aug. 20, 2015, because "this information is irrelevant." He also asked for conversations between the alleged victim and the FBI about prior abuse to be omitted from trial, citing hearsay and prejudice because they find such statements to be unnecessary when "the alleged victim is available to testify at trial."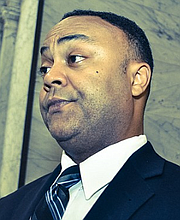 An archive of reporting on controversies surrounding Hinds County district attorneys, present and past.
Assistant Attorney General Stanley Alexander notes in a supplemental response to the court that FBI agents will be called to testify about the reports they filed when the victim came to them and said she "feared for her life."
"Because of this fear, the victim was given $2,000.00 by the Bureau so that she could leave town for her safety," Alexander wrote.
Smith also wants to bar any mention or reference to any photographs that staff at the domestic-violence shelter took of the alleged victim because "these photographs would be highly prejudicial." In addition, the DA wants to block out testimony by the claimant's father regarding Smith removing a pistol from the alleged victim's residence.
Smith's attorney, John Reeves, did not respond to JFP's attempts to make contact before press time.
Judge Emfinger will hear final motions on Oct. 30, and the trial's earliest start date should be Oct. 31.
Email reporter Ko Bragg at [email protected]. Read more on cases the State has brought against District Attorney Robert Shuler Smith at jfp.ms/dafiles.
CORRECTION: A previous version of this story said that the Mississippi Supreme Court denied Hinds County District Attorney Robert Shuler Smith's appeal on Thursday, Oct. 19. The appeal was actually denied on Wednesday, Oct. 18.