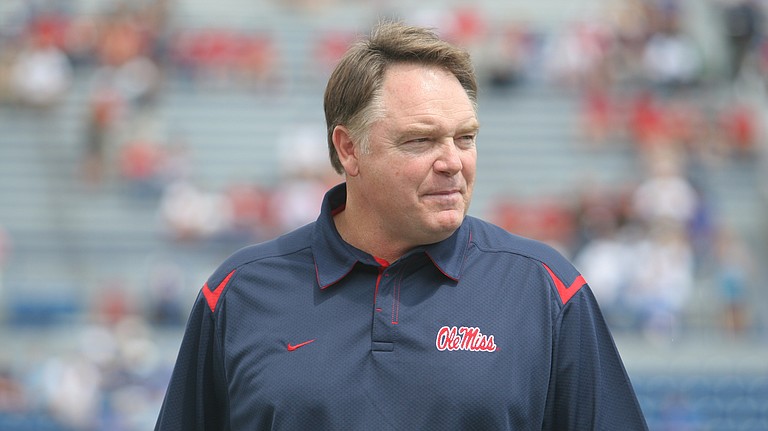 Tuesday, October 17, 2017
The University of Mississippi and former football coach Houston Nutt say they have reached an agreement to resolve Nutt's lawsuit against the school.
The parties released a joint statement on Monday afternoon. The Rebels' former coach — who led the program from 2008 to '11 — was alleging a breach of his severance agreement because of false statements he said school officials made during an ongoing NCAA investigation into rules violations by the football program.
The initial federal lawsuit was filed in July during Southeastern Conference football media days. It was eventually dismissed, but refiled in state court last week.
Nutt received an apology from the university, but no financial details were disclosed.
"Certain statements made by university employees in January 2016 appear to have contributed to misleading media reports about Coach Nutt," the university said in the statement. "To the extent any such statements harmed Coach Nutt's reputation, the university apologizes, as this was not the intent.
"The NCAA's Notice of Allegations dated January 22, 2016, did not name or implicate Coach Nutt in any misconduct, and it would have been inappropriate for any university employee to suggest otherwise."
Nutt's portion of the statement said he is "pleased to put the lawsuit behind me. Best wishes to the future of the Ole Miss Football program."
The three-month legal drama will be most remembered for indirectly leading to the resignation of Ole Miss coach Hugh Freeze, who replaced Nutt in 2011. University phone records that were produced during research for Nutt's lawsuit eventually uncovered a one-minute call from Freeze to an escort service in 2016.
The university then launched its own internal investigation that found a "pattern of personal misconduct." Freeze resigned in July, just a few weeks before preseason practice began.