Tuesday, October 17, 2017
Mississippi Museum of Art's chef and culinary curator Nick Wallace recently competed on Food Network's "Chopped: Alton's Challenge," which will air tonight at 9 p.m.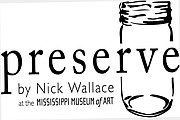 To celebrate Wallace's appearance on the program, the museum is hosting a viewing party in the Art Garden starting at 7 p.m. The event will feature food trucks BessiRoo's, 2 For 7 Kitchen and Double Yum Eats & Treats, a cash bar and a pre-screening question-and-answer session with Wallace on his experience competing on "Chopped." He will also discuss the museum's new restaurant, Preserve by Nick Wallace, which will open on Wednesday, Nov. 29.
The event is free and open to the public, and the museum will be giving out commemorative T-shirts while supplies last. For more information, call 601-960-1515 or visit msmuseumart.org.
Innovate Mississippi 18th Annual Conference on Technology Innovation
Innovate Mississippi is hosting the 18th annual Conference on Technology Innovation on Wednesday, Oct. 18, at the Jackson Marriott. The conference will address issues such as brain drain, or young people going to college in the state and then going somewhere else in search for more opportunities; science, technology, engineering and math, or STEM, education; retaining millennial workers; 21st-century educational requirements; issues that women face in the tech industry; and economic incentives for entrepreneurs and start-up companies.
The event will begin with keynote speaker Dr. Roberto Gallardo, community and regional economics specialist at Purdue University, delivering a presentation titled "The Digital Age Mindset We Need and How We Can Address the Digital Divide in Mississippi."
"Dr. Gallardo's presentation will cover bridging the digital divide and bringing technology into the future for rural communities," Janet Parker, director of business development for Innovate Mississippi, told the Jackson Free Press. "He leverages broadband for community economic development and helps rural communities transition to, plan for and prosper in the digital age."
Later, the winners of the New Venture Challenge on Tuesday, Oct. 17, will give presentations on their businesses, and the audience will then vote on their favorite to name as the "people's choice." The conference will also feature an afternoon Women in STEM seminar, featuring two sessions with Sarah Lee, executive director for the Mississippi Alliance for Women in Computing, on encouraging women to enter technology careers and celebrating educational efforts to get kids focused on STEM topics.
"There's definitely a gender gap in these fields, and we're trying to encourage women and girls to pursue STEM careers, particularly in technology and computing," Parker said.
C Spire's Pepper the Robot will be present at the event's Innovation Alley along with local food vendors such as Campbell's Bakery and Sugar Ray's Sweet Shop. The event will also feature "Coffee and Contacts" breaks throughout the day to allow visiting entrepreneurs to network. The conference will conclude with Wine Down Wednesday, in which visitors will receive complimentary sangrias and toast to a new year of innovation.
For more information or to register, call 601-960-3610 or visit https://www.coti2017.com/register/.
Renovations at Sonny's BBQ
Don Wynne, owner of Sonny's BBQ (1374 W. Government St., Brandon), unveiled a complete remodel of his restaurant in a ribbon-cutting ceremony on Sept. 27. Renovations took course over five months, and the restaurant only closed from July 24-26. The renovations expanded the restaurant from 5,500 square feet to 5,700.
"This has been a complete overhaul for the restaurant," Wynne told the Jackson Free Press. "We redid both the interior and exterior, put in a new dining room, (redid the) parking lot, greenery and sign outside, and a new lunch counter inside, new televisions, an outdoor patio with seating for 16 people, new floor covering and seating, and all new kitchen equipment that's doubled our cooking ability and allows for better, faster service."
Lucille and Floyd "Sonny" Tillman opened the original Sonny's in Gainesville, Fla., in 1968. Sonny's currently has 112 locations. Wynne opened the Brandon Sonny's BBQ, which is currently the only Sonny's in Mississippi, in 1997. The Jackson Sonny's opened in 1978, and Wynne bought it in 1985. The restaurant closed in 2015. He still owns the property for the Jackson Sonny's and has a contract to sell it.
Wynne has been involved in the restaurant business since he was 16 years old, when he and his five siblings worked in his parents' family-owned restaurant, Fran's Drive-In, in Lexington, Miss. Wynne has owned at least seven restaurants throughout Mississippi, including BoDon's Catfish & Seafood, which he sold to another owner in 1999.
For more information on Sonny's BBQ, call 601-825-7675 or visit sonnysbbq.com.
Business Spotlight: Unique_Kreations
Lifelong north Jackson resident Sinikia Nelson opened Unique_Kreations in late 2015 as an event-planning business that she ran out of her home at first. Nelson, who works as an accounting assistant for the Mississippi Department of Rehabilitation Services, originally intended to focus on decorating but began making candy and other treats in March 2016 after a friend asked her about making candy apples.
"I've loved decorating ever since I was a child, so it seemed like the perfect thing for me to get into as a home business on the side," Nelson told the Jackson Free Press. "However, that year, I found out that food can be a decorating technique and art all its own. I started doing research on my own about making treats, watching YouTube videos and studying candy making from experts on social media, and soon, it became a new part of my business."
Now, Unique_Kreations offers treats such as chocolate-covered strawberries and Oreos, caramel and candy apples, gourmet Rice Krispies treats, pretzels with caramel, candy tables for weddings and other events, and more.
This year, Nelson began expanding her business by working in the Jackson community as a vendor for local events, starting with the Hal's St. Paddy's Parade & Festival in March. Since then, she has also been at Miss Black Mississippi USA's Queen for a Day 2017 summit, pop-up shops with Canton-based Bishie Crissi, the 2017 Wellsfest, and most recently, the Halloween edition of Jackson's Food Truck Friday on Oct. 13.
For more information on Unique_Kreations, call 601-454-1480 or find the business on Facebook or on Instagram @Uniqe_Kreations.