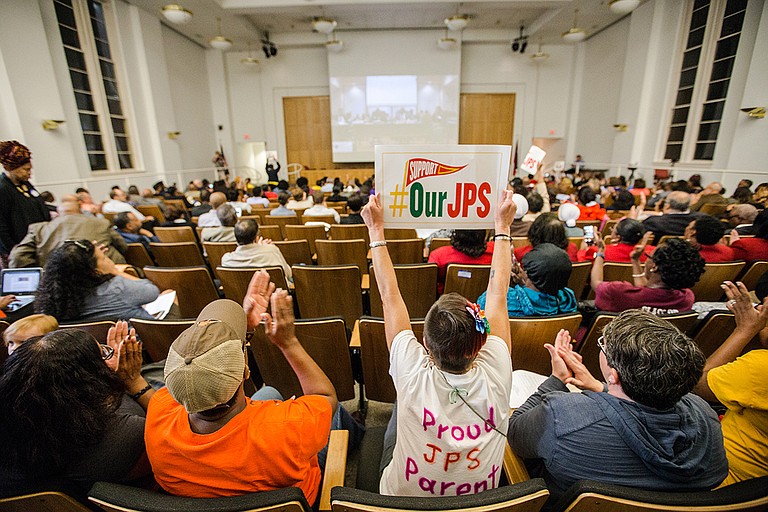 JACKSON — As Jackson Public Schools officials and administrators work to meet deadlines set in their 2016 corrective action plan, Gov. Phil Bryant could decide to take away local control of the district this week.
The Mississippi Commission on School Accreditation and the Mississippi Board of Education will certify accountability rankings, or grades, of each school and district in the state this week. Bryant has hinted that the district's grade will affect his decision.
"The final decision on this process, if you will, is on the 19th of October (when) the state Department (of Education) will give its final approval to determine if for the second year in a row if the City of Jackson is rated as an 'F.' That's one of the indicators or triggers, if you will, that would add to a declaration of emergency," Bryant told JT Williamson on his SuperTalk radio show last month. "... I think it would be prudent on our part to wait until at least that day to see what the decision of the state Board of Education will be in rating the school district. That will go a long way in helping make that decision."
During the contentious back-to-back commission and board meetings that led to the Mississippi Board of Education asking the governor to declare a state of extreme emergency in the district, MDE officials told board members that preliminary results showed showed JPS set to receive its second "F" grade in a row.
Districts have more than a month to appeal those preliminary results, however, and official grades come out this week. The Commission on School Accreditation meets Tuesday to assign district and school grades, and the Board of Education meets Thursday to approve and release the official grades.
Parents filed a federal lawsuit against MDE officials involved in the district takeover process back in September. Last week, the plaintiffs filed an emergency motion, asking U.S. Magistrate Judge Robert Walker to issue a preliminary injunction to stop any potential takeover.
In their amended complaint, the parents argue that MDE's accreditation policy procedures and the specific events that led up to the JPS extreme emergency declaration violated their 14th Amendment due-process rights.
"Ultimately, the public interest is best served when the law is followed, including constitutional protections afforded under the Due Process Clause, and that is all that Plaintiffs seek—a protection, recognition and enforcement of their constitutional and statutory rights to notice, a hearing, and an opportunity to participate meaningfully in the local governance of their children's schools," the emergency motion says.
MDE officials, which the state's attorneys represent, answered the first complaint, denying almost all allegations, including that they broke Mississippi's Open Meetings Act.
If Bryant signs the extreme emergency declaration, he will dissolve the JPS School Board of Trustees and install the state board's choice for interim superintendent, Margie Pulley, over the new district of transformation. Recent changes in state law mean any district in transformation status will be under MDE's control until the district achieves a grade of "C" or higher for five years in a row.
While JPS is currently on probation for its accreditation status, the emergency declaration will not automatically remove the district's accreditation, which triggers additional consequences such as eventual loss of extracurricular activities and the ability for students to transfer. Districts of transformation may lose their accreditation, but it is not an automatic guarantee.
MDE officials are also working to establish the Mississippi Achievement School District to absorb the state's "failing" schools and districts that receive an "F" grade two years in a row. Several JPS schools, as well as the district, could be susceptible to the new district, depending on what the accountability results show this week.
Read more about the impending takeover of JPS at jacksonfreepress.com/jpstakeover.