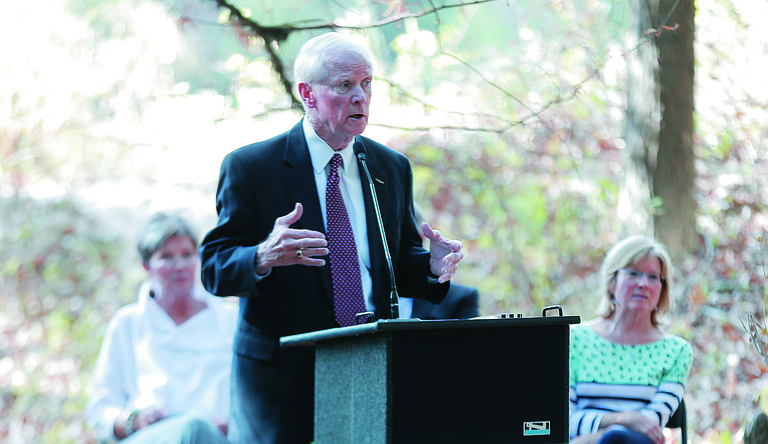 Thursday, October 12, 2017
Central District Transportation Commissioner Dick Hall did not mince words at the Stennis Capitol Press Forum Monday, calling out Mississippi lawmakers' inaction on funding the state's infrastructure.
"When I tell them there's over 1,000 deficient bridges in this state that need to be seriously repaired or replaced at a cost of some $2.5 billion, and it's almost 5,000 main miles of highway that need serious repair and reconstruction, costing a billion dollars, do they think that we are lying or do they just not care?" Hall said. "How can you possibly pretend that nothing needs to be done?"
Hall said he met with Republican Sen. Dean Kirby, R-Pearl, who plans to introduce legislation in the coming 2018 session. This move is significant because last year, while House Republicans were on board with diverting more revenue to the state's roads and bridges, the Senate was decidedly against it. The spat led to a special legislative session to pass some agency budgets that were left on the cutting-room floor. In the special session, no one mentioned more money for transportation, and the cycle of speak-out-and-do-nothing continued.
Kirby's bill, Hall said, will include an increase in fees and taxes that Mississippians will have an opportunity to vote on before being enacted. Hall disagrees with this method, however.
He pointed to every study conducted, whether by the legislative PEER group or the Mississippi Economic Council, that say the Mississippi Department of Transportation needs more funding. He challenged his Republican colleagues in the Legislature to actually run government like a business and adjust the gas tax to meet the cost of the materials needed to construct roads.
"All of the materials since 1987 have gone up a composite of 462 percent. ... Now you tell me about a business you know of that could have a material increase of 462 percent, and you set a revenue schedule 30 years ago for that to be a success," Hall said.
Twenty-six states have raised taxes on motor fuel in the last four years, and eight states increased their gas tax, including in Tennessee and South Carolina, Hall said, pointing out that even in "deep red states" fiscal conservatives were voting in favor of a tax increase. A recent Millsaps-Chism Strategies poll showed that Mississippians' top priority for lawmakers in Jackson is to fix roads and bridges.
Hall pulled on a "Make Mississippi Roads Great Again" hat during his presentation, mentioning his hope that President Donald Trump would make good on his promise to prioritize infrastructure funding through public-private partnerships.
"My biggest fear is that they (Mississippi lawmakers) will do what Congress did a couple years ago when they claimed that they had taken action, but they did so little that no one can even remember what they did," Hall said.
Hall also gave updates on three MDOT projects in the Jackson area:
-State Route 25 (Lakeland Drive) added-lanes project should be complete by the second week of November.
-I-55 from Byram to McDowell Road project is over 60 percent complete, and work should be finished by Aug. 8, 2018.
-US-49 South to Florence project includes building a brand new highway, and work will begin in November 2017.
Email state reporter Arielle Dreher at [email protected].