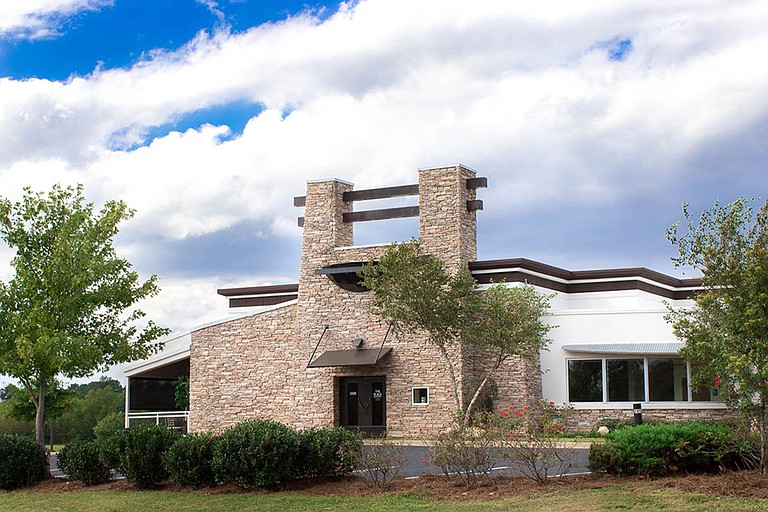 Tuesday, October 10, 2017
Event venue The Place at Harbour Crossing (720 Harbour Pointe Crossing, Ridgeland) launched with a ribbon cutting and open house on Sept. 14.
The 7,000-square-foot venue is available for receptions, fundraisers, social events, celebrations, company training, meetings and other events, and has seating for up to 200 people. The space includes a bar and outdoor patio, projectors and screens, linens, a prep kitchen for caterers, an ice machine, sound systems, a feature wall and more. Clients can select event vendors from a preferred list or use vendors of their own choosing.
The Place is open every day from 7 a.m. to midnight. For more information or to book the venue, call Mackenzie Welborn, director of sales, at 601-851-1850, email [email protected], or visit theplacems.com.
Mississippi Children's Museum Hosting Bicentennial Arts Competition
This fall, Mississippi Children's Museum will partner with the Mississippi Department of Education, the office of Gov. Phil Bryant and the Mississippi Department of Archives and History to host an arts competition celebrating the state bicentennial.
The museum will take visual-art submissions for students in grades kindergarten through 12th grade; music submissions for students in seventh through 12th grades; and poetry submissions from kindergarten through sixth-grade students for the competition. MDAH will provide online historical resources for students to use for research and inspiration. A panel of community experts will judge the submissions and announce the winners on Nov. 11 during an event at the museum.
Winners in each category will receive prizes from the partner organizations, including dinner at the governor's mansion, day passes to the Mississippi Children's Museum, and a tour of the new Mississippi Civil Rights Museum and Museum of Mississippi History.
In addition to other prizes, the winner of the music category will get the opportunity to professionally record their song for MCM promotional materials. The winner of the poetry category will receive an invitation to read their poem aloud for an audience at MCM's Noon Year's Eve event. Lastly, the high-school winners of the visual-arts category will receive a free summer internship with MCM Arts Educator Emily Simmons.
For more information on competition guidelines, nomination forms and submissions, visit mschildrensmuseum.org/events/bicentennial.
Fuse.Cloud Among Fastest-Growing Inner-City Companies
Fortune Magazine named Jackson-based tech company Fuse.Cloud one of America's fastest-growing inner-city companies on the publication's Inner City 100 List. The annual Inner City 100 Conference and Awards ceremony was in Boston on Tuesday, Oct. 3, and the Initiative for a Competitive Inner City, a nonprofit research and advisory organization that focuses on inner-city economies and businesses, organizes the event.
Fortune and the ICIC base the annual nominations on growth revenue over a five-year period. Fuse.Cloud ranked 85th on the list, with a five-year growth rate of 78.33 percent.
Fuse.Cloud has voice-over Internet protocol, or VoIP, fiber Internet and other cloud-based services. The company opened in 2006 as Broadband Voice and changed its name in April 2016.
Find the full Inner City 100 list at fortune.com/inner-city-100. For more information, visit fuse.cloud.
Jackson Comprehensive Treatment Center Opens
Jackson Comprehensive Treatment Center, an outpatient treatment program for adults struggling with opioid addiction, opened on Lakeland Drive on Sept. 28.
The center offers a combination of medication and therapy to help patients overcome addiction to heroin, prescription drugs such as oxycontin, hydrocodone and fentanyl, and other opioids. Medication options at the center include methadone, buprenorphine and naltrexone.
The center will initially require patients in the methadone and buprenorphine programs to visit each day for their medication. Doctors administer naltrexone as a once-a-month injection.
In addition to medications, patients at the center will participate in therapeutic and educational activities, such as individual- and group-counseling sessions.
Jackson Comprehensive Treatment Center (1935 Lakeland Drive, Suite 900) is open Monday through Friday from 5 a.m. to 2 p.m. and Saturdays From 6 a.m. to 9 p.m. For more information, call 877-231-9902 or visit jacksonmat.com.
Miskelly Expanding to Hattiesburg
Mississippi-based Miskelly Furniture is marking its 40th anniversary with the announcement of a new location at the Westover Crossing Shopping Center (4501 Hardy St., Suite 100) in Hattiesburg. The new 70,000-square-foot store will be the company's seventh location and its second largest after the main Miskelly store in Pearl. The store will open in early 2018.
Brothers Oscar, Chip and Tommy Miskelly opened the original location in Pearl in 1978. The business is currently the largest furniture and bedding retailer in Mississippi, with 570,000 total square feet across all of its stores after the new store in Hattiesburg opens. This year, the magazine Furniture Today ranked Miskelly among the top 100 furniture stores in the nation, and industry magazine Home Furnishings Business named the business one of the top five independent furniture retailers in the country in 2015.