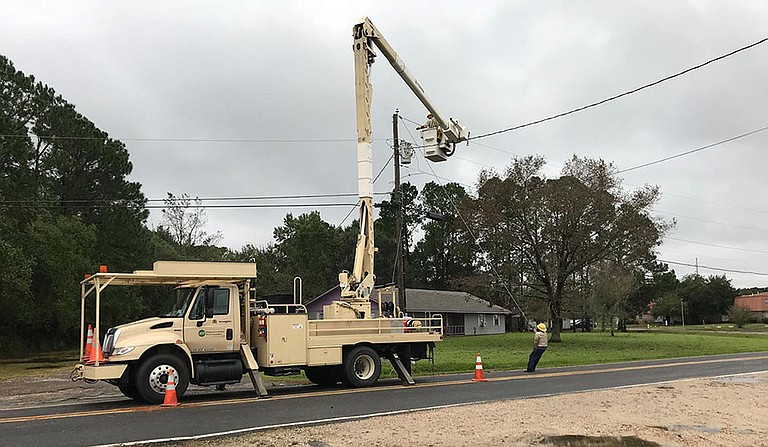 BILOXI, Miss. (AP) — Nate slogged its way up the northeastern U.S. on Monday, dumping heavy rains and bringing gusty winds to inland states as a tropical depression less than two days after it roared ashore in Mississippi and Louisiana as a hurricane.
Nate spared the region the kind of catastrophic damage left by a series of hurricanes that hit the southern U.S. and Caribbean in recent weeks. Alabama endured relatively little damage, but authorities said it could still take days to deal with the storm's worst effects.
On Dauphin Island, Mayor Jeff Collier said workers were using heavy equipment to remove as much as 6 feet (1.8 meters) of sand that washed across a more than 3-mile (4.8-kilometer) stretch of the island's main road and more than 20 side streets.
Collier says Nate "moved the beachfront on to the roadway," and neither power company nor city water workers can begin repairing damage until the road is clear.
To the east, at Gulf State Park, waves from the storm washed out removable flooring panels on a fishing pier that was rebuilt after being destroyed by Hurricane Ivan in 2004. Workers were replacing the panels Monday with a goal of reopening the pier in time for the National Shrimp Festival, which opens Thursday in nearby Gulf Shores.
Nate—the first hurricane to make landfall in Mississippi since Katrina in 2005—quickly lost strength Sunday, with its winds diminishing to a tropical depression as it pushed northward into Alabama and Georgia with heavy rain. It was a Category 1 hurricane when it came ashore outside Biloxi early Sunday, its second landfall after initially hitting southeastern Louisiana on Saturday evening.
Mississippi was largely spared damage, although a few residents suffered losses. Ruth Adams, a Massachusetts native riding out her first hurricane in her beach house near Ocean Springs, says Nate stripped off her metal roof.
Lee Smithson, director of Mississippi's emergency management agency, said damage from Nate was held down in part because of work done and lessons learned from Katrina.
"If that same storm would have hit us 15 years ago, the damage would have been extensive and we would have had loss of life," Smithson said of Nate. "But we have rebuilt the coast in the aftermath of Katrina higher and stronger."
Nate knocked out power to more than 100,000 residents in Mississippi, Alabama, Louisiana and Florida, but crews worked on repairs and it appeared most of the outages had been fixed by Monday morning.
Sean Stewart, checking on his father's sailboat at a Biloxi marina after daybreak, found another boat had sunk, its sail still fluttering in Nate's diminishing winds. Stewart was relieved to find his father's craft intact.
"I got lucky on this one," he said.
No storm-related deaths or injuries were immediately reported in the U.S. although a firefighter clearing debris after storms associated with Nate died when he was hit by a car in North Carolina.
Before Nate sped past Mexico's Yucatan Peninsula late Friday and entered the Gulf of Mexico, it drenched Central America with rains that left at least 22 people dead. But Nate didn't approach the intensity of Harvey, Irma and Maria—powerful storms that left behind massive destruction during 2017's exceptionally busy hurricane season.
The head of the Federal Emergency Management Agency said the four hurricanes that have struck the U.S. and its territories this year have "strained" resources, with roughly 85 percent of the agency's forces deployed.
"We're still working massive issues in Harvey, Irma, as well as the issues in Puerto Rico and the Virgin Islands, and now this one," FEMA Administrator Brock Long told ABC's "This Week" on Sunday.
Nate initially made landfall Saturday evening in Louisiana, but fears that it would overwhelm the fragile pumping system in New Orleans proved to be unfounded. The storm passed to the east of New Orleans, and Mayor Mitch Landrieu lifted a curfew on the city known for its all-night partying.
Nate was expected to bring 3 to 6 inches of rain to the Deep South, eastern Tennessee Valley and southern Appalachians through Monday. The Ohio Valley, central Appalachians and Northeast could also get heavy rain before the storm exits Maine on Tuesday.
Also Monday, the Hurricane Center said a depression in the open Atlantic had strengthened. Tropical Storm Ophelia did not pose a threat to any land, however.