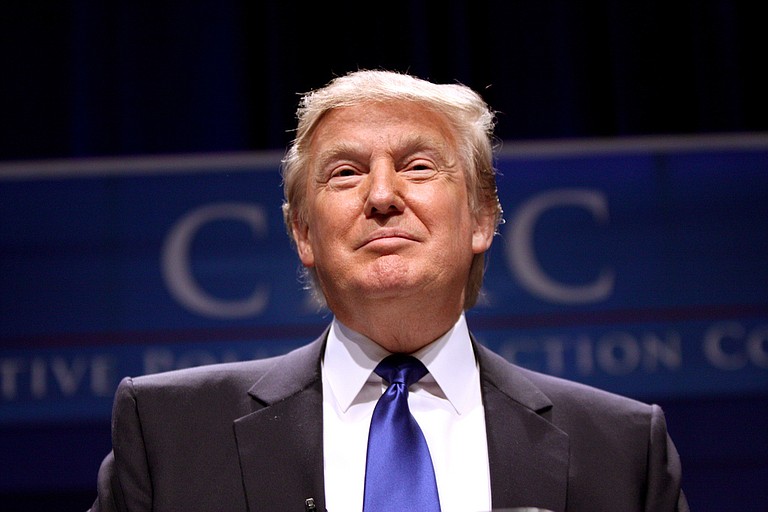 WASHINGTON (AP) — President Donald Trump delivered a foreboding message Thursday night, telling reporters as he posed for photos with his senior military leaders that this might be "the calm before the storm."
White House reporters were summoned suddenly Thursday evening and told the president had decided he wanted the press to document a dinner he was holding with the military leaders and their wives.
Reporters were led hastily to the grand State Dining Room, where they walked into a scene of the president, his highest-ranking military aides and their wives posing for a group photo. The cameras clicked and they smiled. A joke was made about someone's face being tired. Live classical music played.
Then, Trump gestured to the reporters in the room.
"You guys know what this represents?" Trump asked. "Maybe it's the calm before the storm. Could be the calm, the calm before the storm."
"What storm Mr. President?" one reporter shouted. ISIS? North Korea? Iran?
"You'll find out," the president said.
He also praised those assembled for the photo, saying: "We have the world's great military people in this room, I will tell you that."
Earlier in the evening, the president had lauded the group, including his defense secretary and chairman of the Joint Chiefs of Staff, and said they would be discussing the most pressing military issues facing the country, including North Korea and Iran.
Trump said "tremendous progress" had been made with respect to the Islamic State group, adding, "I guess the media's going to be finding out about that over the next short period of time."
He also denounced Iran, saying the country should not be allowed to obtain nuclear weapons, and offered another stark warning to North Korea's Kim Jong Un.
"We cannot allow this dictatorship to threaten our nation or allies with unimaginable loss of life," he said, vowing to "do what we must do to prevent that from happening and it will be done, if necessary. Believe me."
He also said that, moving forward, he expects those in the room to provide him with "a broad range of military options, when needed, at a much faster pace."