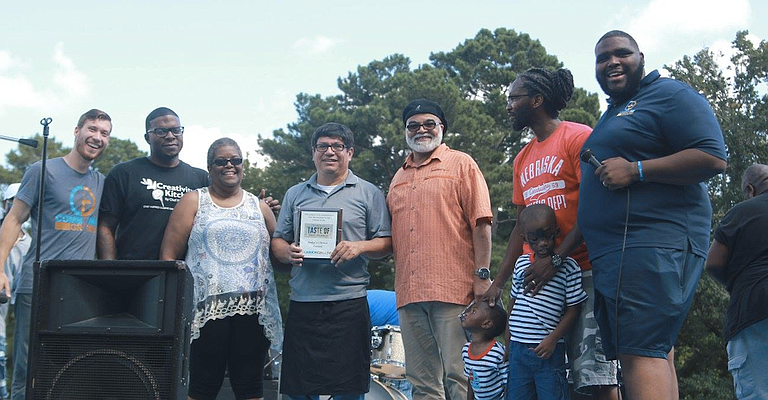 Common Ground Covenant Church (531 W. Capitol St.) hosted its second annual Taste of West Jackson event on Saturday, Sept. 16, at Claiborne Park (785 Claiborne Ave.). Local restaurants and chefs submitted dishes for the event's West Jackson Food Competition, and a panel of judges and attendees voted separately on first-place and second-place winners.
Taqueria La Reata (1923 Highway 80 W., 601-665-8649) owners Clemente and Angela Ochoa took first place in the judges' choice portion with a meat, bean and lettuce torta. Second place went to Sarah Stripp, owner of Sarah's Cakes, who made a brown-butter vanilla cake with cream-cheese frosting and caramel sauce. Chi Town Salads and Sandwiches (1395 Metrocenter Drive, 601-624-6396) owner Larry "Famo" Bernard received an honorable mention for his steak hoagie.
While Stripp came in second in the judge's choice, the crowd selected her cake for first place. Chef Phillip Brown of Midtown Partners, Inc. came in second place with his red beans and rice.
Stripp began baking out of her west Jackson home last year as a side job, and largely prepares cakes for weddings and other events. Her main job is with Springboard to Opportunities, where she has been working as a community specialist for low-income families for two years.
"I was very surprised to win but grateful to everyone who was there," Stripp said. "I was excited to be able to be part of something that brought the community together and let people see the great things happening in west Jackson."
For more information or to place orders, email [email protected] or follow the business on Instagram @sarahscakesjxn.
Other local restaurants that took part in the competition included E & L Barbeque (1111 Bailey Ave.), Stamps Superburger (1801 Dalton St.) and Ooh Lala's Bakery (6325 Whitestone Road). Mississippi Museum of Art Executive Chef Nick Wallace, former Koinonia Coffee House owner Lee Harper and Pastor Calvin Waddy of Central Community Church of God were the judges.
Common Ground Operations and Productions Director Alan Grove told the Jackson Free Press that this year's event had more than 1,000 people in attendance, and that Common Ground plans to build up even more momentum for future community events.
"We're thankful to all the people it took to put this event on," Grove said. "It was an event by the community, for the community. It's great to be involved in an event that's so based in grassroots organizing, and that's becoming one of the feature events in our city."
For more information, call 601-321-9240 or visit commongroundjxn.org/taste.
C Spire Launches Tech Movement
C Spire announced last week that it is launching an expansion of broadband and wireless Internet services for more than 250,000 individuals and small businesses in Mississippi as part of its C Spire Tech Movement. The Tech Movement grew out of the company's Fiber-to-the-Home program, which brought one-gigabit-per-second fiber Internet, digital television and phone service to 10 communities, including Jackson.
The first phase of C Spire's new program will bring Internet access speeds of up to 25 megabytes per second to the Mississippi Delta and northeast Mississippi, with more markets added by the end of the year. C Spire will also expand its business-Internet services to sole proprietors of coffeehouses, restaurants, law offices, and accounting and tax services. The third phase will offer 100-megabytes-per-second wireless fiber service to 70,000 consumers and businesses initially, with an additional 130,000 added later.
C Spire has installed more than 8,000 route miles of fiber-optic infrastructure in Mississippi and was the first company in the state to conduct successful pre-fifth generation home Internet tests.
For more information, visit cspire.com/internetlaunch.