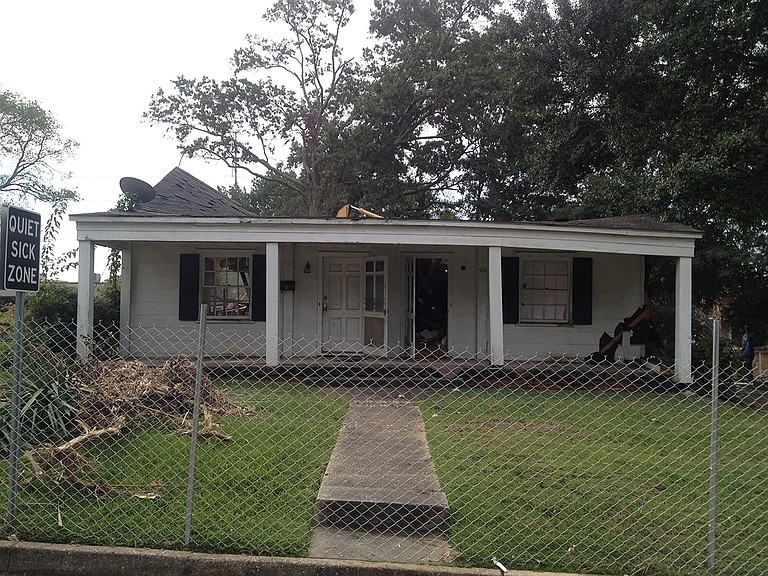 JACKSON — This story is updated with a follow-up statement from MDEQ confirming that it, indeed, found asbestos, which it did not confirm in earlier interviews.
As of today, the long-time building housing Que Sera Sera restaurant, and more recently Green Ghost Tacos, is a pile of rubble, and the State is assuring nervous residents now that it is monitoring multiple demolitions in the two-acre plot in the heart of the Fondren business district for the presence of asbestos.
The Mississippi Department of Environmental Quality confirmed to the Jackson Free Press this afternoon that although it did not find asbestos on an initial visit to the site, it soon learned that some of the structures on the proposed Hilton Homewood Suites site did contain asbestos and that it had temporarily halted demolition on the site last week to get the issue under control.
"The report of no asbestos involved the demolition activity that was occurring during our initial visit to the site," MDEQ spokesman Robbie Wilbur told the Jackson Free Press today via email. "We also indicated that we were continuing to investigate other structures scheduled to be demolished. During follow-up inspections it was determined that some of the other structures did indeed contain asbestos, which was verified by sample analysis."
At that point, he said, activity stopped until MDEQ could ensure that developers and demolition crews were following proper procedures. "The site contractor halted demolition and debris removal activities until they could ensure those activities were compliant concerning asbestos-containing material," Wilbur continued. "Demolition and removal activities have resumed at the site, and our observations indicate they are being done so in accordance with the asbestos regulations."
Heffner's Investigation
Nervous talk about possible asbestos began two weeks ago when developers of a controversial Hilton Homewood Suites in Fondren, which concerned residents say was kept under wraps for too long, sent in machinery suddenly on Sept. 21 to destroy buildings on the site after participating in a tense community meeting 36 hours before.
That day, the demolition of the yellow "Fondren House"—which could date back until the 1920s, or earlier, preservationists say—and a neighboring building left many Fondren residents in shock as buildings were reduced to piles of rubble with floor-to-ceiling buildings materials, and what looked from the street like a satellite dish, mixed into the debris. Video by a Fondren business owner showed the machinery knocking the yellow house down with fence poles lining the property, but no actual fencing in place during the demolition.
Brian Heffner, now a Madison resident but who calls himself a "Fondrenite" at heart, says he witnessed toxic clouds contaminate the air once the initial demolitions ended on the site. Heffner does architectural drafting as well as home design and remodeling for a living. He says that after he heard of the construction, he decided to go snap a few photos of his former residence for "fond memories."
When he arrived on Sept. 25 at approximately 10 a.m., Heffner approached his old duplex only to find construction workers tearing it apart. They were not properly uniformed, he says.
"As the building came down, and I could see what was going on in the backyard, I was horrified because the bucket truck operator and one other human being that were on the site were just wearing street clothes," Heffner told the Jackson Free Press. The Madison resident recalls that about two or three other properties were already demolished and covered in what he believed to be an asbestos trail by the time he arrived to take a look.
Heffner contacted the Mississippi Department of Environmental Quality and Mississippi Emergency Management Agency immediately, he later told the Jackson Free Press. "I was concerned from an environmental point of view," Heffner said. "These homes were being taken down and, although they were already down and the atmospheric pollution was already in place, at least in the disposal of the rubbish, I could exercise a conscience into getting someone to acknowledge that asbestos was on the site."
'When Disturbed During Demolition'
MDEQ defines asbestos on its website: "Asbestos is a naturally occurring mineral that has been used extensively in building materials and products primarily for its excellent fireproofing or insulating properties. Asbestos is also often found in other building materials including floor tile, ceiling texture, and transite wallboard."
The MDEQ site also explains the care that must be taken when buildings are repaired or destroyed. "When disturbed during demolition and renovation activity, asbestos can become airborne and pose a significant potential human health risk. Therefore, the regulations affecting demolition and renovations are to prevent and minimize air emissions of asbestos that may be inhaled. Also, persons who perform asbestos abatement activity, must have proper training and certification by the MDEQ Asbestos Accreditation and Certification Program." On the site, it lists the various requirements developers must follow before and during demolition.
Heffner told the JFP that he was later informed that MDEQ visited the site soon after his alert, completed a visual inspection, obtained samples and sent those samples to a Baton Rouge, La., lab to get tested. He said that an asbestos abatement professional and local architect both confirmed to him that, based on visual inspections only, asbestos was likely present in the rubble.
Wilbur, of MDEQ, confirmed to the Jackson Free Press that Heffner had submitted a complaint about possible asbestos. "[W]e've been to the Fondren site several times, and they are in compliance," Wilbur said in a phone conversation before later sending the statement above saying the agency had found asbestos on the site. He said he could not confirm if samples were sent to Baton Rouge, as Heffner said.
Site reports are not yet complete and available to the public, Wilbur said on Tuesday, Oct. 3. After MDEQ's visits in response to Heffner's alert, the site was cleared of rubble, and fencing covered by material was wrapped around the site. Residents had complained that initial demolition happened with fence poles in place but no actual fencing attacked to them.
Hotel investor Alan Lange, who was also the initial property owner of the hotel site, did not confirm or deny rumors that the site was temporarily shut down for environmental testing after Heffner called MDEQ.
"The demolition is fully operational and on schedule," Lange wrote in an email to the Jackson Free Press on Oct. 3. "The Green Ghost building came down today."
"We appreciate your continued interest in the project," the developer added.
Email reporter William Kelly III at [email protected]. See jfp.ms/fondrenhotels for related stories. Donna Ladd and Arielle Dreher contributed to this report.