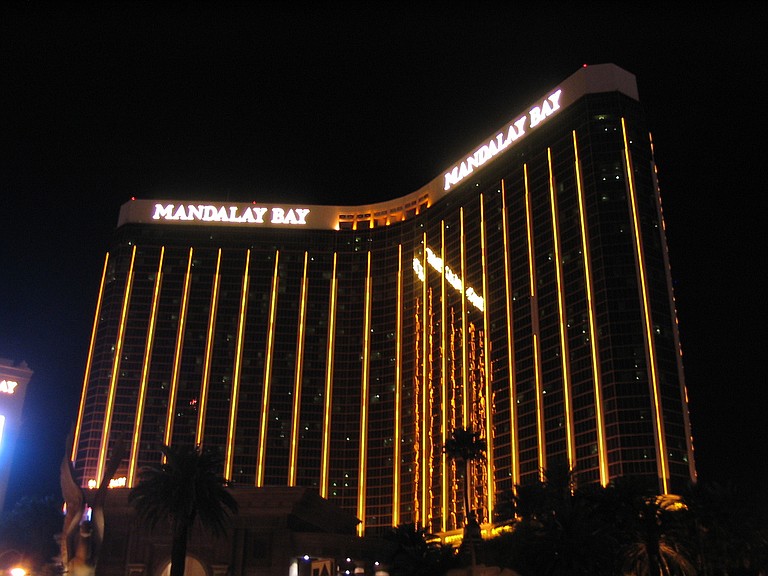 LAS VEGAS (AP) — A gunman perched on the 32nd floor of a Las Vegas hotel-casino unleashed a hail of bullets on an outdoor country music festival below, killing at least 58 people as tens of thousands of concertgoers screamed and ran for their lives, officials said Monday. It was the deadliest mass shooting in modern U.S. history.
At least 515 others were injured in the Sunday night attack, authorities said.
SWAT teams using explosives stormed the gunman's hotel room in the sleek, gold-colored glass skyscraper and found he had killed himself, authorities said. He had as many as 10 guns with him, including rifles, they said.
There was no word on a motive for the attack. Aaron Rouse, the FBI agent in charge in Las Vegas, said investigators saw no immediate evidence connecting it to an international terror organization, despite a claim of responsibility from the Islamic State group.
Mayor Carolyn Goodman said the attack was the work of a "crazed lunatic full of hate."
Country music star Jason Aldean was performing Sunday night at the end of the three-day Route 91 Harvest Festival in front of a crowd of more than 22,000 when the gunman opened fire from inside the 44-floor Mandalay Bay Hotel and Casino across the street.
The gunman was identified as Stephen Craig Paddock, 64, of Mesquite, Nevada. He had checked into the hotel room on Thursday, authorities said. Police said he was a retiree with no criminal record in the Nevada county where he lived.
Paddock's brother, Eric Paddock, who lives in Florida, told the Orlando Sentinel: "We are completely dumbfounded. We can't understand what happened."
In an address to the country, President Donald Trump called the attack "an act of pure evil" and added: "In moments of tragedy and horror, America comes together as one. And it always has." He ordered flags flown at half-staff.
Sheriff Joseph Lombardo said authorities believe it was a "lone wolf" attack. And the U.S. Homeland Security Department said there was no "specific credible threat" involving other public venues in the U.S.
In its claim of responsibility, the Islamic State group said the gunman was "a soldier" who had converted to Islam months ago. But it provided no evidence.
Attorney General Jeff Sessions offered the support of the FBI and other federal agencies but noted that the investigation is being led by the sheriff in Las Vegas. That was seen as another possible sign the shooting was not believed to be an act of international terrorism.
Las Vegas authorities put out a call for blood donations and set up a hotline to report missing people and speed the identification of the dead and wounded. They also opened a "family reunification center" for people to find loved ones.
Aldean was in the middle of a song when the shots came rapidly: pop-pop-pop-pop. Video showed Aldean stopping and the crowd getting quiet as if it were unsure of what had happened.
The gunman paused and then fired another volley, the muzzle flashes visible from the casino, as victims fell to the ground while others fled in panic. Some hid behind concession stands, while others crawled under parked cars.
Kodiak Yazzie, 36, said the music stopped temporarily when the first shots began and then started up again before the second round of pops sent the performers ducking for cover and fleeing the stage.
"It was the craziest stuff I've ever seen in my entire life," Yazzie said. "You could hear that the noise was coming from west of us, from Mandalay Bay. You could see a flash, flash, flash, flash."
Monique Dumas, of British Columbia, Canada, said she was at the concert, six rows from the stage, when she thought she heard a bottle breaking, then a burst of pops that sounded liked fireworks.
Couples held hands as they ran through the dirt lot. Faces were etched with shock and confusion, and people wept and screamed. Some were bloodied, and some were carried out by fellow concertgoers. Dozens of ambulances took away the wounded, while some people loaded victims into their cars and drove them to the hospital.
Police shut down busy Las Vegas Boulevard, and federal and state authorities converged on the scene. Interstate 15 was briefly closed, and flights at McCarran International Airport were suspended.
Hospital emergency rooms were jammed with the wounded. Rep. Ruben Kihuen, a Democrat whose congressional district includes a portion of Las Vegas, visited a hospital were some of the victims were taken and said: "Literally, every single bed was being used, every single hallway was being used. Every single person there was trying to save a life."
The dead included at least three off-duty police officers from various departments who were attending the concert, authorities said. Two on-duty officers were wounded, one critically, police said.
"It's a devastating time," the sheriff said.
Nearly every inch of the Las Vegas Strip is under video surveillance, much of it set up by the casinos to monitor their properties. That could yield a wealth of material for investigators as they try to piece together the attack.
Hours after the shooting, Aldean posted on Instagram that he and his crew were safe and that the shooting was "beyond horrific."
"It hurts my heart that this would happen to anyone who was just coming out to enjoy what should have been a fun night," the country star said.
Before Sunday, the deadliest mass shooting in modern U.S. history took place in June 2016, when a gunman who professed support for Muslim extremist groups opened fire at a gay nightclub in Orlando, Florida, killing 49 people.
Sunday's shooting came more than four months after a suicide bombing at an Ariana Grande concert in Manchester, England, that killed 22 people. Almost 90 people were killed by gunmen inspired by Islamic State at the Bataclan concert hall in Paris during a performance by Eagles of Death Metal in 2015.