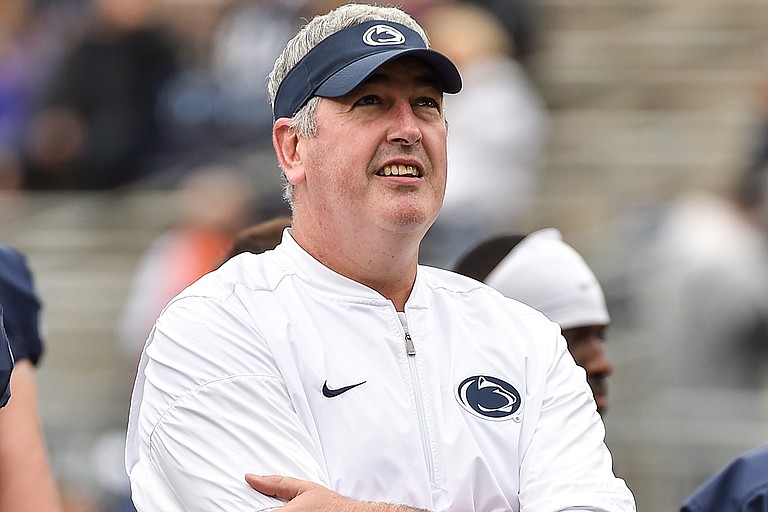 Thursday, November 30, 2017
Mississippi State University Athletic Director John Cohen wasted no time in finding a replacement after Dan Mullen left to become the University of Florida head coach. Cohen tapped Pennsylvania State University offensive coordinator Joe Moorhead to be the next Bulldogs' head coach.
MSU reportedly interviewed University of Alabama defensive coordinator Jeremy Pruitt and Clemson University defensive coordinator Brent Venables before hiring Moorhead. In August 2017, both Sports Illustrated and Yahoo named Moorhead as the top rising assistant.
It has been a long journey to this point for Moorhead. After graduating from Fordham University in New York City in 1995, he played football in Europe for the Munich Cowboys for one season and arena football for a preseason, and then, his professional football career was over.
He wrote for a few small newspapers in Pittsburgh and northeast Ohio while also sending letters to football teams in Division I and Division I-AA (now known as Football Bowl Subdivision and Football Championship Subdivision). Each school rejected him.
A breakthrough came in 1998 when the University of Pittsburgh brought in Moorhead to work as a graduate assistant. After working there for two seasons, he moved on to Georgetown University in Washington, D.C., in 2000, working his way up from running back coach to quarterback coach, and finally to the offensive coordinator and quarterback coach in 2003.
In 2004, he accepted a position as the receiver coach at the University of Akron and eventually became the offensive coordinator in his final years at the school, 2006 through 2008. Moorhead then took another offensive coordinator job at the University of Connecticut from 2009 to 2010.
During his time as offensive coordinator at UConn, Moorhead helped the Huskies win the Papa John's Bowl and a Big East title, and helped the team face the University of Oklahoma in the Fiesta Bowl. When head coach Randy Edsall left the school for the University of Maryland, though, new head coach Paul Pasqualoni demoted Moorhead to quarterback coach in 2011.
The move to quarterback coach made it easier for Moorhead to leave UConn and take a head-coaching job at Fordham. That is where he built the schemes that he eventually used to create the high-powered offense at Penn State.
In his first season at Fordham, Moorhead took a team that went 1-10 the season before to finish 6-5 in 2012. The team made an even larger jump in 2013, going 12-2 and earning a win over FBS team Temple University.
Moorhead kept the Fordham offense rolling in 2014, as the team went 11-3 and won the Patriot League title. Fordham opened the 2015 season with a win over the Army Black Knights, another FBS team, before finishing 9-3. In three of four seasons at his alma mater, Moorhead's team reached the FCS Playoffs.
Penn State then lured Moorhouse to Happy Valley to jumpstart a sputtering offense. The Nittany Lions offense started slowly before getting rolling and winning the Big Ten title in 2016.
The offense continued to run at a high level this season, and helped shape running back Saquon Barkley into a Heisman Trophy contender over the last two seasons. Moorhead led Penn State to a 10-2 in the regular season for 2017, and MSU Bulldogs fans will be hoping his high-scoring offense is also headed to Starkville.