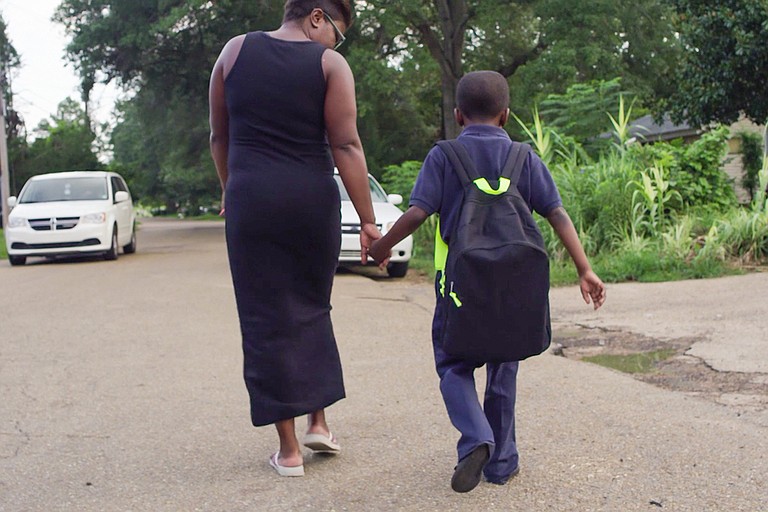 Wednesday, November 29, 2017
JACKSON — Carla is a mother of two in Jackson. She cares for not only her kids but also for her mother and disabled brother. Carla, whose name has been changed to protect her privacy, has been trying to find a job for a year and a half—but with no luck. She lives in an affordable housing community with a strict curfew, so ducking out of her apartment for some fresh air after 8 p.m. is off limits.
Carla qualifies for Temporary Assistance for Need Families program, called TANF, and the Supplemental Nutrition Assistance Program, called SNAP, but this means she is subject to the federal work requirement. Because she had struggled to find a job on her own, she applied for the TANF Work Program, a state program that connects TANF recipients to "work activities" that satisfy the requirement.
Some opportunities in the work program are paid—others are not. If work-program participants quit, reduce their hours or lose their jobs, they are cut off from TANF immediately for two months.
Once in the TANF work program, Carla worked as a teacher's assistant in a private school—but was fired after declining to clean a bathroom at the end of her shift one day. Janitorial duties were not a part of Carla's job description.
"I really think it was just to see how far she could push me, just how much you could take from me to degrade me," Carla told interviewers in a recently published report that looks at the false narratives that drive policies affecting predominantly poor, black women.
Carla lost her SNAP and TANF benefits 10 days after she was fired. She decided to not apply for TANF assistance again.
She is one of more than 80 people Aisha Nyandoro, the CEO of Springboard to Opportunities, and one of her colleagues interviewed in the summer of 2016. Researchers at New America, a policy think tank, rolled Nyandoro's interviews into their research published in the "Becoming Visible" report, which focuses on Jackson women.
Springboard to Opportunities is a residence service provider—they do not own the communities or housing developments they work in. They offer after-school programming, youth development and job-training programs, and connect directly with families in four affordable-housing complexes in Jackson.
Nyandoro said she decided to do the interviews because she was curious about the disconnect between the programs offered for women and families in the communities she works in and how they access those services. The interviews were jarring.
"It was amazing. ... But it was also very distressing because I realized that despite all the great work Springboard was doing, there was so much we couldn't be doing—we're not a think tank or a policy organization," Nyandoro said.
The Race Factor
Rachel Black, one of the "Becoming Visible" authors with New America, says the report explores the connection between race, poverty and false narratives (such as the "welfare queen" myth) used against those in poverty.
"Our understanding of poverty as a result of poor character is really deeply tied to perceptions of race," Black said.
The report traces state and federal policies from Black Codes, used to criminalize black people after the Civil War in the South, to legislation like the Medicaid and Human Services Transparency and Fraud Prevention Act, which Mississippi lawmakers passed in early 2017. The legislation enables the Division of Medicaid and the Mississippi Department of Human Services to implement a new verification system to audit providers and recipients of Medicaid, food stamps and Temporary Assistance for Needy Families, or TANF, funding.
Both state agencies are using a third-party contractor to implement the system.
"Today, states with larger Black populations are more likely to have lower benefit levels, more restrictive eligibility policies, and harsher sanctions, which may result in temporarily reduced or suspended benefits or even permanent termination," the report says. In Mississippi that is certainly the case. African Americans make up 37 percent of the state's population.
Mississippi is also the poorest state in the nation, with more than 20 percent of the population living below the poverty threshold as a result. High poverty means that the state gets a lot of federal assistance—but the "Becoming Visible" report shows that those in poverty often do not use the programs intended to help them due to the melee of restrictions people encounter to even sign up for programs. In order to apply for SNAP, a person must have proof of identity, Social Security numbers for all household members, proof of income (if employed) and proof of residency. Negative stereotypes associated with poverty began in recent decades, Nyandoro said.
"Unfortunately, the way we view poverty in this country over the last 30 years has been shaped by the narrative—the worthy versus unworthiness—it really started with welfare reform with the Reagan administration and the 'welfare queen,'" she said.
The "Becoming Visible" report shows, largely through the words of Jacksonians, how the system of accessing assistance is correlated to the negative stereotypes associated with poverty.
"Work requirements and the consequences for violating those terms in Mississippi and elsewhere reinforce the idea that poverty is the result of lack of effort, while simultaneously increasing material hardship and requiring benefits recipients to accept work under any terms," the "Becoming Visible" report says.
The TANF Conundrum
The TANF program is arguably the most flexible benefits program from the federal government. States can use their TANF funds on a broad range of services from just straight-up cash for people who need it to child care assistance and education activities. In Mississippi, only 165 of nearly 12,000 Mississippians applying for TANF funds received it in fiscal-year 2016, the MDHS annual report shows. A breakdown of those numbers from MDHS shows that the client withdrew 5,829 applications, and the State rejected 3,403 due "to the client choosing to not comply."
One woman in the "Becoming Visible" report tells her story of applying for SNAP benefits, with all of the family birth certificates in tow, and asking the MDHS worker if she needed to do anything else. She was told "no." But then she did not receive her SNAP card. When she called to inquire about it, she was told, "You didn't bring me what I told you to bring me."
The disconnect between policy and programs and the people they serve is a large part of the problem in Mississippi, the "Becoming Visible" report shows.
"I think it's also really important to interrogate the process itself," Black said. "Why do we have policies and programs that are so disconnected from families on the receiving end?"
Black said that some of the women interviewed for the report were able to meet with MDHS workers a few weeks ago and share their stories. Black said in her review that the State does not evaluate the impact of programs on the families they serve—that impact is not a part of the metrics for how good programs are working. The MDHS workers Black met with were confused about why people were not applying for TANF anymore. Carla discussed this sentiment in her interview in the report.
"(S)o a lot of them will go without and have nothing, absolutely nothing, before they go to this extreme....," Carla said. "Is it worth losing yourself for the sake of trying to go along with this? You know what I'm saying? No. It's not. I'd rather struggle and go through whatever I got to go through just so I could have a peace of mind."
Email state reporter Arielle Dreher at [email protected].