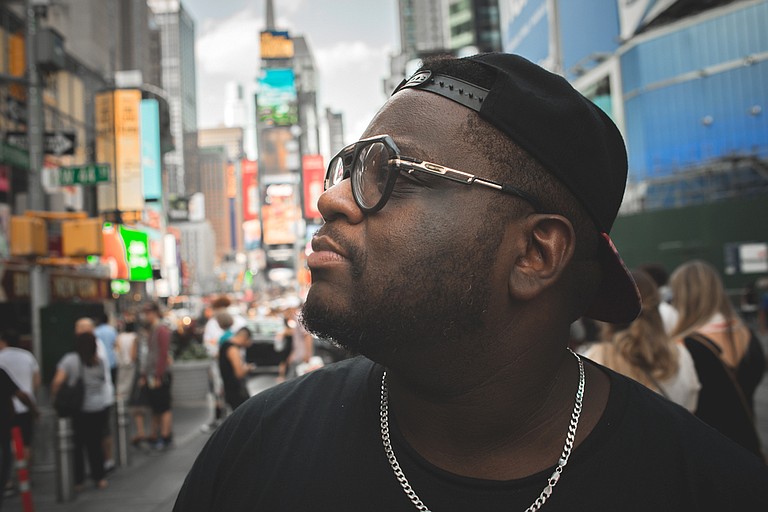 Friday, November 24, 2017
Fans may recognize Raheem Jarbo, also known Mega Ran, as a prolific writer of "nerdcore" rap, blending the worlds of hip-hop with video games and other forms of entertainment. However, that combination wasn't always an obvious choice for the Phoenix, Ariz., musician.
Jarbo grew up in the 1990s in Philadelphia, Penn., a city with a rich hip-hop past and present that inspired a deep appreciation for rap music in him from a young age.
He says: "I feel like I was around for what a lot of people think of as maybe the second Golden Age of hip-hop or the Silver Age of the late '80s, where Wu-Tang Clan and A Tribe Called Quest, and we had so many other greats popping up at the same time. Just being a part of that made me want to sit around and write rap."
In the late '90s, he began to do just that, and after showing his lyrics to friends, they told him that what he wrote was good and they felt like he was onto something special.
"I thought they were just fooling me, but it turned out that it was something that I really wanted to pursue," Jarbo says. "I really loved it. I loved the creativity that it brought out of me."
In 2000, he began rapping under the stage name Random, taken from the Marvel Comics character of the same name who first appeared in the series "X-Factor."
"He was a shape-shifter," Jarbo says. "He would change shapes, and I thought, 'Man, that's what I want to do in music. I want to be able to shape-shift, jump all over the place."
At the same time, he was getting more active with his second passion: video games. Jarbo says that he would regularly spend all day playing games such as "Super Mario Bros.," "Final Fantasy," "The Legend of Zelda" and "Mega Man," and spend his evenings writing and listening to rap.
"That was definitely something where both things were a part of me forever, but I never thought to put them together," he says. "I don't know. I thought it was kind of taboo. But I'd make a reference here or there—a 'Street Fighter' reference in a rap song or whatever."
Listeners often understood the references, Jarbo says. He began to see that hip-hop culture and video-game culture weren't as separate as he thought, which inspired him to keep melding his two interests. Several years later, those worlds came even closer when he began making beats through a game called "MTV Music Generator" on the original PlayStation system.
"I was using game hardware and software to make beats, but still hadn't put it together, rapping about games," he says. "But then, I learned how to sample, and when I would sample, I'd go into sampling from video-game soundtracks. I would make beats that sampled (sounds and music) from 'Final Fantasy,' 'Resident Evil,' 'Zelda, 'Mega Man,' and that's what gave me the impetus to work on music that would reflect video-game culture. Most importantly, my friends still liked it. No one said it was dumb or whack, so that's what encouraged me."
Jarbo continued to perform and release music as Random through the 2000s, but one major change came in 2007 when he released his second album, "Mega Ran," which centered on the popular Capcom character Mega Man. Once the album began gaining popularity, people began to conflate the album title with his stage name.
"I feel like the good nicknames, the good titles, are given and not made up, you know? I realized that fans would refer to me as Mega Ran, and so I was having a hard time with it, like, 'No, I'm Random. So it's Mega Ran A.K.A. Random.' And it just got really confusing," he says with a laugh. "So I just kind of gave up on that and eventually became Mega Ran."
During that time, he says that he was enjoying pursuing music at night and on weekends, but continued to hold a day job as a music teacher in Phoenix, where he moved in late 2006. Then, in 2011, he released a "Final Fantasy VII"-themed album titled "Black Materia" that brought him new level of success.
"One day, I looked up, and it was on the iTunes hip-hop charts, and it was next to guys like Kanye West and guys like Lil Wayne and Jay-Z," he says. "I was like, 'Wow. None of these guys have day jobs. Maybe I need to try this.' So I did. We just took a try. I stepped away from my job later that year to pursue a full-time career in music.
"It just came to a point where I was getting a lot of gigs, a lot of bookings, and more and more, people were asking me to play shows, and I was teaching, so I had to say no. I was like, 'Wow, with all these things I keep turning down, maybe this is what I'm supposed to be doing.'"
Since making the transition to pursuing music full time, Jarbo has continued touring the country and releasing new music that takes inspiration from a variety of sources both nerdy and not. In 2017, alone, he put out singles "Church" and "Slow Down;" Notorious B.I.G. tribute "Notorious Ran: Ready to Live;" the WrestleMania-inspired "Mat Mania: The Revenge;" "Strangers," and an EP based on Netflix phenomenon "Stranger Things."
His biggest release for this year, though, is a full-length record titled "Extra Credit," which he released on Sept. 1. His tour in support of the album will bring him to Offbeat (151 Wesley Ave.) on Saturday, Nov. 25, at 8 p.m. Admission is $10 per person, and the show also features performances from Kadesh Flow, Alfred Banks, Ray Kincaid and DonChe.
For more information, visit megaran.com.