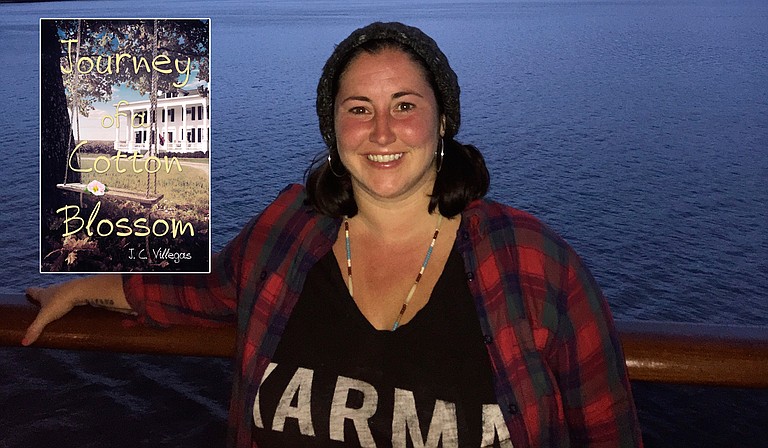 Wednesday, November 22, 2017
J.C. Villegas was moving from Mississippi to Texas when she began writing her debut novel, which came to her in a dream—one that she tried to ignore.
"My background is not writing," she says. "I had no intention of being an author, but the dream came to me, gave me this story, and told me I had to write it. I thought, 'Yeah, that's cute. I have other things going on.'"
A few months after the dreams started, the Flowood native relocated to Dallas for her wife Catalina's job in sports marketing after nearly a decade in Hattiesburg, where Villegas ran nonprofit animal rescue Dog Advocate. For nine months, she continued having the dreams, which laid out the story of multiple generations of a Mississippi family and became more detailed over time.
"It was getting to where I couldn't sleep, so I just had to sit down and start writing," she says.
That became the foundation of her first book, "Journey of a Cotton Blossom" (Brown Books Publishing, 2016, $24.99), which centers on Joseph, a mixed-race plantation worker separated from his mother at birth, and his son, Isaiah, who faces a different kind of discrimination as he comes to terms with his homosexuality. While the novel spans decades, Villegas says the characters share a common goal: a life of equality, free from discrimination and prejudice.
"You can really see that (goal) if you start in the '40s, you know, and you see a woman and her child, who's a de facto slave," she says. "Then, her child has to grow up from plantation to plantation, and he lives through the civil rights era of the '60s, pushing to go to college. Then, up until the 2000s, his son, fighting for equality being a gay man in Mississippi and fighting for equality within his own family. You really get the whole feel of what people have had to go through for generations."
Villegas says she hopes that even readers who do not typically pick up books dealing with heavier subject matter will be able to appreciate the book for the characters within it, and its story of love and self-acceptance. For those who have not experienced discrimination, the book can be a lens, and for those who have, "Cotton Blossom" can be a reminder that they aren't alone, she says.
"I think it does deal with very real topics, but it is about this family, about the family's journey in life and their journey inwardly and outwardly in society, about their love for each other and trying to find love for themselves," she says. "I think (readers) can really find something similar in themselves in the characters."
Since releasing the novel in September 2016, Villegas has donated 10 percent of each book sale to the Campaign for Southern Equality, an LGBT advocacy group based in Asheville, N.C., that she became acquainted with while in Hattiesburg.
"I just see how much they're pushing for change in the South and in Mississippi," she says. "Right now, they're strongly fighting HB 1523 that was just passed, and they're pushing to get that to the Supreme Court. ... With this kind of book, I think it was important to back an organization like that."
For more information, visit jcvillegasbooks.com.