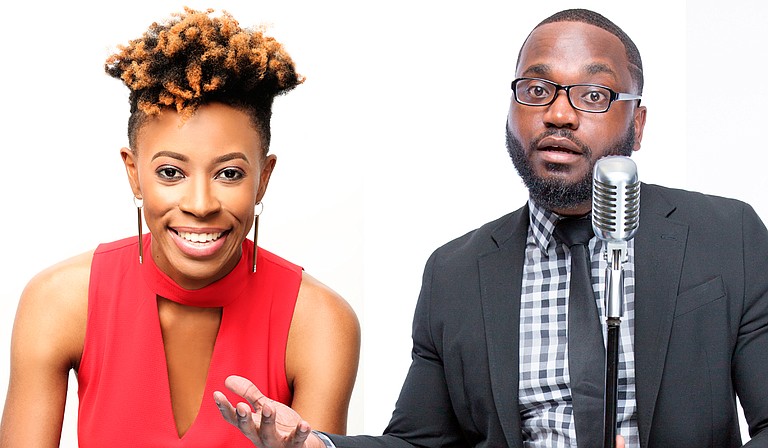 Wednesday, November 22, 2017
Plenty of fans around the country tune in for actor and comedian Kevin Hart's TV series, "Hart of the City," each week. For the latest episode, however, Jacksonians will have just a bit more incentive to watch than most viewers.
Since its second season premiered on Nov. 3, the Comedy Central show has featured local talent from Seattle, Phoenix and Paterson, N.J. On Nov. 24, the series will shine a spotlight on the burgeoning stand-up scene in the Mississippi capital, with performances from Jackson comics Rita Brent and Merc B. Williams, as well as Hattiesburg comedian Ben Compton and Vicksburg native Marvin Hunter. Brent says it was a meeting between Hunter and a member of Hart's company, HartBeat Productions, that helped pave the way for the show's stop in Jackson.
"It was interesting because I had been seeing 'Hart of the City' come to surrounding states," Brent says. "A lot of my friends in Atlanta and just some other places, (like) Alabama, had gotten picked. I wondered, 'Is he going to come to Mississippi?', because I didn't know if Kevin Hart even knew there were comedians in Mississippi."
Earlier this year, Hart's team contacted Mississippi event promoter Elton Pope, founder of the Just Joking Around Comedy Series, about putting together auditions for a Jackson-centered "Hart of the City" episode. Ultimately, about 30 comedians came out to the auditions, which took place at The Hideaway and MikeTown Comedy Club. Williams almost wasn't one of them.
"I just happened to be scrolling (through) my Facebook one morning and saw they would be coming to Jackson to do auditions. ... I was like, 'What do I have to lose at this particular point?' and just jumped on it," he says. "I was actually scheduled to do (May 20) but ended up having a gig that same night, and I was like, 'Man, I'm going to miss the audition.' They said, 'Well, we're going to do two of them,' and I was like, 'Oh, good!' So I still got a chance."
It wasn't as simple as jumping on a stage and trying to be funny on the fly, though. The auditions came with a strict eight-minute time limit, and anyone whose set exceeded that time limit was disqualified.
"So you kind of think, 'OK. Let me put together what I think is the best seven-and-a-half minutes that I can do,' and you just practice it," Williams says. "You practice it for people. You practice it in the mirror. I think I had a couple gigs prior to that and bombed both times with the same set—the exact same set!"
It didn't discourage him, though, because bad nights are part of becoming a better stand-up, he says. One time, the audience even booed him.
"At least you're reacting," he says. "I'm getting something. I would have been worried had they not said anything. It just kind of challenged me to go back, tweak some things and work some things out until I felt comfortable because that's what you want as a comedian. You don't want to seem like you're trying."
Brent says that, in addition to selecting TV-appropriate material, part of her preparation was making sure the jokes in her set would make people in Los Angeles or New York City laugh just as much as people in Jackson would.
"I hear a lot of comedians talk about the potholes in Jackson," she says. "Well, if you aren't from Jackson, and you don't have potholes where you're from, then that may not be funny. So that was one thing—make sure my jokes are universal, which is a constant thing as a comedian. It's staying true to where you come from, and I'm a Mississippi comedian so I have Mississippi flavor, but at the same time, I don't want to isolate people by being too regional."
A few weeks after the auditions, HartBeat selected four comics to represent the city of Jackson. A confidentiality agreement kept the winners from sharing the good news with their friends and families, but Williams says they were able to congratulate each other.
"It was crazy because I saw Rita the same night I found out. She actually was gigging at Hops & Habanas, and so I kind of pulled her to the side like, 'Did you get a phone call? I got a phone call.' And she was like, 'Yeah, I got a phone call,'" he says with a laugh. "... It's just cool to kind of celebrate and share that accolade with people that not only are you cool with or friends with, but people you're a fan of."
After learning that she would be one of the featured comedians, Brent says that she felt grateful for the honor and also wanted to plan how to make the most of the opportunity after the episode airs. She says that she has talked with a few previous "Hart of the City" stand-ups about their experiences following the show.
"Some are saying, 'Well, since my show aired, I've gotten more work,' and some have said it's been transformative for their careers, so I want to see how to capitalize on this opportunity," she says. "That's where I am now."
Brent says that one of the things that she most admires about the show is its commitment to highlighting the local experience in the cities it visits, which even extended beyond the performers. Hart, who is a health-food enthusiast, filmed a segment at Foot Print Farms in Jackson, and HartBeat allowed Pope to hire local filmmakers Melvin Robinson and Eddie Wright to film the auditions.
It's a nice boost for local businesses, but for comedians, it can be a crucial step in furthering their careers.
"The major thing is exposure," she says. "All four of the comedians—me, Merc B. Williams, Ben Compton and Marvin Hunter—this will be our first time on a primetime network. Especially with me and Ben, we've only been doing it for a few years, so to have a big credit like this so early on is really amazing."
Brent says that many comedians feel that the right exposure is what will take them to the next level in their career. "I'm hoping that's what happens," she says.
"Hart of the City" airs Fridays at 10 p.m. on Comedy Central. Rita Brent will host a free watch party for the Jackson episode at 9 p.m., Friday, Nov. 24, at The Hideaway (5100 Interstate 55 N. Frontage Road). For more information about the program, visit cc.com.