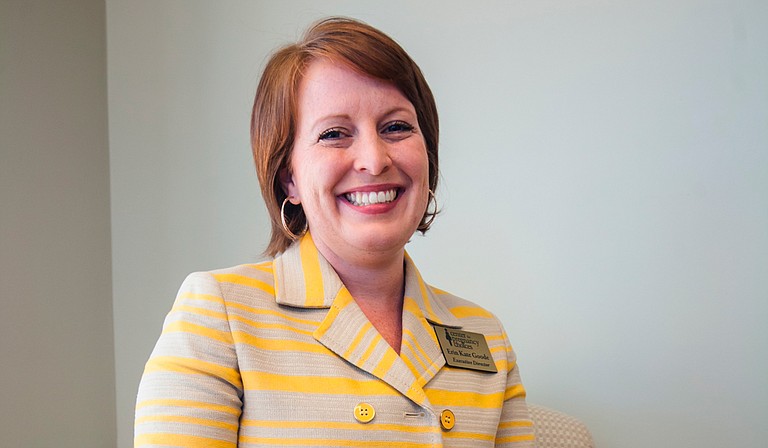 Wednesday, November 22, 2017
JACKSON — The Center for Pregnancy Choices takes up the basement of the Kolb's Cleaners building in Fondren, with a waiting room, two counseling rooms, a back office and one medical room. Decorative paintings adorn the freshly painted walls, and private counseling rooms have comfy sofas.
Erin Kate Goode, the center's executive director, said CPC is a "nonprofit medical clinic" supported by volunteers and funding from more than 60 churches in the Jackson metro area. The nonprofit operates two other centers—one in Jackson and one in Pearl.
The Fondren location opened in May, but it is easy to miss due to its location. Unless you see the plastic folding sign right past the entrance to Kolb's Cleaners on State Street, you might miss the center entirely.
To help with visibility, the Fondren CPC asked the City of Jackson for a variance to allow the group to erect a sign on its property line, on top of the retaining wall, which stretches up to the edge of State Street.
At the Nov. 7 meeting, city council members could not agree on the request, however, and the vote on the request to either approve or deny the variance tied at 3-3.
Council members were torn between the consequences of granting the variance leading to a slippery slope of more businesses asking for the same and thinking CPC was an exception worthy of a variance.
The tie vote effectively killed the variance, city officials confirmed to the Jackson Free Press.
"I don't know where it's going to go," Goode said about the sign. "I mean, I really don't. It's just, we're going to get creative, I guess."
The city's planning department is looking to revamp the variance request process, Director Mukesh Kumar told council members, so the center might be able to take advantage of those changes in the coming months.
Abortion-Breast Cancer Link?
The Center for Pregnancy Choices' Fondren branch is just a block away from the state's only abortion clinic, which is in a bright pink building on North State Street. While the center does not market itself as a religious organization, most of its materials are heavily-laden with components of "spirituality." Dr. Freda Bush medically supervises the center, its website says. She is one of several physicians listed on Pro-Life Mississippi's list of approved doctors who do not refer or perform abortions.
The center pointedly does not suggest or refer women for abortion, either.
"We do personally, as people, value life. We believe that God has a plan for every life that he creates, but we also believe that God gave each of us free will to do what we will with our lives and our choices," Operations Director Jay-Tea Leggett told the Jackson Free Press.
When a woman walks into CPC, she fills out paperwork, which includes demographic information and consent for services. Then she has to go leave a urine sample. In most cases, in order to receive services, women must have a pregnancy test conducted at the clinic. A nurse processes the pregnancy test with the urine sample for her, while she meets with a volunteer called a "decision specialist," who is not a licensed counselor, but is trained in listening skills and how to go over the printed material with women.
The center offers two decision guides: one for women who plan to be a parent and one for women who are undecided. The guide is a single sheet of paper that asks women to write about each of their options, including abortion. The "undecided" guide asks women to lists the "advantages" and "disadvantages" of adoption and parenting as well as abortion, even though the center does not refer for that service.
If a woman mentions she is considering abortion, the nurse walks her through a magazine produced by 
b4youdecide.org, which tells the stories of women who chose to have an abortion and regretted it later, as well as discusses pregnancy options, including the health risks of abortions.
Like other surgical procedures, there are scientifically acknowledged risks to having an abortion, like blood clots accumulating in the uterus in .2 percent of cases and infection in 2 percent or less of cases that the National Abortion Federation even acknowledges on its website.
The Before You Decide magazine lists these health risks, without mentioning the low frequency at which they happen. The material also links abortion to an increased risk for breast cancer, a claim that the American Cancer Society dismisses.
"At this time, the scientific evidence does not support the notion that abortion of any kind raises the risk of breast cancer or any other type of cancer," the ACS website says.
Despite the American Cancer Society's rejection of the supposed abortion-breast cancer link, Mississippi law requires physicians to tell women considering abortion that it is one of several "particular medical risks."
After a woman goes through a CPC decision guide, she goes back to the clinic room, where the nurse reveals the results of the pregnancy test to the patient. If the test is positive, she can perform a sonogram for the pregnant woman. If the test is negative, women receive a sheet that allows them to schedule a re-test as well as lists numbers to local clinics like Jackson Hinds Comprehensive Health and Crossroads Clinic. Women interested in birth control after a negative test are also given the sheet with the list of local clinics where, nurses tell them, they can get birth control if they want it.
The CPC is not required to be licensed with the Mississippi Department of Health due to lax state and federal regulations, but Leggett said the clinic is fully HIPPA-compliant anyway. The medical staff on site at the center is registered nurses who perform pregnancy tests and sonograms for patients. If a woman needs medical care beyond a nurse's expertise, they can call local doctors to make a referral.
The Center for Pregnancy Choices is one of several "Crisis Pregnancy Centers" listed on material from the state health department that abortion providers are required to give to their clients if they want it 24 hours before their procedure that "offer alternatives to abortion."
'More of a Disturbance'
The majority of women who go to the CPC are planning to be parents but are looking for support, Leggett said. Women can join support groups, including a "post-abortion" support group for women who have previously had abortions, or receive additional counseling from staff from the Net, a Christian counseling nonprofit.
Pregnant mothers can come to the CPC throughout their pregnancy until their child is 2 years old. Mothers can also receive free diapers each week as well as wipes and baby wash when needed.
In January, the CPC plans to roll out sexually transmitted infection testing and treatment at its Fondren location, Goode said. The testing would likely be for patients who come in and have a negative pregnancy test if they want it.
The CPC serves a lot of patients without medical insurance, Leggett says, and the center can issue women a verification of pregnancy she can show to a doctor if she seeks prenatal or pregnancy treatment elsewhere.
"We feel like we are offering a great service where they can come in and get an ultrasound typically around seven weeks, some of them are further (along)," Leggett said. "I remember one time someone came in and they were 33 weeks, and they thought they were barely pregnant, so you know, we can go ahead and help them and then we will give them a referral to get where they need to get as far as pregnancy care."
The Jackson Women's Health Organization Director Shannon Brewer told the Jackson Free Press that since the Center for Pregnancy Choices opened this spring, she has seen an increase in protesters outside the clinic.
"It just has made more of a disturbance for us and the patients and the entire neighborhood, actually, because there are more people standing out and yelling," Brewer said.
Goode said CPC volunteers and staff members are not recruiting women to come to their center from the Pink House. "That's against our policy, unless you have permission from Erin Kate to walk over, like if we're praying," Leggett said.
"Like I was there, a couple weeks ago for a prayer meeting," Goode jumped in. "I went over there and prayed because people we are friends with were over there at that time, but you have to have specific permission from me to go. And no, you can't be in here meeting with clients and over there hollering—that's against the rules. We don't send people over there to bring people here."
Brewer told the Jackson Free Press that some of women who come to JWHO, who previously went to CPC, might not have gotten accurate results there.
"We have patients come to us and tell us they were further along than they are," Brewer said.
Email reporter Arielle Dreher at [email protected] and follow her on Twitter.com @arielle_amara.