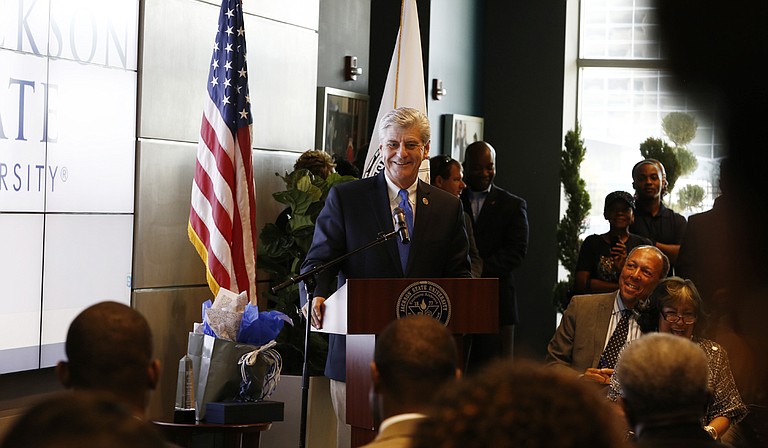 Thursday, November 16, 2017
JACKSON — Gov. Phil Bryant released his budget recommendations this week, with an emphasis on education funding, particularly as it relates to workforce development.
Bryant suggests adding $7 million in funds for the Mississippi Works Scholarship Program, which would "incentivize high school seniors and adults already in the workplace by offering free community college degrees, certificates and apprenticeships," the governor's recommendation says.
His education budget proposal also includes an increase in funding for Jobs for Mississippi Graduates. Bryant chairs the national board of Jobs for American Graduates, a national nonprofit focused on preventing dropouts.
The governor also called on the Legislature to update the Mississippi Adequate Education Program, called MAEP, the education-funding formula responsible for most of the State's funding to public school districts. In early 2017, EdBuild, an education nonprofit, released its recommendations to update the funding formula. The proposal calls for a formula that weights student funding based on student needs. For example, students in poverty and English-language learners—as well as technical and vocational education programs—would receive more funding.
"I look forward to an open and robust debate about the funding formula reforms during the 2018 legislative session," Bryant's budget recommendations say. "While this budget recommends level funding for MAEP for FY2019, adjustments may be needed to accommodate the new formula."
MAEP, written in 1997, has only been fully funded twice in its existence. Discussions about potential legislative changes were kept behind closed doors and out of the hands of most lawmakers last session. However, based on lawmakers' public comments since then, Mississippians can expect to see more discussions in the 2018 legislative session.
House Speaker Philip Gunn, a Clinton Republican, told business leaders at the annual Hobnob Mississippi this year that lawmakers' motivation to re-write the funding formula is to prepare students to enter the workforce. State Superintendent Carey Wright supports the funding formula re-write as well, telling reporters this fall that it makes sense to fund students based on their needs to provide "equitable funding."
Bryant's budget recommendations also include increased funding for the Department of Public Safety pensions and a graduate trooper school, while slashing more than $1 million in Medicaid funding. The Joint Legislative Budget Committee, made up of representatives and senators, will adopt its budget recommendations in December.
Email state reporter Arielle Dreher at [email protected] and follow her on Twitter @arielle_amara.