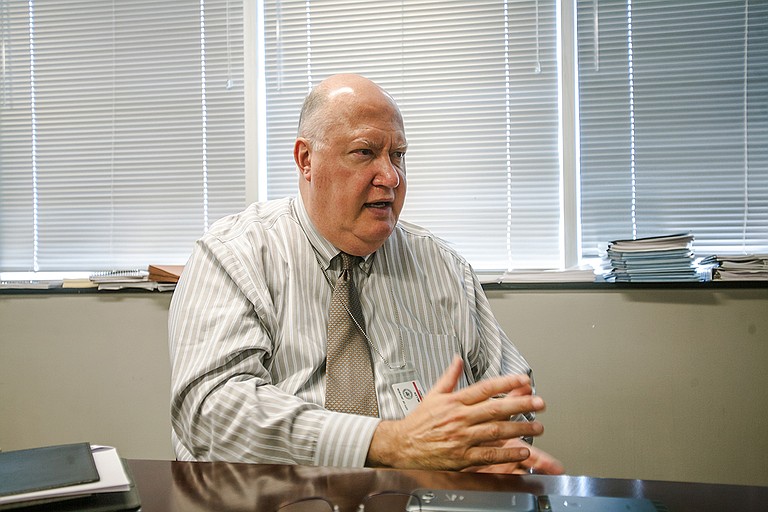 Wednesday, November 15, 2017
Robert "Bob" Miller, the newly appointed director of Jackson's Department of Public Works, makes a lot of car references when he talks about city infrastructure. Miller recently purchased a 1951 Ford, which isn't quite junk, either, nor will he make it shiny and new again, he said. However, he seems dedicated to restoring Jackson to be as close to new as possible. With a sustainable approach that he developed during his time in Louisville, Ky., he plans to replace 1 to 2 percent of the infrastructure system every year in order to achieve a brand-new system in the next 50 to 100 years.
Mayor Chokwe A. Lumumba contacted Miller as early as December 2016 while he was still deputy director of the Sewerage and Water Board in New Orleans, a position he held for eight years. Attracted to a role with more community impact, Miller took the Jackson position in mid-October.
Before New Orleans, Miller spent 26 years in Louisville, working in water services, including a two-decade stint as chief financial officer of the Louisville (Kentucky) Water Company. Both Louisville and New Orleans profited from an improved credit rating, allowing those cities to borrow more debt to repair the sewer and waters systems.
Entering what he calls the "fourth quarter of his career," Miller, 59, is hopeful about the future of Jackson. In an interview in his office, he shared his plans to fix potholes, leverage the 1-percent tax and respond to the Environmental Protection Agency's consent decree against Jackson for dumping raw sewage into the Pearl River.
Potholes are on everyone's minds. Will roads to the two new museums be repaired?
Yes. I've got paving scheduled for the blocks immediately adjacent, surrounding the museum and also some additional blocks beyond that. And that will start in the last week of November and depending on the weather, we intend to be done before the opening (in early December).
With the other leaders within the city government (I plan) to do coordinated capital planning because when you look at a street, there's more of what you don't see than what you see. Underneath there are typically drinking-water pipes ... and then sanitary sewer lines. ... As we're looking at all of our assets, (we must ask): What condition are they in? What should be replaced as we replace the street?
Where does wastewater treatment stand?
Jackson has two wastewater plants. The primary focus is on the largest by far—which is the Savanna Street plant. That's where we have a lot of investments we need to make on the (EPA) consent decree. I'm kind of excited. We're going in preventively where some of the piping there has reached the end of its useful life; we're taking that piping out and putting new piping in and putting new valves in. So we've got a tremendous volume of work to be done with the consent decree to be in compliance with the Clean Water Act.
What is the status of the Siemens contract and the water meters?
I am just getting started on that because that is going to require a significant amount of my time. Customers deserve to have accurate and timely water bills, and we've got some folks that have been getting inaccurate bills and some folks that are getting untimely bills, where they don't get a bill for some amount of time, and then when they do it's a fairly large bill.
Have you ever been to the Indy 500? The cars go by at close to 200 miles an hour, and it's faster than your eyes can follow. So you have to pick a spot ... and just watch that spot and watch as the cars come through. That's a little bit like how it is in managing a billing and collections system. We have a large number of meter readings every day: billings and collections everyday. So that happens at machine speed. We have to have the machine set up right ...so that these things happen accurately.
What are your plans with the 1-percent sales tax?
First of all, I think the citizens were very wise to adopt that (to pay for infrastructure). But as I understand it, that is intended to be an interim measure. The approach that Dr. Robert Blaine, the (city's chief administrative officer), and I agree on is that we have to have comprehensive plans—we can't have a whole bunch of piecemeal plans; we have to fold all these plans together. The 1-percent sales tax becomes an important funding element, but it's not the only one that has to be folded in.
My belief is that, and I wasn't here when it was adopted, that there's a sunset time period on that. And while the community may choose to renew it, in the meantime, I believe the community is expecting us to get our financial house in order so each of the systems pays their own way.
What tangible action items should the public have been able to see so far from you?
The first thing that I hope that they're seeing is visibility—me. I go to the neighborhood association meetings in the evening. Now there's occasions when I miss them; last night, I didn't roll out of here until around after 8 p.m.
My belief is as public works director, I've got to engage the public.
Second thing that I hope that they're seeing is the tone at the top being set by the mayor and his executive leadership team of engagement with the community, accountability to the community, (and) frankly a change in direction by the leadership of the community.
The third thing I hope people are seeing is a change of pace. This is kind of a sappy story, but it's true. I walked in the first day, and I noticed a coffee table with magazines on it, and I said, 'What's this?' I picked them all up and walked over to the recycling bin and threw them away. I said, "There's no waiting area because there's no waiting."
Jackson, Mississippi, does not have the time money or patience to wait any longer.
And then the final thing I hope they're seeing is closing the loop on things so that when a customer calls in to the 311 center, it doesn't die there.
What convinced you to come to Jackson?
I've given that a lot of thought. Mayor Lumumba's folks reached out to me because I had enjoyed some considerable success in the financial turnaround of the Sewerage and Water Board of New Orleans. As I got to know them, I noticed, this was a little bit different. Mayor Lumumba is not like anybody else.
This community has a lot to offer, especially culturally. My wife was an actress and director and producer, and the arts here are very strong. It's a nice amenity.
But most of all, the biggest reason was prayer. When Mayor Lumumba first started talking to me about coming here, I was like, "No, my wife and I are pretty settled in New Orleans ...," and he'd say, "OK, but would you pray for my community and pray for me as I go to lead this community?" And then he would text me and say, "I'm praying for you; are you praying for me and my community?"
I believe I serve my God by serving his people, so then it's a matter of where do I serve? And I believe I was led to Jackson.
This interview was edited for length and clarity. Email city reporter Ko Bragg at [email protected]. See this story at jfp.ms/miller for links to previous coverage of issues discussed here. For history on the Siemens controversy, visit jfp.ms/water.