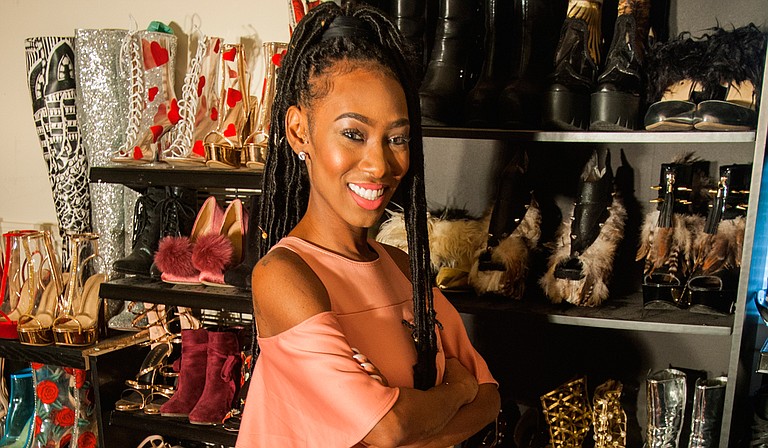 Tuesday, November 14, 2017
Meeya Thomas stands 5 feet and 2 inches tall—about three inches short of the national average for women. She says that because of her height, she loves to wear heels, and that is where her inspiration for her shoe designs comes from.
Thomas, a Jackson native, graduated from Callaway High School in 2004 and attended Hinds Community College in 2006. In 2007, she moved to Miami to pursue a modeling career and to attend the Miami International University of Art & Design. While there, she also began creating fashion designs, initially for eyewear.
After returning home in November 2009, she moved to New York in 2011 to pursue a career as a designer. In 2013, she created her first shoe line, and about a year ago, she moved back to Jackson, bringing her quest for fun yet affordable shoe fashion with her.
Thomas spoke to the Jackson Free Press about her modeling career and her aspirations as a shoe designer.
What was your modeling experience like in Miami compared to Jackson?
It was a different experience, but I was surprised that (I got to do) work like (commercial work) because, like, I have tattoos all over. They can be all hidden because they're all cute, like underneath my arms and different things like that, but ... being short and having tattoos, and I wore a high-top fade, I didn't think my look would do as well as it did.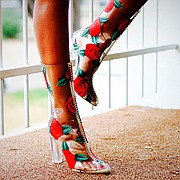 But being in Miami, I guess that's the difference between being like in New York where they ... have a (5-feet-7-inches)-112-pounds-type thing. In Miami, they're really versatile. They want diversity.
I'm not really into commercial modeling. I take good pictures, that what's people say, but I'm not really a poser. ... I like for people to see me right in front of their face. ... I'm more of a runway model, more so than commercials, and in Miami, I got to do both of them, and it was a great experience.
What were some of your negative experiences?
I didn't have any negative experiences. There were gigs that I didn't book that I may have necessarily wanted to book, but it was all a learning experience for me, honestly, because I didn't know that I was into it like I was until then. ... If you would book one gig, you would book another. Even when you were at these gigs, sometimes they'd say, "Hey, you didn't book this one, but there may be another gig that we have for you." I just took that positivity, and honestly, that's what made me push forward with that.
When did you return to Jackson?
I recently returned to Jackson, about a year ago, but before I came back here, I was in New York for two-and-a half years. (When I was in) Miami, I got lonely. I'm a homebody, and I love being around, like, my sister and my brother. I was in Miami by myself for a while, and then my sister came, and she moved to Miami, as well, maybe like six months later, and then I was fine. Then after (about a year), I was like, "OK, I'm bored now," I came back home for about (a year). I told my mom (after a while), "Well, I'm moving to New York. I may have a gig. I may have booked a gig." She was like, "What do you mean? You have no money. You can't just move to New York."
Our mom used to be a model, so she knew (what it was like and didn't want it to be our career path). My mom's like ... 5-foot-8(-inches), our dad's short, so me and my sister got the shorter end, literally, of the stick, and my brothers are really tall, our uncles are really tall. ... Us short girls, me and my sister, that actually modeled, and my sister, she's a (ballet) dancer, we would have wanted that height. I decided to take that and push forward with my designing again. After a while, people would still ask me, "Hey, are you not doing this anymore? Hey, are you making this anymore?" ... And I was like, "OK, maybe I should start back doing this."
Something always pushes me back to designing some kind of way. So I decided to move to New York.
When I was in New York, I hooked up with some people and was able to get into Mercedes-Benz Fashion Week. The first year that I went, I wore all of my own designs that I had on, and after maybe about that third day, I went to a show, and then a Chinese magazine saw me, and they were like, "Who created your outfit?" I told them, "Myself." They invited me to Beijing Fashion Week to actually do one of the side shows (but I didn't go. I went back to the Mercedes-Benz show). I stayed in New York for a while, and then, once again, I got lonely. I wanted to come home. My sister actually even moved up there, as well, and she stayed. I'm back home, but she actually stayed and is doing hair. But I was like, "I want to go home. I miss my friends. I miss my family." That's what actually made me come back home, but once again, I was like, "OK, I'm not doing what I want to be doing."
That recently had me get to this point, which (was) the fashion show (on Nov. 5) that I'm sure you've heard about. That's a new collection that I've come up with since I've been home. Like I said, it just made me want to get back into design.
Tell me about how you got into designing.
We have a (single-parent) family, and our dad lives in (Miami). We just weren't fortunate enough to be able to have a lot of stuff or the best of things, and different things like that. I knew my mother used to make her own clothes, and she (would) tell us how she always used to make her dolls' clothes and different things like that, and I started just mixing and mingling with things.
So why eyewear design?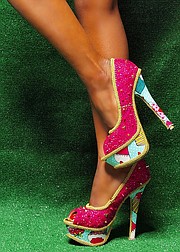 I love shades. I really do, and the crazy thing is, I love shades, but I will not wear them for a long time because they give me a headache, but I just like the fashion portion of them. I knew that it wasn't a big thing that people were doing, and I'm really good with, like, bedazzling things, as my mother said. She used to say, "You're not designing; you're just bedazzling." So I was like, "Well, this bedazzling will make something (that's) still nice." My mom calls me "The Embellishing Queen."
How did you design your eyewear?
All different ways. Sometimes, I would take different frames from other shades, and like, I may make two of the same shades with different colors, and I may pop the frames out, change the frames, and I may put stones on them, I may put spikes on them, I may put ribbon on them, anything on them.
Why did you go from eyewear to shoe design?
Now, as much as I like eyewear, I love shoes. Any time somebody comes to my house, they say, "OK, so where is the store?" I probably own about 200 pairs of shoes. They're in my room, so my whole room is just surrounded, all of my walls are just surrounded with shoes. I think that's also how I get my inspiration when I'm designing shoes because sometimes I wake up in the middle of the night, and I look over to this shoe, and I look at that shoe, and then it may put something else into my head. That's pretty much how I got into shoes—because I just have a lot of shoes.
What kind of shoes do you design?
Right now, honestly, I would say women's shoes, and that's really heels, like 6 inches or taller if I can find it. I do honestly do all (heights), but I love really tall heels because once again, I'm really short. So I don't even really own regular tennis shoes, I have one or two pairs, but even my tennis shoes are like tennis-shoe wedges. I just love to be tall. As far as design and creative-wise, I compare myself to, like, Alexander McQueen, Versace, (Patricia Field) styles. A bunch of everything goes onto my shoes. I created a cupcake line this past spring (and) summer, with like fun cupcakes and hearts and unicorns, and then the one I'm doing now is "Welcome to the Jungle," which is like, furs and leathers and browns, and different things like that. And then I did like a sweetheart line with roses. I try to pick a theme every spring (and) summer, and then I pick another theme every fall (and) winter.
Walk me through the process in how you actually design shoes.
Sometimes, when I do the shoes, I create the heels, as well, myself. I may take a heel off another one. My main goal, one day, is to manufacture my shoes. Right now, I just custom-make them, so when I make a pair, it's kind of like, "If you can't fit this size, sorry. You just have to wait until the next one." Sometimes, I create the heels, or I put heels on, and then sometimes, I may add a fabric, I may add embroidery, I may add sequins. It just depends (on) what I'm feeling.
My thought process of them is it may take a month, two months, a week—it really depends. That's why I don't really like to be, like, on anyone else's time when I create my shoes. My mom (says) all the time, "You could be working for somebody else. You could be working for Michael Kors." She'll see my shoes one season, and the next season, she'll see something similar to it like in Vogue magazine or something like that, and she's always like, "That's what I told you." It's like my brain is always a season ahead. It's all a creative process to me, so I don't like to be rushed. That's why I don't tell people a time or how long it'll take me unless I'm ready to actually put out a whole line.
What's the craziest thing you designed?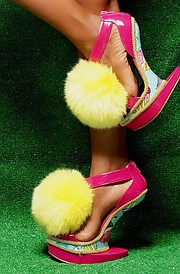 What's the craziest? I made some 9-inch heels with like a 9-inch platform on it, and the whole entire shoe ... was filled with stones. I completely hand-sewed all the stones. It took me about three months just to do that one pair of shoes. It was, like, amazing that other people were mimicking it. I wasn't even mad at it because it was really dope. I didn't make anymore after that, but it was a really dope concept.
So why did you choose lupus as a cause to focus on during your fashion show on Nov. 5?
My mom (is a breast-cancer survivor), and I know you see breast cancer a lot. You know, you see pink a lot, you see it on TV a lot, you see people wear it a lot, you see it in stores a lot. A cousin that I grew up with ... she has lupus, and we're about the same age. For a while, ... I just kept seeing (social-media posts about) how she was always in the hospital, and I know she has a daughter, and I just kept seeing about how she's always in the hospital, and how she's always thanking God. 
 She's always positive about it. I just didn't know how somebody could be so positive about being sick all the time and being in the hospital.
My boyfriend, his mother has lupus, so I would hear about (what she goes through), like she had an outbreak not too long ago, and I was like, "You don't hear about it a lot." That was my thing—you don't hear people talk about it a lot. Some people don't even know what it does, what it is, what it does to your body, how it affects your immune system and different things like that.
I just decided that's what I'm going to dedicate this to. I'm going to give back. I give back to breast-cancer (awareness organizations) all the time because of my mom, but I thought that this was something ... for me to do.
What is in the future for your business?
I hope somebody picks me up and gives me some money. Now, I see why, I'm not going to say it's easier to make clothes because it's not easy, but it's easier to go and get clothes processed, and cheaper—a whole lot cheaper—to get clothes than shoes because shoes are just really, really expensive. To get one prototype for one shoe, and I'm talking about just the left side, it's like maybe $250. Then, you have to get another prototype for the right, and then, that's just a size six, so you have to do the same process for the six, the seven, the eight, the nine, so you may be spending, like, $3,000 just for one design. My goal is definitely to be able to either maybe shop some ideas to, like, Michael Kors and people like that, and to be able to raise money and be able to mass-produce my line because another important thing (to note) is my shoes are definitely worth $600, $700, $800, $900 and up when you think of all the stuff that I put on them, and that's what I'm saying, how extravagant the shoes are.
(Growing up), I wasn't unfortunate; I was a little bit less fortunate, but my mom still made sure that we (had) anything that we needed. It's so important for me to create a dope shoe that a celebrity could buy, but that my cousin could buy at the same time. That's my ultimate goal is to be able to save enough money to be able to mass-produce shoes at still an affordable rate.
I'd rather see 500 regular people take pictures and wear my shoes and can afford my shoes than five celebrities that are probably going to wear it one time, and you'll never see it again.
... I don't want to sell my shoes for $900. I don't buy ... Christian Louboutin (shoes). I don't buy him because first of all his shoes are uncomfortable, and you pay $10,000 for them. That's total opposite of what I want.
For more information on the brand Meeya Thomas, visit meeyathomas.com or find the business on Facebook and Instagram.