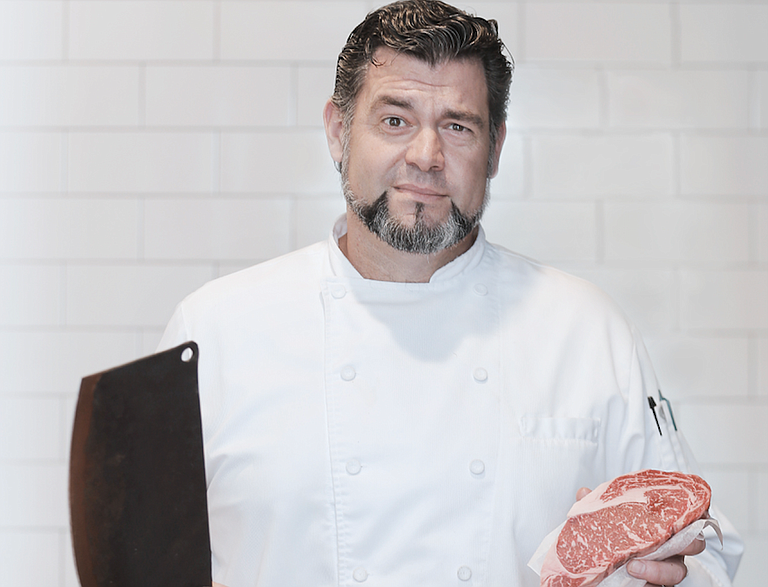 Tuesday, November 14, 2017
David Raines, a Madison resident and professional chef with more than 15 years of restaurant experience, opened The Flora Butcher (4845 Main St., Flora) on Aug. 1, 2016. Now, Raines is looking to open a new business called Dave's Triple B.
"Triple B" stands for "The Butcher, the Baker, the Barbecue maker," Raines told the Jackson Free Press, and the business will be located inside the former Chimneyville Smokehouse (970 High St.) in Jackson, which closed in November 2017. Raines said he plans to open Dave's Triple B in January 2018.
Raines said The Flora Butcher is dedicated to providing locally sourced meat, including a special type of beef called Wagyu that he sources from Raines Farm in Monroe, La., which his father, David Raines Sr., has operated for 15 years. He plans to use Wagyu and other meat from his shop for Dave's Triple B.
"This is going to be a lunch-only, fast-casual restaurant with a focus on quality ingredients from my father's farm and locally sourced produce, pigs, lambs, goats and chickens from Mississippi farms," Raines told the Jackson Free Press. "There are two big Southern Pride smokers in the building that we'll be using to make barbecue Wagyu ribs and briskets, pulled pork and plenty more, and I'll also be making all my own bread using techniques I picked up in New York."
Raines said the menu will also include chicken-fried steak, hot and cold sandwiches, sausages, cured meats, pastries, salads, blue-plate specials and more.
"We've been making at least 60 to 80 blue plates a day at The Flora Butcher lately, and part of why I'm expanding is because we're starting to not have enough room anymore," he said. "I'm sure plenty of people who make their way out here will appreciate us being closer to Jackson, as well."
Raines began his culinary training at Johnson & Wales University in Denver, where he received an associate's degree in culinary arts in 2006. He then went on to an Italian slow-food culinary school called ItalCook and took an international bread-making course at the French Culinary Institute, now called the International Culinary Institute, in New York City in 2008. Raines also took an introductory sommelier course with the Guild of Master Sommeliers in New Orleans in 2010, as well as a butchery and advanced sausage-making course with San Francisco-based 4505 Meats. Raines has worked at 17 different restaurants over the course of his career, including a stint as the chef de cuisine at R'evolution in New Orleans and at Seafood R'evolution in Ridgeland.
For more information, call The Flora Butcher at 601-509-2498 or find The Flora Butcher's Facebook page.
Northpark Mall Undergoing Renovations
Northpark Mall (1200 E. County Line Road, Ridgeland) announced on Nov. 8 that it will undergo large-scale renovations beginning in early 2018. Renovations to the two-story, 958,000-square-foot mall will include changes to the entrances, dining area, children's play area, restrooms, interior and exterior landscaping, furniture, fixtures, lighting and common areas.
"This is going to be a complete upgrade to bring Northpark up to 21st-century design standards," Christy Campbell, marketing coordinator for Northpark Mall, told the Jackson Free Press. "The mall hasn't been updated since 1998, and after this renovation is finished, visitors will be able to look forward to a modern, upscale Northpark. We want people to be able to enjoy Northpark as a hub for community gathering."
Northpark will remain open throughout the redevelopment, and the renovations are slated to be finished by November 2018. For more information, visit http://www.northparkmall.com/ or find Northpark Mall on Facebook.
Results Physiotherapy Holds Ribbon Cutting at The District
Results Physiotherapy, a national physical-therapy organization, held a ribbon-cutting ceremony for its clinic in The District at Eastover (120 District Blvd. E., Suite D-102) on Tuesday, Nov. 7, following its initial opening on May 15, 2017.
Australia native Gary Cunningham founded Results Physiotherapy in 1996 alongside a group of partners that included Olympic swimmer Tracy Caulkins. The clinic offers outpatient treatment for sports-related injuries; post-surgical treatment; headaches and migraines; lower back pain; nerve conditions; neck, shoulder, hip, back and foot pain; knee sprains, tendonitis, arthritis, vertigo and more.
"Here at Results, we take a more hands-on approach than what you'd usually see at other physiotherapy clinics," Dr. Patsy Triplett, the clinic director, told the Jackson Free Press. "Rather than just focusing on exercises, we do joint-mobilization treatments, myofascial release and other hands-on procedures. Our big thing is not just putting a Band-Aid over a problem. Our therapists are trained to find and diagnose exactly where a patient's problem is coming from so we know where to go from there."
Triplett is currently the only physician at the Jackson clinic, but she told the Jackson Free Press that the clinic will begin recruiting more physical therapists beginning in January 2018. She is a Madison resident who received a bachelor's degree in athletic training from Huntingdon College in Montgomery, Ala., in 2009, a bachelor's degree in biology from Jackson State University in 2011 and a doctorate in physical therapy from the University of Mississippi Medical Center in 2015.
Results Physiotherapy is open Monday and Wednesday from 9:30 a.m. to 6:30 p.m., and Tuesday, Thursday and Friday from 7 a.m. to 4 p.m. For more information, call 769-204-8222 or visit resultspt.com.