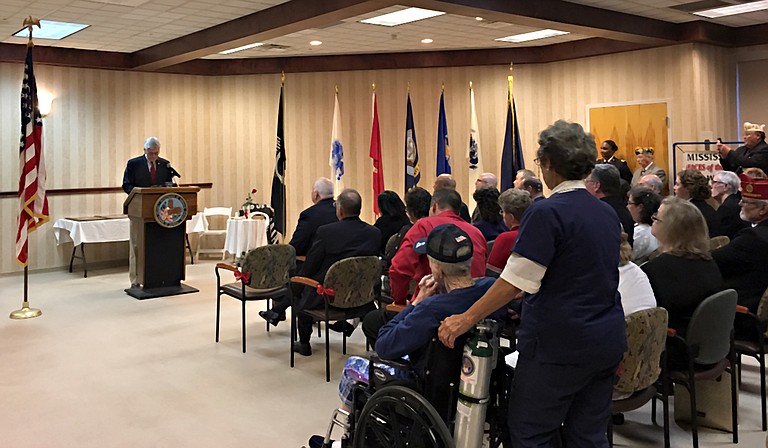 Friday, November 10, 2017
JACKSON — Soldiers and military personnel from almost every U.S. conflict in the last 70 years packed into a small auditorium in the G.V. Sonny Montgomery Medical Center on Thursday, Nov. 9, to commemorate Veterans Day, which is on Saturday this year.
Gov. Phil Bryant addressed the veterans, emphasizing the importance of medical care for veterans when they return from service.
"Another Veterans Day passes, and we think back about how much more, perhaps, we could have done. Could we ensure that every veteran in this nation has the care that they receive here?" Bryant said.
"Can we ensure that every veteran in this nation is living the American dream? Do they have a home? Can they send their children to college? Can they overcome the scars both physical and emotional that were suffered during their years and times in the military? We must forever be vigilant to make certain that we can answer affirmatively, yes," the governor added.
The governor said that all Americans who have not fought for the nation must make certain we are serving our veterans.
"I hope that I can do that as governor, and at any opportunity that I have, I recognize to salute and serve those who have worn the cloth of this great nation," he said.
Bryant praised Commander Randy Reeves during his remarks. Reeves is a veteran of Operation Desert Storm, the first commanding officer of the GV Sonny Montgomery Naval Reserve Center and the first director of the Mississippi Veterans Memorial Cemeteries. Reeves was confirmed for the Wall of Honor at the Montgomery Medical Center on Thursday, along with three other veterans—Jack Kilcrease, Kenneth Lenington, Robert Shane Pugh—who were inducted posthumously.
The U.S. Senate recently confirmed Reeves as the Under Secretary of Veterans Affairs for Memorial Affairs.
"I can think of no job that would be more important, none that would carry with it greater honor, than making certain that we are ever-watchful over the memorials, the cemeteries," Bryant said while congratulating Reeves at the ceremony.
David Walker, a veteran and director of the medical center, said Veterans Day is celebrated on Nov. 11 because it was on Nov. 11, 1918, at the 11th hour of the 11th month that the guns of World War I fell silent across Europe as the armistice with Germany went into effect.
Americans serving in that conflict started to come home, Walker said, "and we began to support our returning veterans."
Retired Col. Robert A. Kay recognized World War II, Korean War and Vietnam War veterans, in addition to those who served in U.S. conflicts in Grenada, Venezuela, Panama and Kuwait. Kay thanked the veterans as well as their families for supporting their loved ones. He said only .5 percent of the U.S. population serves in the military today.
"I'm proud to be a veteran; you should be proud to be a veteran," he said. He said that since 2001, only .5 percent of the U.S. population has served in the military in volunteer service.
Email state reporter Arielle Dreher at [email protected].