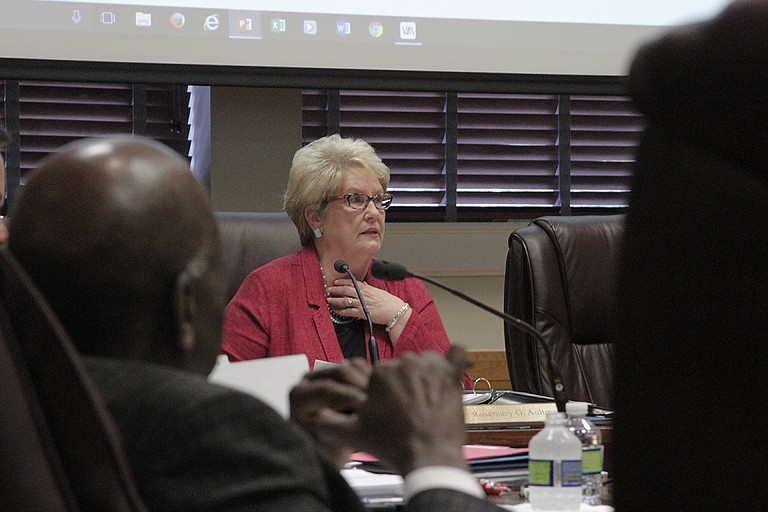 Thursday, November 9, 2017
JACKSON — Jackson Public Schools was not a part of the Mississippi Board of Education's monthly meeting agenda Thursday morning, but board Chairwoman Rosemary Aultman took a point of personal privilege to address the status of the second-largest school district.
She addressed Gov. Phil Bryant's choice to create a community coalition, instead of authorizing a Mississippi Department of Education takeover of the district, and she said the board wants to see a high-quality school system in JPS.
"Several media reports and editorials have portrayed this situation as a battle between the governor, the mayor, JPS and MDE. Let me be clear, there is no conflict. There is no fight," Aultman said. "The concern of MDE and this state board of education was that students were not getting an education that would lead to success in college or the workforce."
"The state of JPS had reached the point that the board could no longer ignore the fact that the district was not successful and had not been for several years," she continued. "However, I am glad that our actions have mobilized JPS stakeholders to work together to address the longstanding problems in the district."
JPS got to keep local control when Bryant chose to engage in a memorandum of understanding with JPS, the City of Jackson and the W.K. Kellogg Foundation. The MOU created the Better Together Commission, which will hire a company to conduct a gap analysis of the school district and solicit community feedback. The commission is an independent group of the district's school board, which just re-formed this week.
"The responsibility of a district's performance rests on the shoulders of the district superintendent and its board members. Decisions that guide the district to be compliant with standards that state law and state board policy deem critical to success are functions of local leadership," Aultman said. "When that fails to happen systematically over time, it is this state board's duty by law to act which it did. ... This crisis will not be resolved in the short term but rather over a period of years with a concerted sustained effort of intervention and support."
In an executive session, state board members edited Dr. Margie Pulley's contract. She was going to be named interim superintendent of JPS in the event of a state takeover, but Aultman said Pulley would remain at Tunica County Schools as interim superintendent, her current position.
Email state reporter Arielle Dreher at [email protected] and read more about JPS at jfp.ms/jpstakeover.