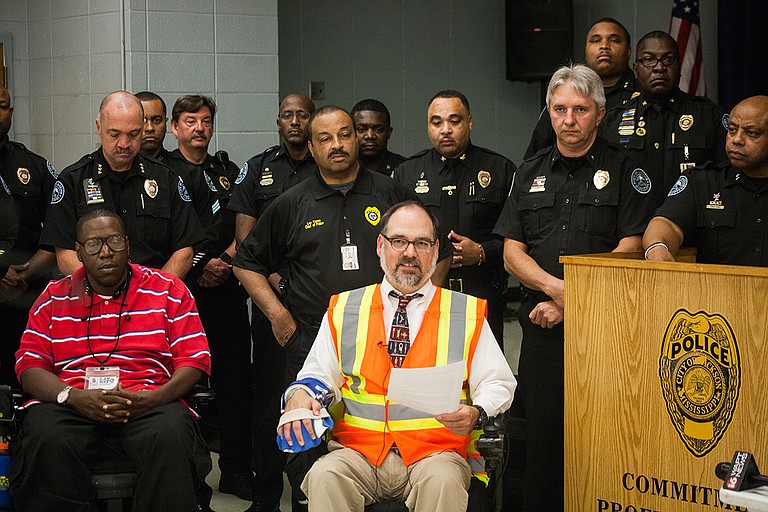 Thursday, November 9, 2017
JACKSON — Scott Crawford, a wheelchair user due to multiple sclerosis, showed up at the Jackson Police Training Academy near Jackson State University on Monday with 80 high-visibility vests to help keep other people safe. The donated vests are for those who use wheelchairs and scooters and often ride in the streets when they have to get places at night because Jackson lacks consistent sidewalks.
"People in wheelchairs or scooters have the choice of riding in the street or staying home," Crawford said at the press conference. "For many of us, freedom and independence takes priority, so we risk our safety to remain productive and engaged."
Jackson Police Chief Lee Vance attested to seeing people in wheelchairs up and down the street on a daily basis, and he hopes the donation will help. "Because what we talk about day in and day out is keeping the citizens of Jackson safe, and certainly this is going to go a long way toward helping members of our disabled community to stay safe," Vance said.
"The visibility is a huge factor because sometimes they are out like everybody else after it gets dark," he added. "Especially this time of year when it's going to be dark at 5 o'clock."
Despite laws in place that are supposed to protect the disabled communities, motorists do not always follow them, Crawford says. Motorists are supposed to yield or stop for disabled persons, even if they are in the street. He hoped to use the press conference to encourage wheelchair users to roll against traffic as close to the shoulder as possible but also to remind motorists to be kind.
"People often look and they see a sidewalk, and they think, 'well, why isn't he on the sidewalk?' and they get mad," Crawford told the Jackson Free Press. "And they beep their horn at me, but that sidewalk isn't necessarily accessible and usable. And you have to trust us to know whether that sidewalk is really usable or not, because often it isn't."
The City of Jackson requires any person using either a motorized or manual personal assistive mobility device in the streets to have reflective markings on both the front and the back of the device. The vests are meant to shift the burden from the disabled community to be compliant with the city ordinance to more of a community responsibility.
Crawford said the Jackson Police Department did not have the budget to purchase high-visibility tape or vests, so the organization, Central Mississippi Showing Up for Racial Justice, donated orange and lime colored vests. Each person in need would get both colors, one to wear and one for the chair. JPD Commander James McGowan is the person of contact for vest distribution, and he is also a long-time friend of Crawford.
"In the course of an email conversation he came up with this idea and said, 'you think the police department would get themselves involved if we did that?'" McGowan told the Jackson Free Press. "And I said absolutely. Plan it, and let's do it."
McGowan said that while officers cannot put themselves "in the chairs that they are in," they can send the message that they will do anything to protect them.
He says people can call him at 601-960-1907 to request the reflective vests.
Email city reporter Ko Bragg at [email protected].