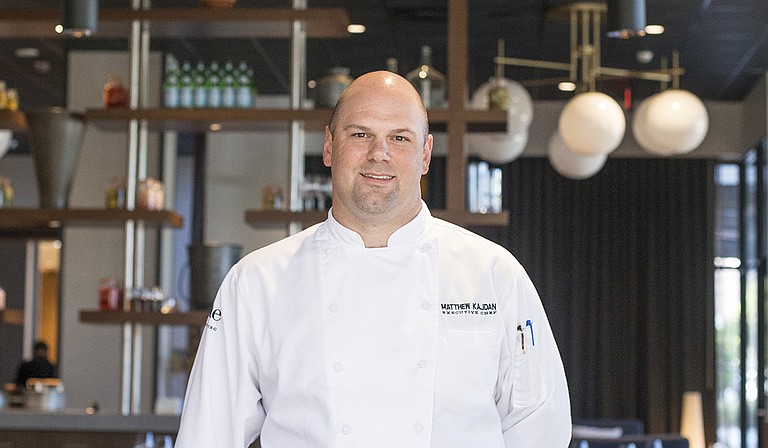 Tuesday, November 7, 2017
Estelle Wine Bar & Bistro Executive Chef Matthew Kajdan says that his favorite dish to make at the bistro is the grilled redfish.
He prefers the dish, which comes with sauteed lobster, avocado, tomato jam and a citrus vinaigrette, because redfish is indigenous to Mississippi, and we're the only state where people commercially fish for it.
"That's unique to Mississippi," he says.
Kajdan became a chef through happenstance, he says.
After he graduated from high school early, his mom told him that he had to get a job, so in 2001, he started working as a line cook at BRAVO! Italian Restaurant & Bar.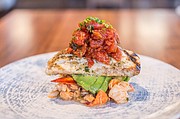 He says it took him a while, but eventually, he began to take it seriously. Kajdan credits Nick Apostle, who owned Nick's Restaurant, with inspiring him to look at cooking as a potential career.
"He really showed what it meant to be a chef, a great businessman and an ethical businessman," he says.
When Kajdan was 20, he moved to upstate New York to work as a cook at The Sagamore in New York. After about a year, he became the sous chef. In 2008, he came back to be the chef at Apostle's Mermaid Cafe in Lake Caroline. He worked there for about three years, eventually taking on the role as general manager in addition to chef.
Five years ago, family member Mart Lamar, who owned Parlor Market, asked Kajdan to help him out at the restaurant.
"He asked if I would like to run Parlor Market," Kajdan says. "I was the executive chef. I ran the front-of-the-house, the back-of-the-house, the operations, the payroll, taxes, you name it. I did it."
He had always been excited about the Westin project because of its potential to help downtown Jackson. He says that hotel investment group principals Joseph Simpson and his father, Jesse Simpson, would come to Parlor Market often to talk about downtown restaurants and businesses. About six months before opening, Westin Hotel management asked Kajdan if he would like to be the executive chef at Estelle.
To him, the Westin and Estelle are pieces in revitalizing downtown Jackson and Jackson as a whole.
"I was very excited about the project and what it'd do for the revitalization of downtown Jackson," he says.
Around May of this year, Derek Emerson of Walker's Drive-in, CAET Wine Bar and Local 463 Urban Kitchen bought Parlor Market.
In Kajdan's position, he gets to plan and write all of the menus, including the ones for breakfast, lunch, dinner and banquets. "It's a new experience, something I've never done before," he says. "It's a beast—twenty-four hours, seven days a week, 365 days a year, so it's a very exciting project to be a part of."
Kajdan says he likes to pair different cuisines together in his dishes. "I love southern food, so (for example) I like to put a twist on a classic French dish, an Italian dish or an Asian dish. I like to merge different cuisines together and do fusions," he says.
The chef has advice for those who aspire to be a chef: "Go get a job. Go find a kitchen. Being a chef and cooking are two different things. You have to cook for a living before you can become a chef. At some point in time, I was the best dishwasher, I was the best grill guy.
"I have literally done every position in the kitchen to get to the point where I am. A lot of people think they're going to go to culinary school and become a chef and that's just not the way it works. If you want to cook, you need to get a job in a kitchen. Washing dishes, peeling onions, whatever it may be, but you need make sure you're willing to do that for the rest of your life before you go off to school."
On Tuesday, Nov. 14, Kajdan will host a Chef's Counter Tasting at Estelle. The event includes five courses with wine pairings for up to eight diners at Estelle. The dinner is $80 plus tax and gratuity. A $50 deposit is required to reserve a seat. For more information, visit estellejackson.com or find the event on Facebook.