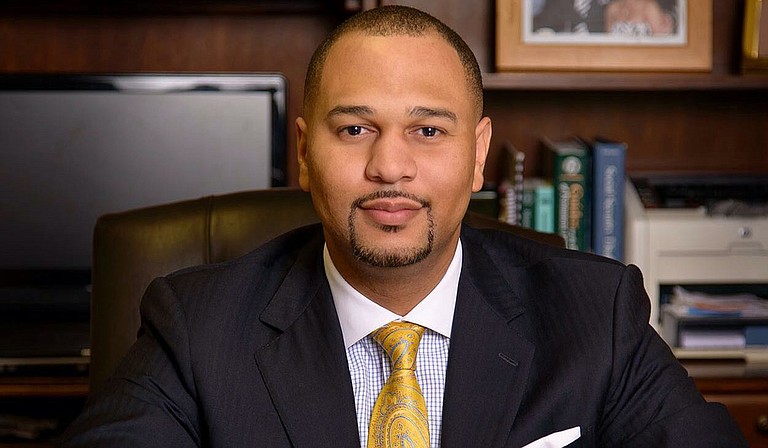 JACKSON — The nine U.S. Supreme Court justices could decide the fate of the case against the Mississippi state flag this month when they meet for conference on Nov. 21.
Michael Scott and Kristin Ashe, who are representing Mississippi attorney Carlos Moore, filed their final reply on Oct. 27 asking the high court to hear the case in light of the 5th U.S. Circuit Court of Appeals' interpretation of the Equal Protection Clause, which implied that the state flag's messaging is separate from its treatment.
"Mississippi adopted its flag at the same time it vigorously reasserted white control of the state, the flag was intended to be an official endorsement of white supremacy, and by continuing to fly it Mississippi broadcasts that message on a daily basis," the Oct. 27 reply brief says.
"It is the equivalent of the state adopting 'White Supremacy Forever' as its state motto. As one justice on the Mississippi Supreme Court has noted, as a symbol of 'white supremacy, racism, and oppression' the Confederate flag 'takes no back seat to the Nazi Swastika.'"
Attorneys representing Moore argue that if the State's conduct does not violate the Equal Protection Clause, "then it is undeniable that state and local governments are indeed free to officially demean and marginalize their black citizens, LGBT citizens, Hispanic citizens, Middle Eastern citizens, Asian citizens or any group which finds itself in a disfavored minority."
Scott and Ashe alluded to the case against House Bill 1523 where, they argue, the 5th U.S. Circuit Court of Appeals erred in its interpretation of the Equal Protection Clause, too.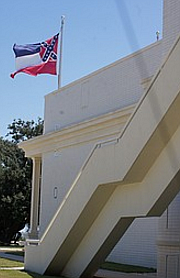 The Mississippi Sons of Confederate Veterans are fighting hard to keep the state flag to honor the Confederacy. Others are fighting back.
"Indeed, the Fifth Circuit has already extended its faulty Equal Protection analysis in this case to one alleging that Mississippi officially demeans and disparages its LGBT citizens. (Barber v. Bryant)," the Oct. 27 brief says. "In holding that mere governmental "messaging"—no matter how racially biased or how demeaning—cannot itself violate the Equal Protection Clause, the Court of Appeals made a grievous error, on a matter of fundamental importance to our society, and contrary to decisions of this Court."
Moore has received death threats as a result of the lawsuit, and the brief discusses how cities like Charlottesville, Va., and New Orleans have grappled with bringing down Confederate monuments.
Mississippi as a state, however, has done little to reckon with Confederate imagery. Public universities furled the state flag one by one last year, but lawmakers did not budge on changing the state banner. Moore's attorneys mention how the actions of New Orleans leaders to bring down statues "caused legislators in Mississippi to declare that those responsible for such acts in New Orleans and in 'our state' should be lynched."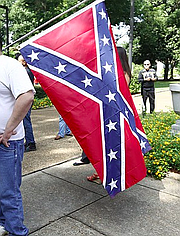 In their own words, Confederate leaders explain secession, the Civil War and their views about black people.
Rep. Karl Oliver, R-Winona, kept his seat in the Mississippi House this year after posting on Facebook that those who want to destroy "historical monuments of OUR HISTORY, they should be lynched." House Speaker Philip Gunn, R-Clinton, stripped Oliver of his vice-chairmanship, but neither he or other state leaders took further action against him.
A new documentary, called "Flag Flap Over Mississippi," features Moore and other Mississippians who want to change—and keep—the state flag. Millsaps College is hosting a screening of the film tonight at 6 p.m. The documentary is scheduled to air on Mississippi Public Broadcasting in January.
Email state reporter Arielle Dreher at [email protected] and follow her on Twitter @arielle_amara. Read more about the state flag controversy at jfp.ms/slavery.