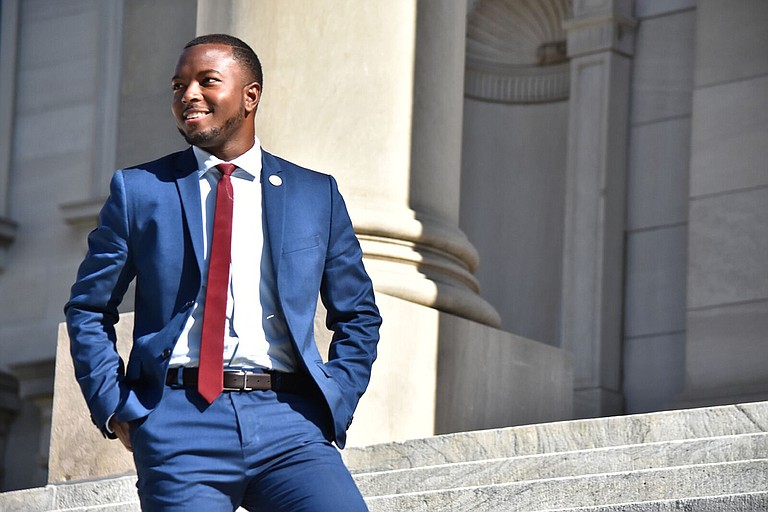 Mississippi Rep. Jeramey Anderson of Escatawpa announced on Friday, Nov. 3, that he will seek the 2018 Democratic nomination for Mississippi's 4th Congressional District seat in the United States House of Representatives.
Rep. Steven Palazzo, a Republican from the Gulf Coast, has held the seat since 2011 and may face Republican challengers in the primary election before facing Anderson.
In 2013, Anderson won a special election for his seat in Mississippi House District 110 at the age of 21. He is the youngest member ever elected to the Mississippi Legislature and the youngest African American elected to a legislature in United States history.
When he was 16, Anderson founded a nonprofit called Foundation for a Brighter America, which mentors boys ages 11 to 18, and still serves as the program's executive director. He received his associate's degree in criminal justice from Pearl River Community College and his bachelor's degree in homeland security from Tulane University.
Since his inauguration, Anderson has appeared on MSNBC, been featured in the NAACP's The Crisis magazine and has been a guest on the "Tom Joyner Morning Show." He also appeared in Essence magazine as a future presidential candidate, and television network BET recognized him as a "Young Riser" at the 2015 BET Honors awards.
Anderson is currently serving his second term in the Mississippi House after winning re-election by a margin of 80 percent of his district's electorate in 2015. After his re-election, the Mississippi House Democratic leadership named him as Mississippi Democratic Caucus secretary and treasurer. He also serves on the advisory board for Let America Vote and as co-chairman for the Mississippi Future Caucus.
During his time in the state legislature, he has authored and co-authored legislation to increase minimum wage, fully fund public education, and establish wage equality, criminal justice reform and childcare subsidies. A press release says his platform for U.S. Congress centers on addressing underfunded schools and economic hardships in the state, as well as government transparency.
The release says that Anderson will officially launch his congressional campaign in a ceremony on Saturday, Nov. 11, at the Almanette Hotel & Bistro in Gulfport at 6:30 p.m. For more information, visit jerameyformississippi.com or follow Anderson on social media @JerameyForMS.