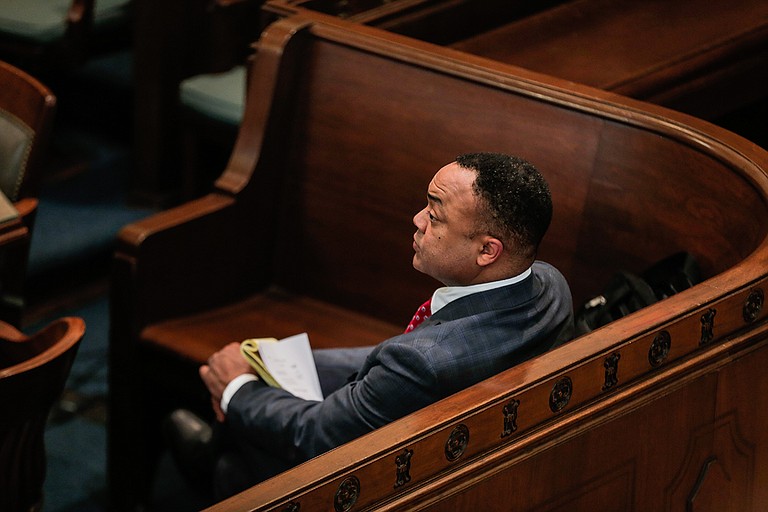 Thursday, November 2, 2017
JACKSON — Strapped with a new lead defense attorney, Robert Shuler Smith will face a trial in Rankin County for charges of two counts of domestic violence, and aggravated stalking and robbery. Though the Rankin County judge will revisit submissions this month from the defense and and also the attorney general's office bringing the case against Smith, court documents filed as late as last week reveal new information into how the case might unfold next year.
Vicki Gilliam of Clinton replaced Smith's counsel, John Reeves, officially this week. In one of her first motions as Smith's counsel, she requested to continue the trial and for an extension to file motions because, she says, Smith's former attorney failed to do his job adequately.
"Defendant Smith also felt that Reeves had not done adequate investigation, had not filed necessary motions and had not issued subpoenas for necessary witnesses, as there was a lack of communication between the two," Gilliam's motion said. "...For all these reasons, Smith had to retain new counsel last week."
The document also mentions that Reeves might have to testify in the case. Gilliam asked for more time to respond to motions and also file her own. She also said she retained an investigator to start interviewing witnesses—something she says previous counsel did not do. In the documents and in court, Gilliam maintained that she was not trying to delay, but rather to make sure she achieves justice.
The state filed documents requesting "the defense counsel be required to surrender the weapon that was collected from the defendant." It mentions that Reeves revealed in an in-camera meeting with the court that he was still in possession of the gun allegedly used in the domestic abuse incident.
Gilliam also wants the entire case thrown out. She alleges that after the victim brought her case to the Federal Bureau of Investigation, they did not take a written or oral statement or ask for physical evidence or ask for phone records, or even contact the Defendant, but instead, went to the Rankin County district attorney and subsequently the attorney general's office to bring forth an indictment.
"They indicted Smith knowing that a full investigation had not been conducted at the time of the incident," the motion said.
At the last pretrial court date, when the trial was delayed to the end of January, Gilliam accused the attorney general's office of operating in bad faith, particularly when it came to their lackadaisical approach to retrieving texts between Smith and the victim.
Should the case not be dismissed, documents show that the defense intends to allege Smith acted in self-defense.
"The Defendant does plan to present evidence that, at the time alleged incident, the victim had been and continued to be the aggressor by means of stalking, having an obsessive, erratic behavior and conduct toward the defendant, threats of suicide, threats of violence, by use of her gun, toward defendant and threats to harm the defendant otherwise," Gilliam's motion reads. "Hence the defendant will assert that any or all actions taken by defendant on the date and time of the alleged incident were in self-defense."
Though witness lists might change before the trial, the most recent documents show that the defense intends to bring forth witnesses that will paint the alleged victim as a mentally unstable, drug-abusing, obsessive stalker with suicidal tendencies who tried to extort Smith. The state discloses that the victim requested money from Smith to "pay half of a medical bill which the victim felt was the responsibility of both parties."
Another defense motion mentions the 2015 Hinds County District Attorney election between Smith and Assistant Attorney General Stanley Alexander, the lead prosecutor in this case.
"The allegations that lead to this case were made less than 2 weeks after Assistant Stanley Alexander unsuccessfully challenged Robert Shuler Smith...," court documents read.
The document goes on to detail the election results and the fact that Alexander received campaign support from people in Rankin County; therefore, the defense wants the right to weed out any jurors who supported, voted for or donated to Alexander. The defense also wants to discern if any potential jury members are biased about his previous trials and the significant media coverage of them, which include the surveillance video of his arrest and mugshot.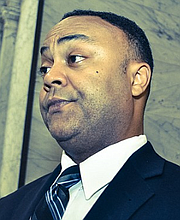 An archive of reporting on controversies surrounding Hinds County district attorneys, present and past.
Motions from the attorney general's office advocate for an immediate bench trial, or a trial without jury that goes solely in front of a judge because the simple domestic-violence charges are considered misdemeanors, which they believe merit a bench trial based on previous case law. Bench trials are known to be conducted much more quickly than jury trials. The defense responded, advocating for a jury trial so that his misdemeanor charges and felony charges can be tried all at once in front of Rankin County Circuit Court Judge John Emfinger and a jury of Smith's peers.
Smith's case file resides in the Rankin County circuit clerk's office in a red legal folder that struggles to contain all of the paperwork. Rankin County does not have digitized criminal court records, and the clerk's office estimated that it would cost around $200 for them to copy all of the paperwork within the file, as they charge $1 per page copied.
The trial date is set for Jan. 29, 2018 in Emfinger's circuit court in Rankin County.
Email reporter Ko Bragg at [email protected]. Read more about this case and earlier ones against Robert Shuler Smith at jfp.ms/dafiles.