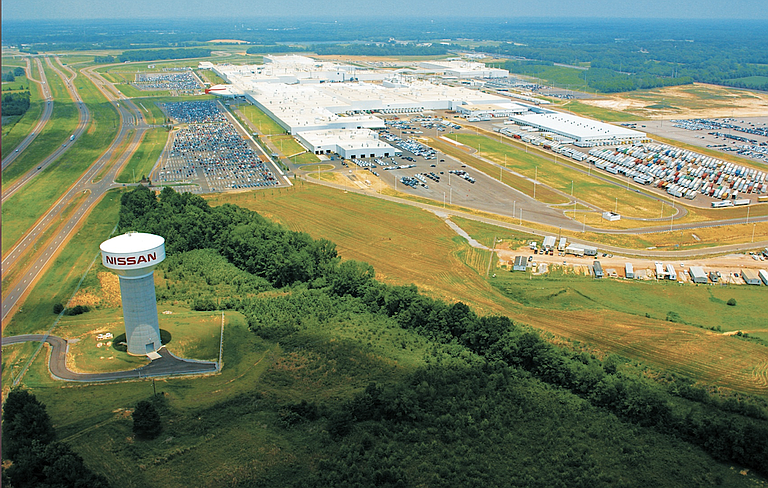 Wednesday, November 1, 2017
OXFORD—Travis Parks, a 14-year veteran worker at Nissan's plant in Canton, admits that losing the union election in August was hard. "Putting a lot of time into it, it was a rough event for me," says the 43-year-old, who works in the truck system at the plant, "but you have to step back and re-evaluate what went wrong. ... I am pretty much taking an optimistic approach to this. I see an opportunity to educate workers who didn't know what was going on."
Parks worked hard to get fellow workers to see the benefits of belonging to the United Auto Workers. However, he and other pro-union workers couldn't counter the anti-union barrage waged against them—the anti-union videos, the one-on-one meetings, the threats of lost jobs and a shut-down plant, the endless stream of anti-union commercials on television.
Parks says the Nissan-Canton management has made a few post-election changes—painting the bathrooms, improving some benefits for temporary workers—but the changes are merely cosmetic. "Small, insignificant things to make it appear that they are concerned," he says.
A source with the national UAW, who asked to remain anonymous, says, "there is a natural period of time" after an election loss when people are "being introspective, retrospective." The UAW still has an office in Canton, but it has reduced its staff there.
In These Times writer Joe Allen says the Nissan-Canton election loss "is nothing less than a knockout punch ending for the foreseeable future any efforts by the UAW to organize the large, predominantly foreign-owned auto assembly plants in the South." He says the UAW's loss of militance is partly to blame: "The UAW has become a prison of its modern history ... a long track record of making concessions on wages, benefits and working conditions."
What the future holds remains uncertain. Workers are at the mercy of the company, and they have nothing really to say or do about it. It's a situation that, these days, blue-collar workers across the nation face.
Many of them voted for Donald Trump. Unlike Democratic opponent Hillary Clinton, Trump at least talked about bringing good-paying blue-collar jobs back to America and an end to job-killing trade deals like the Trans-Pacific Partnership agreement. Trump ended TPP, but he's done little else to live up to his campaign populism. His tax-reform plan is the same old Republican saw that tax cuts to the rich trickle down prosperity to everybody else, the same lie today that it was when Ronald Reagan pushed that bill of goods.
Every demagogue has to have an "other" to blame for the nation's troubles, and Trump's was the immigrants. No Mexican-financed wall yet, but he has called for a major increase in jails and prisons for the tens of thousands of immigrants that agents at Immigration and Customs Enforcement have been arresting. Some of these facilities are little more than modern-day concentration camps for people whose big crime is to seek work that U.S.-pushed trade deals destroyed in their home countries.
Trump is feuding with establishment Republican leaders such as U.S. Sen. Bob Corker of Tennessee. However, don't kid yourself. Those Republicans are on the same page with Trump when it comes to serving their corporate friends and doing nothing for workers.
In my native North Carolina, the Republican-ruled General Assembly passed a law this year aimed directly at destroying the Farm Labor Organizing Committee, farm workers' best hope for justice in the fields. Republican North Carolina Sen. Brent Jackson, a farmer fined and cited in court rulings repeatedly for mistreating his workers, pushed through legislation that bans farmworker unions from deducting union dues from workers' wages. The law even prohibits farmers from agreeing to a union contract to settle lawsuits.
To whom can workers turn for support? The Democratic Party? Democratic National Committee Chair Tom Perez has undertaken a purge of party leaders who supported pro-union Bernie Sanders during last year's presidential primaries. In their place are Clintonite corporate lobbyists.
Travis Parks, I admire your optimism at a time like this. I often call myself the last optimist in the room, but I'm worried that maybe now you are.
Joe Atkins is a veteran journalist, columnist and professor of journalism at the University of Mississippi. This column does not necessarily reflect the views of the Jackson Free Press.