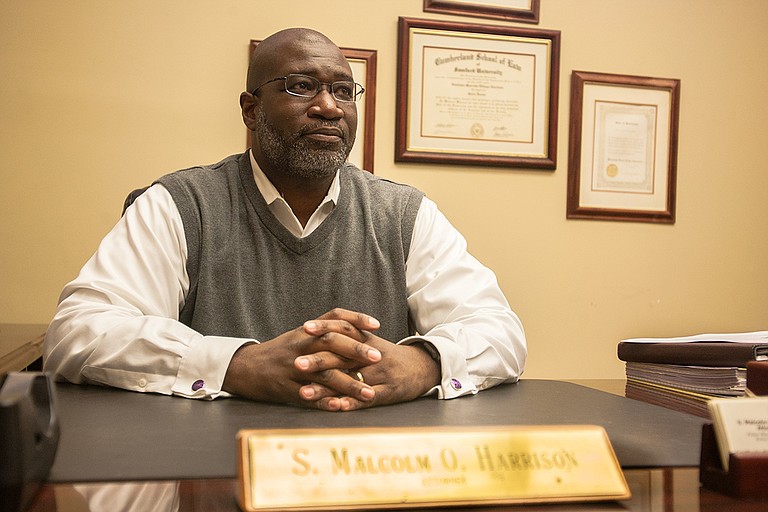 Wednesday, November 1, 2017
JACKSON — Malcolm Harrison is running for the Hinds County attorney position left empty by his long-time law partner, Sherri Flowers-Billups, who passed away from cancer last October. Martin Perkins has been the interim Hinds County attorney since then. A special election will take place on Nov. 7 to fill the position.
Harrison, 48, was elected as Hinds County attorney in 1999 and held the position for 10 years. That election, his first time running for anything, made him the first African American elected to a county-wide position in a general election in the history of Hinds County, he says.
In 2009, then-Gov. Haley Barbour appointed Harrison to be a Hinds County Circuit Court judge after his predecessor, Bobby DeLaughter, pled guilty to federal obstruction of justice charges and was suspended. After about a year, Harrison returned to his law firm after losing a re-election. He still practices at Malcolm Harrison Law Office specializing in personal injury and criminal law.
In January 2017, he became a judge for the City of Byram, but said he "immediately resigned" his seat on the bench when the Mississippi Commission on Judicial Performance "raised some concerns" about a judgeship canon that requires judges to resign if he or she becomes a candidate in a primary or general election for any office.
His opponent, Gerald Mumford, refused to step down from his municipal judgeship in Jackson to run, saying the clause only applies to general elections, not special ones. No action has been taken against him.
Harrison was raised in Jackson by his mother and campaign manager, Dr. Alferdteen Harrison, and went to school here through college.
Harrison spoke to the Jackson Free Press ahead of the Nov. 7 election about why he wants the job again, what he would do differently this time, and how he plans to approach youth court and domestic-violence cases.
How did you approach the job the first time, and what would you do differently?
Well, before it was important for us to be fair and administer justice in a fair manner. There is no "one-size-fits-all," but it was important for us to be knowledgeable about the cases. And that's because criminal-defense lawyers are smart. And they will throw obscure statutes at you sometimes, and if you're not knowledgeable on the law, you can lose the case that way. And there's nothing wrong with losing a case, but lose it the right way.
I submitted myself for public service again because I was asked by numerous lawyers, individuals on the streets, people who knew what a good job I had done before, and told me that "we needed somebody good in that position" and would I consider doing this again?
I believe in service with compassion. And I know how to move the cases forward. Under my tenure, there was no backlog of cases. Before I was Hinds County attorney, if you had a case in January, it wouldn't be set for trial until July.
When I became county prosecuting attorney, we got with the judges and added a second week. So, we prosecute cases the first week of the month as well as the third week of the month. And by doing that we were able to get to cases quicker.
What are your plans for youth court?
In youth court, I will be a prosecutor. Although I can make recommendations as a prosecutor, and we will, our job is to prosecute individuals. And we understand that, and that's what the people hire us to do.
If your home was broken into by a juvenile, you don't want that juvenile just to get off without any consequences; you want that juvenile to understand what he or she did wrong.
As a prosecutor, your first line to helping anybody is to get an adjudication in youth court. But, as a prosecutor if I can't prove my case in youth court, if I don't have the witnesses there the evidence there or the police officers there, then that juvenile is going to get off and now he knows that the prosecutor's office is not ready. So our first line of defense is to prosecute our cases.
We can offer alternatives to sentencing (such as) help (and) mentoring. I've been a Big Brother, I've spoken at every high school in Jackson and just about every middle school. And I did that not because I was the Hinds County prosecuting attorney, not because I was a judge, not because I was president of Magnolia Bar, but because I care about Jackson. I care about Hinds County—I grew up here.
How will you prosecute domestic violence?
When I was the Hinds County prosecutor before, we had a case of a lady who came to court with her abuser to tell me that she did not want to go forward with the charges. The laws in the state of Mississippi allow the prosecutor to go forward with the case even when the victim does not. And on that day, we went forward with that case. The judge heard the evidence and found the gentleman guilty. And after court, after the gentleman had left, the lady came back to me and said, "thank you" ... "you did what I couldn't do."
The other thing that people don't realize, maybe some do, is that a lot of that starts with telephone harassment cases and cyberbullying cases. When you have a person who is constantly texting and a lady is trying to ignore that, those types of cases escalate. We'll continue to prosecute domestic violence, simple assault cases to the fullest extent of the law because we understand that although some people may want counseling, a lot of people want out and they don't know how to get out.
If they were strong enough to call the police and strong enough to file the charge, our job is to help them finish that action.
What sets you apart from other candidates?
Oh, my experience. Experience matters without a doubt. Being able to go into the office day one and understand what the law is, understand how to prosecute the cases, know where the judges are, know what they like and dislike, to be able to without any hesitation pick up a file and start on Nov. 8 prosecuting cases is what sets me apart from all of the other candidates.
I am a Democrat—always been a Democrat. I am a fair, honest, compassionate man, and I am here to serve the citizens of Hinds County. I am a business owner, I lived and raised my family in Hinds County. I work on Farish Street and attend Farish Street Baptist Church.
This interview was edited for length and clarity. Email city reporter Ko Bragg at [email protected].
Malcolm Harrison
Age: 48
Wife: Tammiko Harrison
Children: Khari, 20, and Kiland, 16
Job: Lawyer at Malcolm Harrison Law Office
Education: Provine High School, Jackson State University, Cumberland School of Law at Samford University
Past Public Positions: Judge, City of Byram (2017), Hinds County Circuit Court Judge (2009), Prosecutor, City of Bolton (1999-2009), Hinds County Attorney (1999-2009)