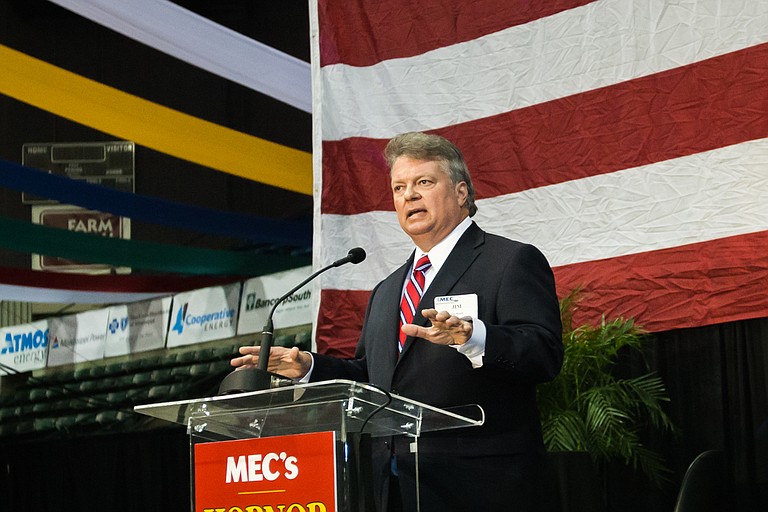 Wednesday, November 1, 2017
JACKSON — With an American flag backdrop the size of a mid-sized swimming pool, Mississippi's top lawmakers took turns running through their track records and outlining where state policy is headed at the Mississippi Coliseum last week.
Gov. Phil Bryant, Lt. Gov. Tate Reeves and House Speaker Philip Gunn, all Republicans, prioritized workforce development and job training in their presentations at the annual Hobnob Mississippi. The Mississippi Economic Council organizes the event, and many of the state's business leaders were present.
"It used to be when we tried to recruit companies and businesses, they wanted to know what kind of incentives are you going to give us," Gunn said at the Hobnob last week. "That seems to have changed in recent years. The question is no longer what kind of incentives are you going to give us, but do you have an educated workforce, a skilled workforce?"
The shift in rhetoric for Republican lawmakers, who pushed through the largest tax cut in Mississippi history in 2016, signals a focus on education reform and programs in the upcoming legislative session. The Mississippi Legislature also gave huge incentives to Continental Tire to locate a new tire plant in Hinds County in 2016. The focus on economic development could also resurface another fight about transportation funding, which forced the governor to call a special session this year.
Gunn lauded the Legislature's support of the Mississippi Works Fund as well as job-training grants that allow the Mississippi Development Authority to help colleges cover a portion of tuition costs associated with training for employees needed in certain Mississippi businesses. Mississippi Works, an initiative of Gov. Phil Bryant's office, collects data on available jobs in the state, lists nearly 48,000 open jobs in Mississippi. The governor and Reeves mentioned the number of open jobs in their stump speeches.
"In the old days, we used to have people out looking for jobs, but in today's world, we actually have jobs out looking for people," Reeves told business leaders at the coliseum last week.
Job preparedness means education, however, and the top Republicans in the state indicated that education reforms are on the way to help bring educated workforce to employers.
School Funding Rewrite
In October 2016, the Legislature contracted with EdBuild, a New Jersey education funding nonprofit, to complete recommendations for school funding in the state. The results include changing how the Mississippi Adequate Education Program, which currently funds the state's public schools, works by using weights attached to what each student needs to be educated.
EdBuild suggested additional funding, or weights, for low-income students and students in poverty as well as special education and English language learners. EdBuild also proposes a plan to allocate additional dollars for vocational and alternative education. Career and technical education programs, called CTE programs, teach high school students technical skills from welding or digital media. Not all school districts have CTE programs, but the ones that do could receive additional monetary support under EdBuild's proposal.
Gunn said his goal is to find a student-centered formula that is tailored to the needs of students.
"Under this proposal, each school district would receive additional dollars, or weights, which are tied to the specific needs of the students, so every student will have a weight to prepare them for a career," Gunn said at the Hobnob. "So it should be clear that the motivation to rewrite our education funding formula is about preparing students to enter the workforce, preparing them for a career and preparing them to become productive Mississippians."
Reeves touted the success of the state's pre-kindergarten collaboratives during his Hobnob remarks, saying the program has been successful in preparing the Mississippi kids who attend them. State Superintendent Carey Wright told the Stennis Capitol Press Forum earlier this month that she is requesting more funding for pre-K collaboratives, with a focus on equity.
At the budget hearings earlier this fall, she requested $6 million more in funding to expand public pre-kindergarten in the state, which currently operates 14 collaboratives.
Wright supports the funding formula rewrite, too, because EdBuild took an "equity-focused" approach, she said.
"Some kids are more expensive to educate than others," Wright said at the Stennis Press Forum earlier this month. "Students with disabilities are going to cost you more to educate; students that don't speak English are going to cost you more to educate. And so the realization that you could look at formula based on the type of students that you have and then provide an equitable funding ... made sense to me."
"When you're talking about high schools, I know there was a (suggested) weight for high schools. CTE programs are very expensive, so to acknowledge that made sense, so I think what EdBuild did was try to make as many practical recommendations that they could," Wright added.
The Mississippi Board of Education has requested full funding of MAEP, which has only been fully funded twice in its existence since 1997.
Transportation, Tax Cuts
Despite the Mississippi Economic Council pushing bond and tax-increase legislation to fund the state's crumbling roads and bridges, lawmakers avoided the topic altogether last week at the coliseum. When prompted, Gov. Bryant said he supported Sen. Dean Kirby's, R-Pearl, proposal to put the matter before voters on the ballot.
"I know my friend Dean Kirby made the recommendation to put something on the ballot. ... If people want to raise taxes let's give them an opportunity to have a voice in it," Bryant told reporters last week. "So I think you'll hear a lot of talk about putting that on the ballot."
Lt. Gov. Reeves has no appetite for passing a tax increase—or even potentially passing a bill that would enable voters to do so, however.
"I don't think we're going to see a tax increase. There's certainly not the will in the Mississippi Legislature to raise the gas tax, so I don't think that's going to be a part of the solution," he told reporters last week.
When asked about Kirby's proposal, Reeves would not give a definitive answer, saying that thousands of bills get filed that do not make it out of committee.
"I heard Governor Bryant mention (Kirby's proposal) earlier today as well," Reeves said. "I haven't had a chance to sit down and talk to Governor Bryant about that, yet. We've got about 70 days before the Legislature starts, but we'll continue to work with our partners in the House to figure out what the consensus is and what the best solution is."
The House, under the leadership of Gunn, has ferociously pushed an array of options to get more funding to the state's roads and bridges, which the federal government has audited to determine whether they can come into compliance or be closed, but the solutions found few supporters in the Senate.
Senate Transportation Chairman Willie Simmons, D-Cleveland, did hold a hearing this summer on transportation funding, but the likelihood of legislative tax increase seems impossible.
Attorney General Jim Hood, the only statewide-elected Democrat, gave a politically driven speech at Hobnob, lambasting the Legislature for not passing legislation to fund transportation infrastructure needs, pointing to the massive tax cut passed in 2016.
"[O]f the $415 million in tax cuts that are being implemented now..., do you know what percentage go to out-of-state corporations, go out of state? Seventy-eight percent of the franchise taxes of the $415 million go out of state," Hood said at the Hobnob.
The Department of Revenue estimates that the tax cuts will cost the state $427,417, 285 every year, once they are fully implemented. In fiscal-year 2018, the legislation will cost the state more than $18 million, data from the department show.
Hood, who may square up against Reeves in the 2019 gubernatorial race, said it is puzzling how the Legislature is OK with sending state money out of state while Mississippi grapples with the opioid epidemic.
Reeves defends the tax cut as a wise business move, particularly eliminating the state franchise tax.
"If you own a small business in Pearl as my family does, and you're competing for a contract with someone who is across (the) state line in Alabama or Louisiana, and you have a corporate industry tax or franchise tax and they don't, you as a small business owner are placed at a competitive disadvantage because you have a cost of doing business that your competitor doesn't have," Reeves told reporters last week.
Mississippi is one of 18 states with a franchise tax, including neighboring states Arkansas, Alabama and Louisiana, data from the Tax Foundation shows. Reeves believes that "taxes are nothing more than the cost of doing business," and said he is very proud of the tax cut the Republican supermajority passed in 2016.
Email state reporter Arielle Dreher at [email protected] and follow her on Twitter @arielle_amara.