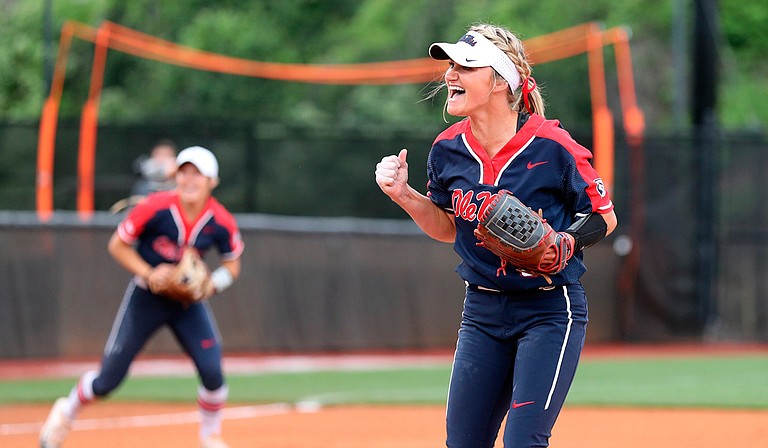 There was little doubt who the MVP of the 2017 SEC Softball Tournament was. The University of Mississippi's surprise run to the title featured phenomenal pitching from the Rebel's Kaitlin Lee. In four games, she gave up just three runs in four games, with opposing teams struggling to put their offenses together to score runs.
Lee struck out 12 batters over the tournament, had only 19 hits against her and walked one batter in 28 innings of work. By winning the SEC tournament, the Rebels earned the No. 12 national seed and the right to host a regional from May 19 to May 21. After the team beat the University of North Carolina in Sunday's game, the Rebels won the NCAA Regional Title for the first time in school history. The team will now move on to the Super Regional tournament.
The Rebels almost didn't have the super arm that delivered a conference championship and then a NCAA Regional title because, initially, top college coaches weren't knocking down her door to offer scholarships.
After leading Harrison Central High School to a state championship in 2014, Lee originally decided to play college softball at Delta State University. The Gulfport native transferred early in her freshman year to Mississippi Gulf Coast Community College. She quickly became an important part of the team at MGCCC and had a 1.79 ERA with a 20-4 record and three saves.
During her freshman season, Lee was struck in the face while batting and suffered a broken nose and facial fractures that required surgery with a metal plate inserted. She returned to the field just before the postseason and ended up pitching for her team with protective gear over her face.
She improved on her performance as a sophomore, going 22-4 with a .084 ERA and striking out 138 batters. She earned NJCAA Second Team All-American honors and was the MACJC Pitcher of the Year.
Lee then became the first MGCCC player to sign with an SEC school when she transferred to UM. It didn't take her long to make an impact with the Rebels. She posted a 1.78 ERA as she went 20-10 for the season with 23 complete games, one save and 106 strikeouts.
Lee might only stand 5-foot, 6-inches, but the right-handed pitcher is a giant on the mound. She was the no-brainer choice for MVP of the SEC Tournament after she dominated every team that she faced. 
The game on Sunday, May 21, was Lee's 12th consecutive game to pitch in. She threw two shutouts, had 11 strikeouts and surrendered 12 hits.
At press time, the University of Mississippi had not released the details of the Super Regional.
More like this story