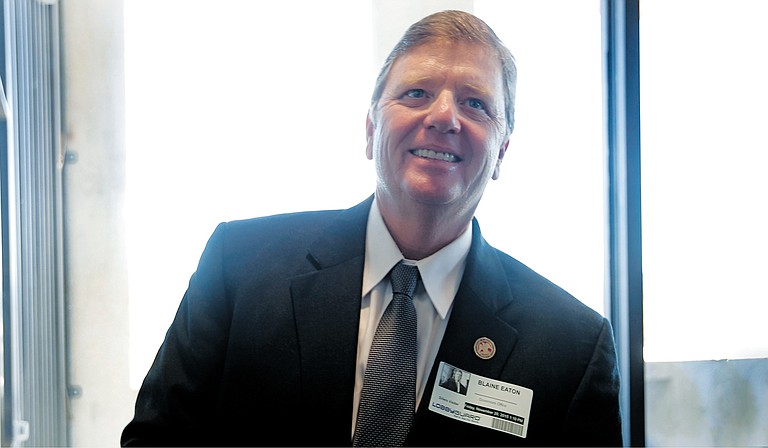 JACKSON, Miss. (AP) — The Mississippi public has paid nearly $74,000 to defend legislators in a federal lawsuit by voters who say they were disenfranchised in a state House race that went to a tiebreaker and was later flipped, according to records obtained by The Associated Press.
Five-term Democratic incumbent Bo Eaton won the tiebreaker in a drawing of straws overseen by the secretary of state in late 2015. The House rejected some ballots after the term started in early 2016, making Republican Mark Tullos the winner and giving the GOP a three-fifths supermajority in the House. That margin enables Republicans to pass tax changes without any votes from Democrats.
AP filed a public records request April 26 seeking information about payments to a private attorney, Michael Wallace, for representing Speaker Philip Gunn and others in the lawsuit.
The House Management Committee released a document to AP on Tuesday showing $73,735 in invoices from the Wise Carter law firm, where Wallace is a shareholder. The first invoice was from April 25, 2016, and the most recent was from April 25, 2017.
House clerk Andrew Ketchings said Wednesday that he submitted paperwork last week to pay the most recent invoice, and all the other payments have been made. He said the legal fees are paid from the House operating budget, which is funded by tax dollars.
Eaton, a farmer from Taylorsville, is a former House Agriculture Committee chairman. Tullos is an attorney from Raleigh. They ran in District 79 in Jasper and Smith counties, a mostly rural area southeast of Jackson.
The lawsuit is unresolved. It was filed March 30, 2016, by five voters who said the House broke federal equal protection guarantees when it tossed out five unidentified provisional ballots for Eaton. The five ballots came from a group of nine that had been accepted by local election officials and included votes by the five plaintiffs, although the plaintiffs said they were not sure whether their ballots were discarded. All five plaintiffs said they voted for Eaton.
U.S. District Judge Carlton Reeves ruled Jan. 27 that the federal court lacks jurisdiction to decide the outcome of the 2015 Eaton-Tullos race. But, Reeves said the five voters could pursue their own claim that their constitutional rights were violated when the House rejected the ballots.
The defendants in the lawsuit are Gunn, the four Republican House members who recommended tossing out the ballots and the entire House of Representatives.
Wallace filed a one-page document Feb. 14 saying all the defendants would ask the 5th U.S. Circuit Court of Appeals to overturn Reeves' ruling and uphold "absolute legislative immunity" from being sued.
Reeves wrote that "through intentional elimination of their votes, defendants deprived each individual plaintiff of his or her civic voice not just for the 2016 legislative session, but also the 2017, 2018, and 2019 sessions, and any special session called during those years."
Reeves rejected legislators' assertion that they are immune from being sued. He said that although legislators cannot be sued over general policy decisions, they can be sued over a type of action that is "specific and relate to a single individual," such as deciding to toss out specific ballots.