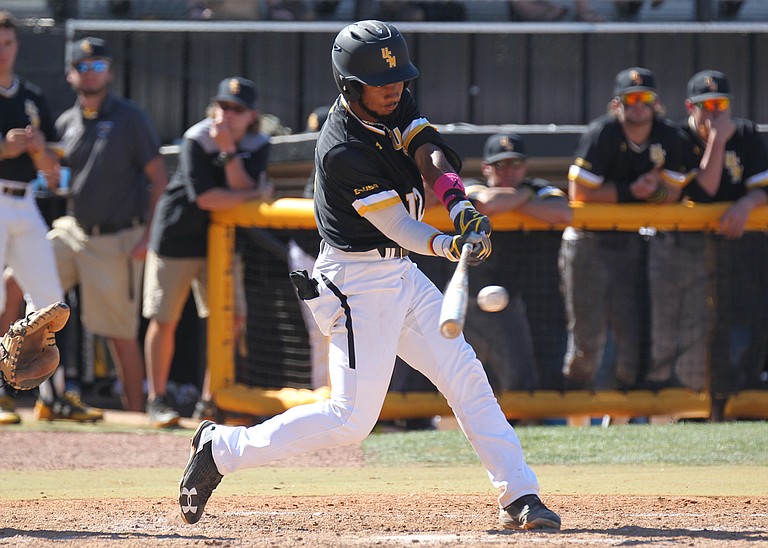 University of Southern Mississippi junior shortstop LeeMarcus Boyd is making big strides with his bat at the right time of year. The regular season is winding down, and he is currently on a seven-game hitting streak.
Hitting in the 10th spot in the ranking, Boyd was six for 14 at the plate during last week's four games. He collected two hits and scored in each game, as the nationally ranked Golden Eagles went a perfect 4-0 on the road against the University of South Alabama and in a three-game series against Middle Tennessee State University.
Against South Alabama, Boyd drove in three RBIs and scored a run as he went two for four at the plate in a 13-7 win for USM. Boyd also went two for four in game one against MTSU, scoring two runs and one RBI in a 13-7 Southern Miss victory.
In the second game against Middle Tennessee, the Coldwater, Miss., native failed to produce an RBI but went two for three at the plate and scored a run in a 4-3 win. Boyd again went two for three in the series finale, scoring three runs and driving in two RBIs in USM's 13-9 triumph.
Over the week, the shortstop scored seven runs and produced six RBIs, which earned him the title of Conference USA Co-Hitter of the Week along with Florida Atlantic University junior outfielder David Miranda.
This is Boyd's first season with the Golden Eagles after he spent the last two years at Northwest Mississippi Community College. He has appeared in 44 games this season and started in 43 of those. He is batting .287 with 48 hits, 35 RBIs, 32 runs, 14 doubles, two triples, three homeruns and nine stolen bases.
Before college, Boyd was a star at Independence High School. He was a two-time All-State selection, two-time team MVP, four-time All-District, one time All-Tate County and a Golden Glove winner. He was also on the 2014 D.M. Howie Mississippi High School All-Star Baseball North Team. As a senior in high school, Boyd batted .419 with three doubles, one triple and one home run. He hit .424 at the plate in the year prior.
As a freshman at Northwest Mississippi Community College, he started all 49 games at shortstop and had a batting average of .330, with 62 hits, 42 runs, 29 RBIs, 18 stolen bases, eight doubles, four triples and three homeruns. He was second-team All-Mississippi Association of Community and Junior Colleges that year.
In his sophomore season, he appeared in 49 games again and made it to a base in every game. Boyd had a .339 batting average, with 62 hits, 46 runs, 24 RBIs, 21 steals, 14 doubles, one triple and three homeruns. He earned first-team All-MACJC honors in his second season.
In two years at Northwest Mississippi, Boyd played in 98 games with .334 batting average, 124 hits, 88 runs, 53 RBIs, 39 stolen bases, 22 doubles, five triples and six homeruns. He played in the third-most games in school history and had an unofficial school-record 64 games at reaching base.
Southern Miss is currently in first place in C-USA with 16-5 record in conference and 34-12 overall record. The Golden Eagles will need the shortstop to stay hot at the plate this weekend when they host second-place Florida Atlantic in a three-game series from today, May 5, through May 7.
USM leads the conference by a single game over FAU and is two games ahead of Old Dominion University and the University of North Carolina at Charlotte, who are both 14-7 in conference standings. This series could end up deciding first place before the conference tournament begins on May 24.
More like this story