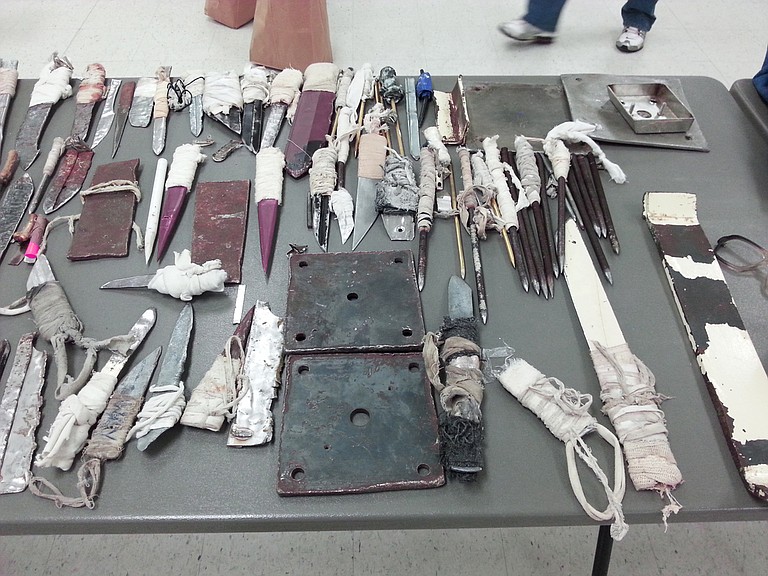 JACKSON — Pelicia Hall, the recently confirmed commissioner of the Mississippi Department of Corrections, is cracking down on contraband in public and private prisons in the state. In March she started "Operation Zero Tolerance," conducting surprise searches of all facilities for illegal weapons, drugs, electronics, or clothing and food items.
At the start of March, MDOC officials joined with officers from the Mississippi Department of Public Safety to search Wilkinson County Correctional Facility, one of the state's three private prisons, for contraband. The results were staggering.
Photos from the department show tables full of shanks and weapons, drugs and cell phones. Hall called the excessive contraband "unacceptable" in a press release.
"Neither staff nor inmates should have to fear being assaulted or exploited. Whether you are staff or inmate, if you are caught with contraband, you will be dealt with accordingly," she said in a March 2 statement.
The shakedowns continued in the state's other private prisons, East Mississippi Correctional Facility and Marshall County Correctional Facility, on March 3 and 9 respectively. These shakedowns resulted in less contraband than what MDOC found at Wilkerson, the department said. The state's three private prisons hold 3,053 of the state's 19,000 prisoners, but bond payments on those facilities, as well as now-closed Walnut Grove Correctional Facility, will cost the state more than $328 million until 2028.
Hall plans to conduct contraband crackdowns in all state prisons as a part of "Operation Zero Tolerance."
MDOC suspends privileges in facilities with excessive contraband. At Wilkinson County Correctional Facility and at East Mississippi Correctional Facility, inmates lost visitation, outside recreation and commissary privileges after the shakedowns. Inmates normally buy hygiene, food and personal items at prison canteens.
Certain parts of East Mississippi facilities are still under these restrictions. Wilkerson is restoring regular visitation hours this weekend.
State law forbids public and private prison employees and inmates to have, furnish or assist prisoners in getting contraband items from weapons, to cell phones to chargers. Those caught with contraband can face felonies punishable by no less than three years in the state penitentiary, fined $25,000 or both, state law says.
On March 29, MDOC officers conducted their sixth search at Carroll-Montgomery County Regional Correctional Facility. In a statement about that shakedown, Hall recognized that inmates are not responsible for all contraband charges.
"We recognize that inmates alone are not responsible for the illegal items, that staff, visitors, and vendors bring in contraband," Hall said in the March 29 press release. "During my confirmation hearing, for example, I told how one smuggled cell phone could go for $3,000. But my administration is focused on not only pointing out our challenges but also finding ways to address them."
More than 19,000 inmates are in MDOC's custody. That number has edged up since the Legislature passed House Bill 585 in 2014 to stem the rising number of those in the state's custody and implement good criminal-justice practices including changes to state laws and focusing re-entry programming. MDOC recently announced a new re-entry program, Defy Ventures, last week.
The Legislature , passed several of the state's Re-entry Council's recommendations in House Bill 1033, which says that not paying a fine should not result in automatic incarceration, changes some parole eligibility requirements, mandates the Legislature PEER committee to study sentencing disparities across the state and revises certain sentencing standards.
Email state reporter Arielle Dreher at [email protected] and follow her on Twitter @arielle_amara.