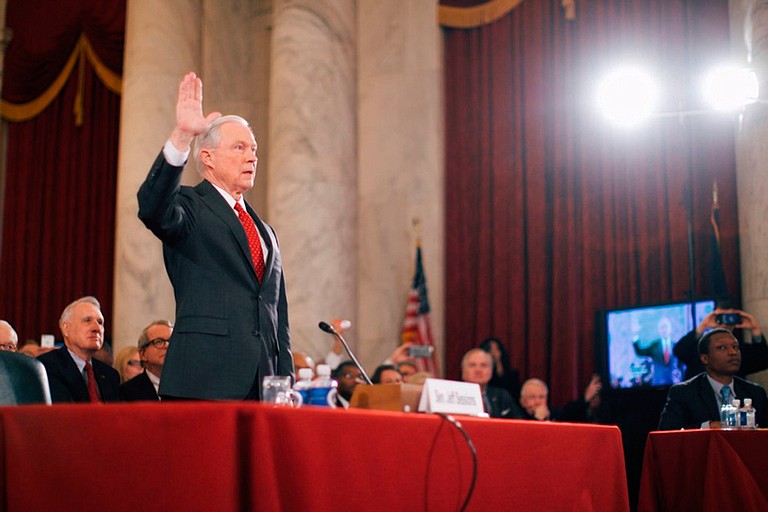 Wednesday, March 29, 2017
WASHINGTON (AP) — Family members of Emmett Till pushed Attorney General Jeff Sessions Tuesday to enforce a law that that allows prosecutors to reinvestigate old civil rights murder cases.
Deborah Watts, Till's cousin and co-founder of the Emmett Till Legacy Foundation and Alvin Sykes, a member of the Emmett Till Justice Campaign, met with Sessions before going down to the Smithsonian National Museum of African American History and Culture afterward to view Till's casket, which is one of the centerpieces of the museum.
"He's definitely open to looking at cases that should be reviewed and cases where there are no answers for loved ones who have experienced the murder of their loved ones," Watts said.
The Emmett Till Civil Rights Crimes Act allows prosecutors to investigate crimes committed before 1980.
Watts said they did not talk in depth about a white woman's confession that Till did not make any sexual advances toward her.
A new book by author and historian Timothy B. Tyson says Carolyn Donham told him a decade ago she wasn't telling the truth with her claims of sexual advances by the 14-year-old Chicago boy, who was visiting family in rural Mississippi. In August 1955, Till was kidnapped, tortured, shot and mutilated.
Till's mother insisted on an open-casket funeral to show the world the mutilated body of her son. The brutality sparked outrage that helped galvanize the civil rights movement. Donham's first husband, Roy Bryant, and his half-brother, J.W. Milam, were acquitted of the murder, but both later claimed responsibility.
The Justice Department in 2007 determined the Till case did not warrant federal prosecution due to the statute of limitations on any potential federal crimes.
The meeting was set up before Tyson's book was published, Sykes said. "Our purpose was strictly on the implementation of the Till Act," he said.
Sykes said they are hoping to push for funding for more civil rights investigations, and for the Justice Department to establish a Till Act advisory committee to help pick which cases to pursue.
Read more JFP stories on Emmett Till at jfp.ms/till.