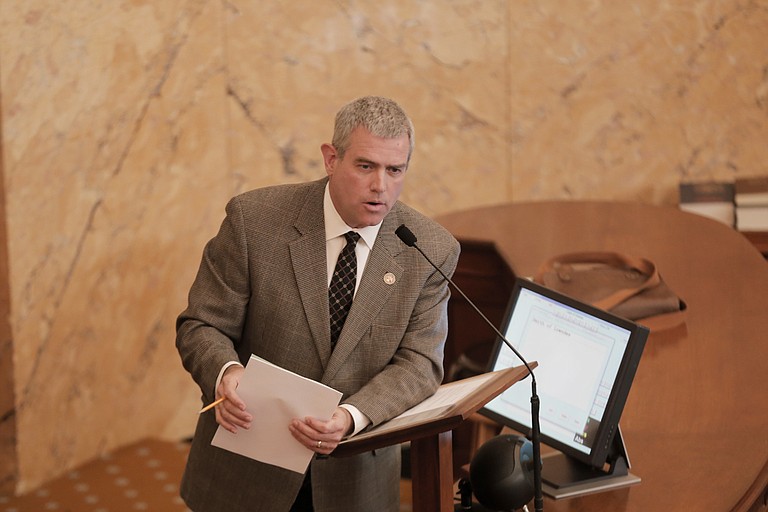 JACKSON, Miss. (AP) — Mississippi House and Senate leaders publicly bickered but failed to agree on a transportation spending plan before a Monday night deadline, likely forcing the governor to call lawmakers back for a special session before the budget year begins July 1.
Republicans control both chambers, so the fight does not pit one party against another. Instead, it is an argument that has brewed for months over House leaders' push to find a long-term source to pay for highways and bridges. Part of the House plan involves distribution of an internet sales tax that some companies, including Amazon, are now voluntarily submitting to the state.
Republican Lt. Gov. Tate Reeves said House leaders were trying to enact an "unconstitutional" tax.
"They so badly want to raise the internet sales tax that they're willing to blow up a budget agreement," Reeves told reporters Monday.
In a separate news conference later, Republican House Speaker Philip Gunn responded that the House is not proposing a new tax but is simply trying to earmark part of an existing tax that is voluntarily paid. Gunn said Senate leaders have continuously ignored requests for discussions about transportation funding.
"That's part of the frustration I think you saw today is, 'Let's have this discussion, then.... If you've got a problem, tell us what it is,'" Gunn said. "And there's just been no line of communication."
House members voted overwhelmingly Monday to send two transportation spending bills back for more negotiations with senators. Representatives also said they want to resurrect a borrowing plan to pay for bridges and other government construction projects. That bond bill died Saturday in a dispute over earmarking internet sales tax collections for transportation work.
"There's a lot of give and take in politics, with some people doing a lot of taking and not much giving," said House Transportation Committee Chairman Charles Busby, a Pascagoula Republican, in a clear jab at Reeves.
The transportation drama flared Monday as lawmakers pushed through dozens of budget bills that will significantly cut state spending. Total spending was originally supposed to be $6.41 billion in the current budget year, before Republican Gov. Phil Bryant imposed $171 million in midyear budget cuts as tax collections fell short of expectations. Under the budget plan pushed through Monday, total spending in the year beginning July 1 will fall to $6.04 billion, a cut of 5.8 percent from what was originally slated for the current budget year, and 3.5 percent less than even the current reduced spending amounts.
Cuts for many agencies will be deep. House Appropriations Committee Chairman John Read, a Gautier Republican, called the budget the worst he'd ever seen, but said most agency heads say they will be able to continue essential operations.
"They have looked me in the eye and said they can make it," Read said. "Not everyone, but most."
Republican Rep. Sam Mims of McComb said cuts to the Mental Health Department will likely spur hundreds of layoffs. The department laid off 172 people last year, citing a shortage of funds.
Democrats said budget cuts are self-inflicted disaster brought on by dozens of tax cuts that Republicans have pushed through since 2012.
"Have we been giving away the money from our money tree?" Democratic Rep. Tom Miles of Forest asked Mims.
Estimates show tax cuts will subtract $350 million from state revenue next year. While Democrats and even a few Republicans have called for suspending some tax cuts, both Reeves and Gunn said they want to continue to implement tax cuts.