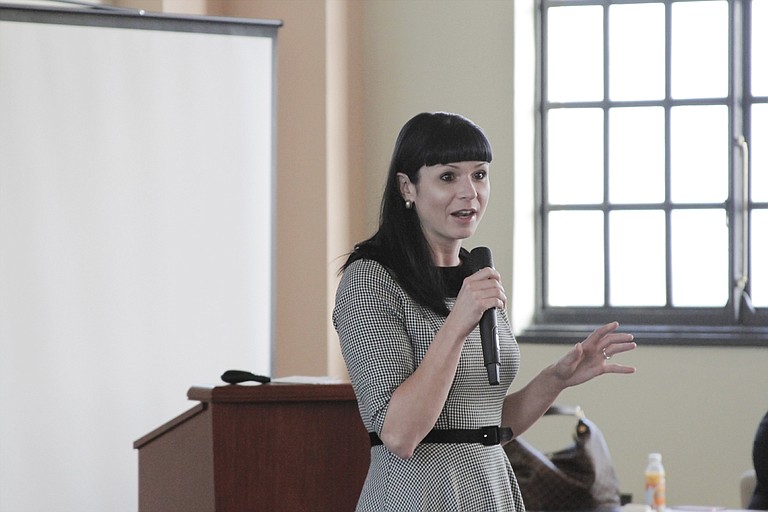 Mississippians in the state's custody could soon have access to a new re-entry program focused on entrepreneurship, rehabilitation and getting a job upon release. Defy Ventures, a New York-based nonprofit, is starting its work in Mississippi with a program in Central Mississippi Correctional Facility.
All inmates can participate in the program, Catherine Hoke, the chief executive officer of Defy Ventures, said. The only requirement is that they fill out a 15-page application, which seems rigorous, but Hoke said the program is just that.
Inmates learn from elite university professors from around the country through more than 100 hours of video courses on business, personal finance, psychology and etiquette. Inmates have to participate in peer-group interactions and complete assignments, culminating in a "Shark Tank"-style pitch competition for business ideas. All participants who complete the program graduate with a certificate in career readiness from Baylor University.
The program, Hoke said, is project to take about six months to finish but could take longer, depending on the learning pace of inmates. She said the curriculum is around seventh-grade level, and most of the participants in the program around the country do not have a high-school diploma or education.
Defy Ventures' main slogan is "Transform Your Hustle," which stemmed from Hoke's background as a venture capitalist who worked on Wall Street and then went into prisons and found that many inmates had the right skillsets in place to engage in business. They just needed the tools to do it legally and not use those skills in harmful ways.
"We don't work with criminals; we work with people with criminal histories," Hoke told a room full of law enforcement and court officials as well as lawmakers this morning.
Pelicia Hall, the new commissioner of the Mississippi Department of Corrections, emphasized that meaningful rehabilitation and re-entry will be a goal of her administration. She said that as of yesterday, MDOC has 19,028 inmates in its custody.
"They are coming back into our community. I would much rather those individuals come back and be productive tax-paying citizens," she said. "I'm not like a Marriott or a Holiday Inn or the King Edward: I don't want repeat customers, so we want to make sure that they leave, and they don't come back to see us unless they come back as a successful story to share what they've done."
The Defy Ventures program is operating in prisons in New York, California and Nebraska. Former MDOC Commissioner Marshall Fisher heard about the program at a corrections conference and asked Hoke to come to the state. Hoke said she was confident that her group can drop the recidivism rate significantly here, which lingers around 37 or 38 percent. She said her goal is to be in all three of Mississippi's state prisons if all goes well here within a year.
Defy Ventures is looking to hire an in-state executive director and program manager, Hoke said, and she is also looking for volunteers to work with inmates in the program as well as business leaders around the state to work on initiatives to hire former inmates.
The program does not stop once inmates complete the course in-prison. Defy Ventures helps inmates with successful business ideas fund their projects once they're released from prison, too.
Ninety-four percent of funding for the nonprofit comes from private donations, but in California, the state has started to fund the program as well. Hoke said that her group has sourced the funding to start the initiative here. The group will build a local board to support the program as well. It should launch in May in Central Mississippi Correctional Facility, ideally serving 75 to 100 inmates per cohort, Hoke said, or at least that's the goal.
Email state reporter Arielle Dreher at [email protected]. Read the JFP's ongoing "Preventing Violence" series at jfp.ms/preventingviolence.