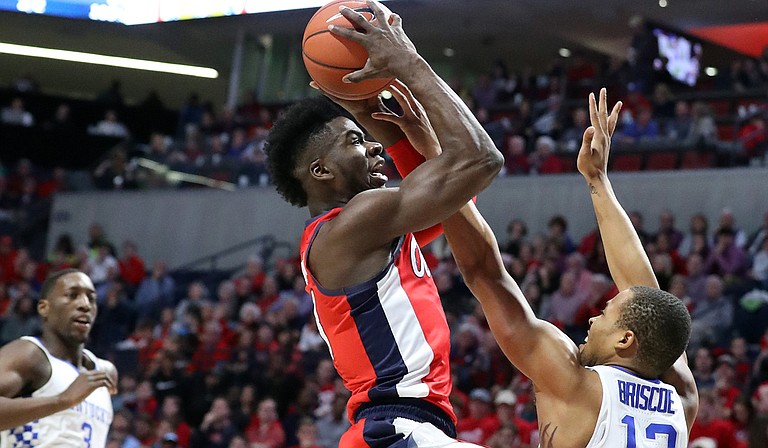 Offense wasn't a problem for the University of Mississippi in its first-round game against Monmouth University in the National Invitation Tournament. Five Rebels scored in double digits, and seven players scored seven or more points.
The Hawks were in the lead 41-39 at half time, but the Rebels turned up the offense in the second half. UM scored 52 points in the second half, erasing the deficit and beating Monmouth 91-83.
Howell Trophy-winning forward Sebastian Saiz ended up being the lead for UM, adding 23 points and 11 rebounds. Guard Deandre Burnett chipped in with 17 points to keep pace with his team-leading average of 16.7 points per game this season. Forward Justas Furmanavicius added nine points, and guard Rasheed Brooks contributed seven points in the victory.
There was also a trio of three guards who scored 11 points—Cullen Neal, Breein Tyree, and Southaven, Miss., native Terence Davis.
Davis filled up the stat sheet with 11 points, five rebounds, two assists, a steal and a block in the Rebels' win against Monmouth. He was also a major contributor to the team throughout his second year with UM, finishing third in scoring with its 14.4 points per game. He is one of five team members who appeared in all 34 games this season.
Davis not only averaged in double digits on the scoreboard but also added 5.3 rebounds, 1.7 assists and 1.3 steals per game in his sophomore season. He scored in double digits in 24 out of the 34 games with a season-high 33 points against Louisiana State University.
The guard stepped up his scoring output when conference play began, scoring double digits in all but two SEC games. He scored 20 or more points in five conference games, including 24 points and 26 points in two games against the University of Arkansas.
As a freshman, Davis played in just 20 games with an average of 6.6 minutes per game. He also averaged 1.8 points, 0.9 rebounds, 0.4 steals and 0.3 assists per game in his first year in Oxford.
Davis scored a then-personal-best seven points against the University of South Carolina in his opening campaign. He scored six points in several games and upped his scoring average from 0.4 points per game to 2.3 points per game in SEC play.
At Southaven High School, Davis was a star on the gridiron and on the basketball court. He caught 62 passes for 1,062 yards, earned four letters in football and played in the Mississippi-Alabama All-Star Game.
In his senior season on the court, he averaged 22.8 points, 8.2 rebounds, 4.1 assists and 2.8 blocks per game. Davis received Dandy Dozen and First Team All-State honors, and Rivals.com rated him as the 132nd player in the nation.
The Rebels travel to New York to face Syracuse University in the second round of the NIT on Saturday, March 18. Get up early since the tipoff is scheduled for 10 a.m.