JACKSON — The case against Gov. Phil Bryant for continuing to fly the current Mississippi flag could be the first in which judges consider an Equal Protection Clause claim based on government speech, if a 5th U.S. Circuit Court of Appeals panel rules that Grenada attorney Carlos Moore has standing to make his case.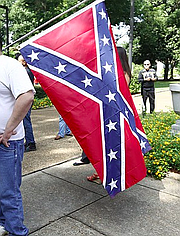 In their own words, Confederate leaders explain secession, the Civil War and their views about black people.
Moore contends that flying the state flag, which contains a prominent symbol of the Confederacy, is government speech that sends a message of white supremacy, which violates his 14th amendment right to equal protection under state law. The panel of judges questioned Moore's attorney Michael Scott on this issue during oral arguments March 7.
"Do you have a single equal-protection violation case based on government speech?" one judge asked.
The answer is no, but Scott says this is because Mississippi's state flag is a unique case.
"Other than this flag, you can't find government insignias, you can't find government displays that expressly and explicitly are designed to promote white supremacy," Scott said in oral arguments last week. "Where do you find that other than in this flag?"
Doug Miracle from the attorney general's office represented Gov. Bryant in the arguments. He said displaying the state flag, a non-religious symbol, does not deprive anyone of equal protection under the law.
"I think the district court correctly analyzed that in light of the allegations that the plaintiff makes here that the public display of the flag in and of itself simply cannot deprive or create a barrier," Miracle told the panel last week.
One judge asked Miracle what the purpose of a state flag is—or what it is supposed to represent. "It is a symbol. ... I think it means different things to different people is what I'm prepared to say," Miracle said.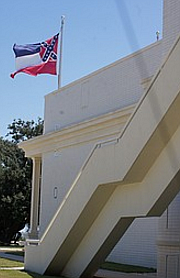 The Mississippi Sons of Confederate Veterans are fighting hard to keep the state flag to honor the Confederacy. Others are fighting back.
Miracle reiterated his argument that the 5th Circuit allowing Moore to bring an equal-protection claim against the state flag would go against longstanding jurisprudence.
At the end of oral arguments, Scott cited a 2009 opinion in the Pleasant Grove City v. Summum U.S. Supreme Court case that he said supports Moore's Equal Protection claim.
"(R)ecognizing permanent displays on public property as government speech will not give the government free license to communicate offensive or partisan messages. For even if the Free Speech Clause neither restricts nor protects government speech, government speakers are bound by the Constitution's other proscriptions, including those supplied by the Establishment and Equal Protection Clauses," former Justice John Paul Stevens wrote in his concurring opinion. "Together with the checks imposed by our democratic processes, these constitutional safeguards ensure that the effect of today's decision will be limited."
Scott told the Jackson Free Press that he believes his client has a good case and could not tell one way or another how or when the judges will rule. He also said he expects that whoever does not succeed will petition the case up to the U.S. Supreme Court.
Read more about the state flag, slavery and the Confederacy at jfp.ms/slavery. Email state reporter Arielle Dreher at [email protected] and follow her on Twitter @arielle_amara.