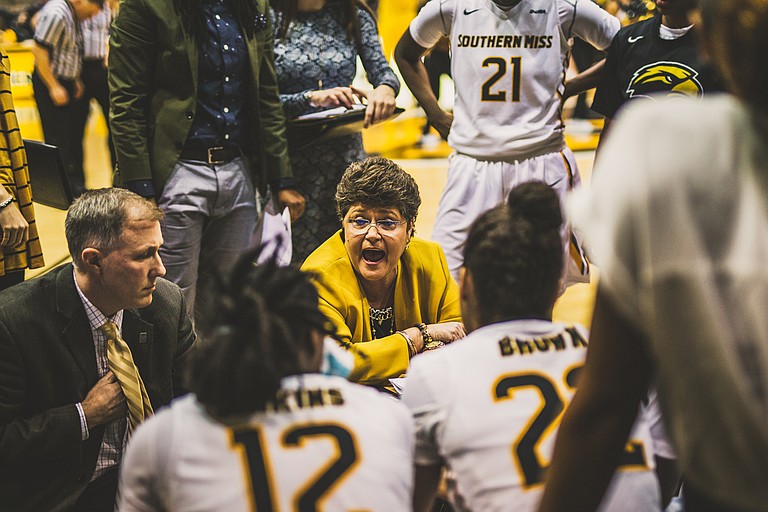 As the University of Southern Mississippi heads into the Conference USA Women's Basketball Tournament, which begins today, March 9, USM is riding a seven-game winning streak. That's an amazing feat when you consider that the team has kept winning after Head Coach Joye Lee-McNelis took a leave of absence after she was diagnosed with lung cancer.
Lee-McNelis announced that she would be taking her leave on Feb. 14 after the team had won five of its last six games. Instead of the season falling apart late in the campaign, the Golden Eagles continued to win, bringing home victories in their final games of the regular season.
Lee-McNelis missed three games after she was diagnosed with adenocarcinoma, when doctors found a small mass in the upper lobe of her lung. Thankfully, last month, she learned that a second growth was benign and that she wouldn't have to undergo chemotherapy before having the cancer in her upper lung removed. She has been able to return to coaching.
USM finished the season 21-9 overall with a 13-5 record in C-USA. This was Lee-McNelis' 13th season at the school. Her efforts as head coach earned her the 2016-2017 C-USA Coach of the Year. It was her second time to receive the honor after first winning in the 2013-2014 season.
In the preseason, USM was picked to finish eighth in the conference. Lee-McNelis guided her team to a third-place finish in C-USA while also earning her 213th victory at USM. She now has more than 200 wins at two schools—the University of Memphis, where she also spent 13 seasons, and USM—and has won 20 or more games in three of the last four seasons.
Before becoming a coach, the Leetown, Miss., native was a standout basketball player herself at Hancock North Central High School, where her teams won two state titles.
The high-school jersey numbers of McNelis and Hall of Fame quarterback Brett Favre were retired on the same day, April 19, 1993, as Hancock County declared Joye Lee-McNelis-Brett Favre Day. She was inducted into the Southern Miss Hall of Fame in 1997.
After high school, Lee-McNelis went on to star at USM from 1980-1984 as a four-year starter. Lee-McNelis is still the ninth all-time leading scorer with 1,510 points.
She graduated with a bachelor's degree in business and distributive education in 1984 and earned her master's degree in education two years later.
She began her coaching career at Southwest Texas State University as an assistant coach from 1984 to 1986. She returned to USM as an assistant coach from 1986 to 1991 before leaving to become head coach for the University of Memphis.
While at Memphis, Lee-McNelis helped a struggling program develop into a constant winner. Under her coaching, the Tigers went to four NCAA Tournaments and four Women's National Invitation Tournaments.
She won 229 games with the Tigers and had just 159 losses, but left Memphis on May 24, 2004, to become the fourth women's basketball head coach in USM history.
Since returning to her alma mater, she has taken the Golden Eagles to three NIT appearances but hasn't been able to capture an NCAA Tournament berth. Even guiding USM to a 27-7 season in the 2013-2014 campaign wasn't enough to get her team into the "big dance."
McNelis and her squad will face Old Dominion University at 9 p.m. tonight in the quarterfinals of the C-USA Women's Tournament, which will stream on CampusInsiders.com and Twitter.