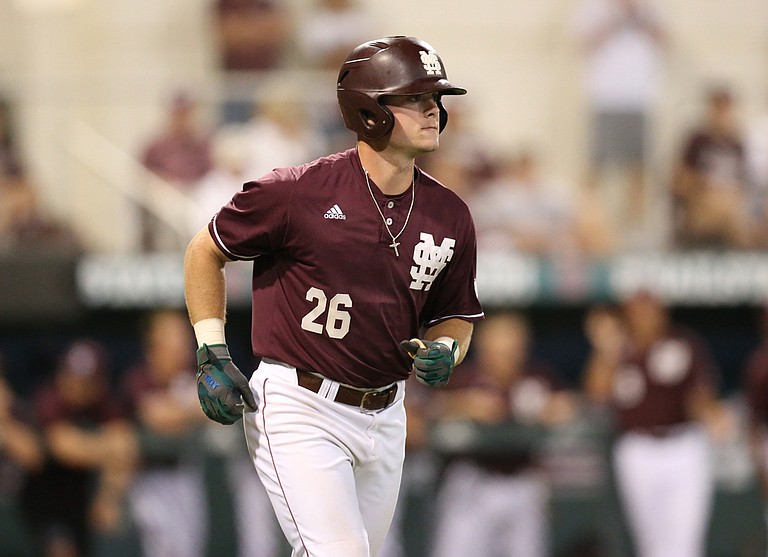 There were plenty of heroes for Mississippi State University's baseball team in the Hattiesburg Regional. MSU prevailed with timely hitting and quality pitching to reach a Super Regional against Louisiana State University.
Before this season, MSU hasn't won a regional after losing the opening game since 1979. Redshirt senior infielder-outfielder Cody Brown was one of the bright spots in the Bulldogs' opening 6-3 loss to the University of South Alabama. In defeat, he went two for four at the plate with an RBI and a run scored.
In an elimination game against the University of Illinois at Chicago, he was solid in the batter's box. Once again, he went two for four at bat but didn't score a run or notch an RBI in the Bulldogs' 5-4 win.
MSU faced South Alabama for a second time in the regional with a chance to face the top-seeded University of Southern Mississippi in the final on the line. Brown exploded at the plate and went three for four at the plate, with a homerun, three RBIs, a run scored and a walk in the Bulldogs' 7-3 win.
The Biloxi native kept his hot streak going in the first game against the Golden Eagles. He went two for four at bat yet again, scoring one run as MSU breezed to an 8-1 win.
The Bulldogs and the Golden Eagles played a winner-take-all final game shortly after, and Brown launched the ball out of the park for a second time. He went one for three with another homerun, three RBIs and a run scored in MSU's 8-6 win.
During the course of the regional, Brown went 10 for 19 during the regional with two homeruns, seven RBIs and four runs. His effort saw him earn the title of Most Outstanding Player for the Hattiesburg Regional and a spot on the All-Regional Team with several teammates, including second-baseman Hunter Stovall, shortstop Ryan Gridley, outfielder Jake Mangum and pitcher Jacob Billingsley.
Before playing at MSU, Brown was a multi-sport letterman at Biloxi High School, where he also played football and soccer. In his senior season, 2012, he had a batting average of .324 with two triples, two homeruns and five doubles, earning ESPNHS All-State Team honors and his third All-District selection.
The Bulldogs redshirted Brown in 2013, but his first chance to play came a year later. He posted a .248 average with 28 hits, 25 runs, 16 RBIs, three doubles, two triples and two homeruns while appearing in 47 games with 30 starts in the 2014 season.
He improved his stats in 2015, batting at a .309 average with 46 hits, 30 runs, 16 RBI, 14 doubles, two triples and a homerun, playing in 51 games with 38 starts. His numbers slipped last year, when he appeared in just 43 games with 20 starts and averaged .241 batting with 20 hits, 19 runs, 13 RBIs, three doubles, two triples and two homeruns.
In his final season at MSU, Brown has bounced back. He is hitting at a .321 average and has already made 68 hits, 46 runs, 40 RBIs, 13 doubles, three triples and nine homeruns.
He will try to keep his senior season going by leading the Bulldogs past SEC foe Louisiana State University in the Baton Rouge Super Regional. The best-of-three series begins at 8 p.m. on Saturday, June 10, on ESPN2.
Game two of the Super Regional will be at 8 p.m. on Sunday, June 11, on either ESPN2 or ESPNU. Game three, if necessary, will be on Monday, June 12, on either ESPN or ESPN2, with a time to be determined.
If MSU wins, it will advance to the College World Series in Omaha, Neb., from June 17 to June 28.
More like this story