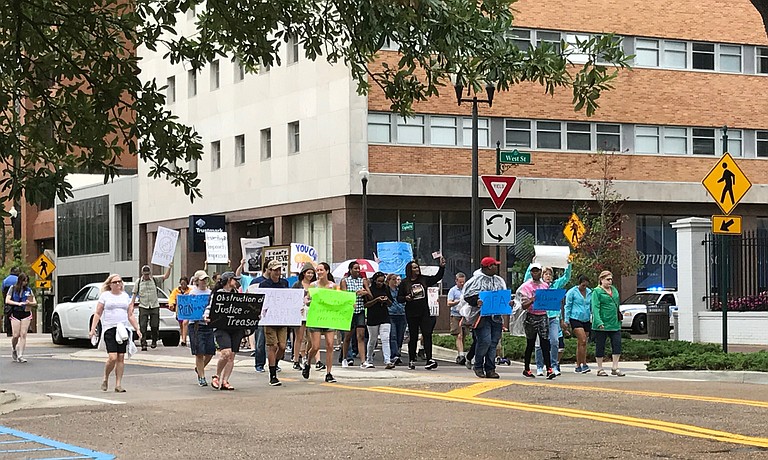 JACKSON — In the latest series of national marches since President Donald Trump's inauguration—the Women's March, march against current immigration policies and a march for science—the March for Truth continued the trend of protests around the nation.
On Saturday, the March for Truth protesters made their demands clear—an independent investigation into Russia's alleged interference in the 2016 presidential election and the alleged ties between the Trump administration and Russia.
Despite pouring rain, the March for Truth Mississippi started its route on the steps of the State Capitol building. The group marched downtown as planned with the Jackson Police Department escorting about 40 people. Protests took place in larger numbers throughout the country, with marches in New York and Washington, D.C., drawing nearly a thousand protesters each, The Washington Post reported.
Indivisible Mississippi, a local political action organization, hosted the event. The group has done several organizing events and discussions about the current administration's problems.
Some legislators attended the rally. "It's a shame that we have somebody in the White House who we cannot trust," Sen. Robert Jackson, D-Marks, said. "Someone who would rather stand with Putin than to stand with the people of America."
"You think that things can't get worse," Rep. Kathy Sykes, D-Jackson, said. "But with Donald Trump it has gotten worse."
Sykes discussed Trump's budget cuts and how they affect the people of Mississippi negatively. "We really need to become active and speak and march and write letters and voice our opinions on this matter," Sykes said. "So, you got to speak up. We must speak up."
Rep. Alyce Clarke, D-Jackson, used her cane as she marched with protesters the entire route. She spoke before the crowd. "Thank you for doing what you need to do," Clarke said to the crowd. "Anytime you come out to work for yourself and for your families, you are doing what needs to be done."
Clarke said she is worried about the state Legislature's cuts to mental health care and other services. "Let your voices be heard because your voice does make a difference," Clarke said.
All the rally's speakers emphasized the accomplishment of the marchers who came out and spoke up. "That's what we are celebrating—democracy," Jackson said.
Correction: A previous version of this story misspelled Rep. Alyce Clarke's last name. We apologize for the error. Rachel Fradette is a summer reporting intern in from Michigan State. Read more local news at jacksonfreepress.com/city.