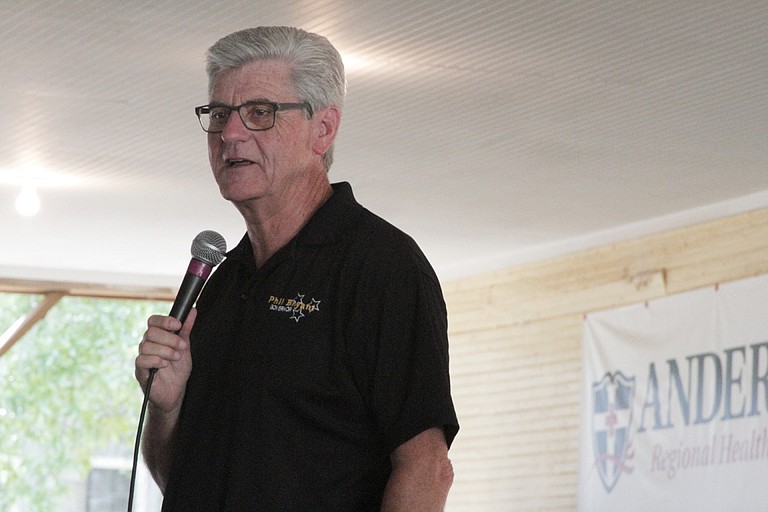 JACKSON — Gov. Phil Bryant praised incentives that Mississippi has used to bring large corporations like Nissan, Toyota and most recently Continental Tire to the state in his 21st Neshoba County Fair speech Thursday.
Bryant also decried efforts underway to unionize at the Nissan Plant in Canton.
"I don't think we need a union to come in there and tell us how to make a better automobile," Bryant said. "They can get back on the Bernie Sanders bus and go back to New York, and I'll pay their way. We're doing just fine, thank you very much."
Sen. Bernie Sanders, a Vermont Independent, came to Mississippi in March in support of automotive workers who marched on the Nissan plant in Canton demanding an opportunity to vote on unionization. Workers will vote next week on whether or not they want the United Auto Workers to represent them.
After his speech, Bryant told reporters that bringing unions into the state would result in destroying the automobile industry like it did in Detroit or California, he said.
"You have to go no further than Detroit, once the world's automotive center; now it is a part of the rust belt. So if you want to take away your jobs and end manufacturing as we know it in Mississippi, then just start expanding unions," he told reporters.
In the speech, the governor reiterated his continued support for tax breaks and incentives that, he says, brought Ingalls Shipbuilding to the Gulf Coast back in the 1960s. He said incentives lead to work for Mississippians, at corporations like Toyota or Nissan.
"Those people that are working there, those wonderful Mississippians, are able to live the American Dream," he said. "They are able to make a good wage and put their children in a good daycare; they are able to send their children to a wonderful university."
The governor also announced his latest effort in focusing on education in the state: daycare centers. Bryant said he plans to continue and revive efforts to introduce educational components to the state's daycare centers, through public and private partnership and funding. He said about 500 daycare workers in the state will receive workforce training through the state's community colleges, with state TANF (Temporary Assistance for Needy Families) funding.
"Many of those (daycare) workers are paid minimum wage and are expected to, I guess, maintain children that are there," Bryant told reporters. "Those are the most formative years from 6 weeks to 4 years—your brain is working faster than ever before, so we can move in ... with educational components there, teaching them some soft skills they need."
Bryant said he has discussed raising public funding with Jim Barksdale, a former CEO of Netscape who is on the Mississippi Economic Council.
Email state reporter Arielle Dreher at [email protected].