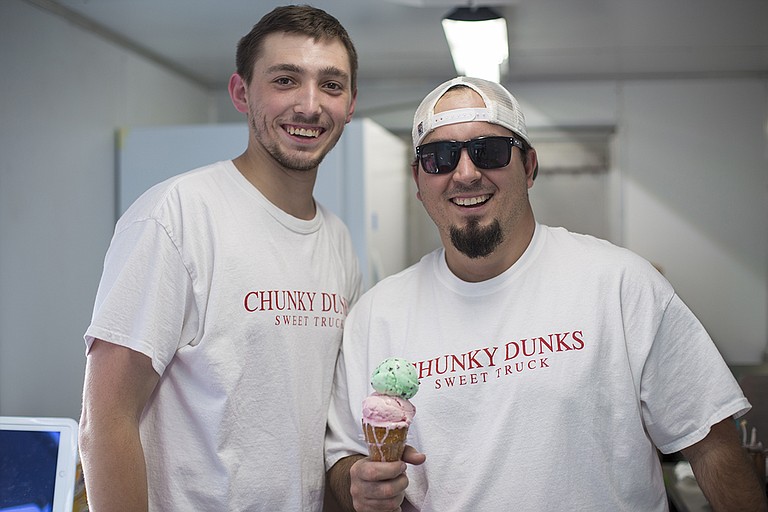 It's nighttime, and in a parking lot in Madison, people are lining up at a light-blue food truck with white and red stripes lining the bottom edge. This truck doesn't serve burgers or hot dogs or any of the other food-truck staples. Chunky Dunks Sweets Truck is an ice-cream food truck, and the only one of its kind in the state of Mississippi.
Four years ago, owner Will Lamkin and his wife, Leigh Lamkin, opened Livingston Sweet Shoppe, which served candy and ice cream. Two and a half years later, the Lamkins sold the store, and the couple got out of the ice-cream game for almost a year.
"We knew we wanted to do something food-truck-wise when we had our store," Will Lamkin says. "We just didn't have the time ... to do both."
He says that he and his wife missed selling ice cream to people, so they decided to open Chunky Dunks Sweets Truck. Leigh came up with the design, and It's Vinyl Y'all in Madison did the wrap for the truck. "It looks like a giant popsicle coming down the street, so it's awesome," Lamkin says.
The business, which opened June 1, does hand-dipped ice cream, which he says is a rarity even among food trucks that serve ice cream. Many serve soft-serve ice cream, instead. Chunky Dunks serves standard ice-cream fare such as malts, shakes and ice-cream cones, including pretzel, chocolate-dipped and regular waffle cones. They change the flavors of ice cream daily.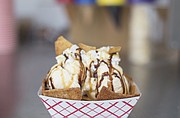 Lamkin says that he deliberately made Chunky Dunks more like a food truck, as opposed to an ice-cream truck so that the business can serve more than just prepackaged treats. The business has dishes such as its number-one seller, ice-cream nachos, which come with cinnamon-sugar tortilla chips, ice cream, chocolate and caramel syrups, and whipped cream.
Chunky Dunks also has an item called waffles and cream, which is ice cream served over a waffle and topped with caramel syrup and bacon.
"It's more of a meal," Lamkin says. "... You're skipping your burger and going straight to that. It's naptime after you eat one of those."
Right now, he says that he's working on an ice-cream sandwich with a donut bun, which he plans on releasing in the fall or winter.
Besides setting up in parking lots around Madison County and participating in CSpire's weekly Food Truck Friday, the business has also done weddings, birthday parties and bigger events such as the American Cancer Society's Tennis Classic Opening Night on July 14. However, he says that their business doesn't patrol around neighborhoods like a traditional ice-cream truck, mainly because Chunky Dunks' model requires more prep work.
He says that when starting this business, it was important to him to support local. The business is family-operated, and the ice cream they serve comes from LuVel Dairy Products in Kosciusko, Miss. In the future, he plans on taking part in more community events and says that Chunky Dunks will participate in Food Truck Friday when it comes back to Smith Park some time this fall.
For more information, find Chunky Dunks Sweets Truck on Facebook or Instagram.