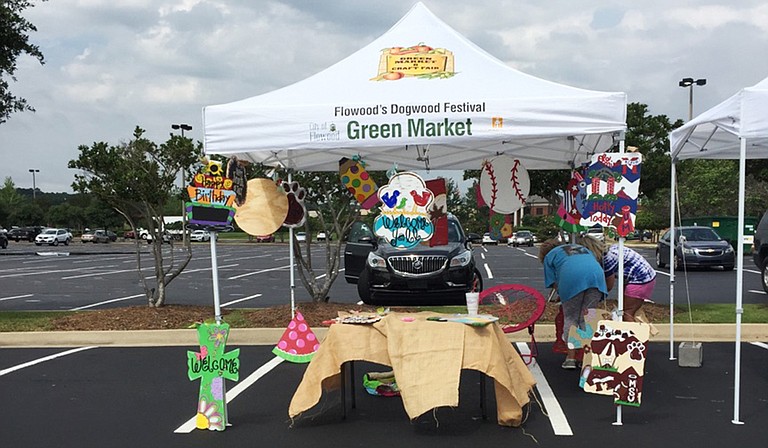 On each Saturday through August, an attraction called the Green Market and Crafts Fair sits at Dogwood Festival Market in Flowood. Maureen Denard, who is the director of marketing for Dogwood, and a team of colleagues decided to bring the Green Market and Craft Fair to the Dogwood Festival Market in 2015 after researching new ways to bring the community to the area for the benefit of both consumers and the retailers at the shopping center.
"By bringing in consumers with the Green Market and Crafts Fair, we're not only providing them with produce and crafts, but we're drawing their interest to the stores that we have here at the ... market," Denard said.
For the market and craft fair, local vendors set up shop at Dogwood on Saturdays through Aug. 26. Farmers such as Cindy Ayers-Elliott, who owns Foot Print Farms, provide the community with locally grown produce and other food items, and local crafters provide goods that people may not be able to find within Dogwood Festival Market on a daily basis.
"We're having a very successful season working with the market," Ayers-Elliott told the Jackson Free Press.
She says the business has been selling tomatoes, onions, bell peppers, Jamaican green callaloo, which is high in protein and fiber, and cantaloupes and watermelons, and more.
"With 2017 being the third consecutive year of the market, we have seen an increased interest from growers and crafters to participate at Dogwood Festival," Denard said. "We anticipate the number of vendors to increase with each year of the market and the community to then have an increase in their interest, too. Both of those combined have great potential for out retailers own growth in their businesses in Flowood, which then helps the local Flowood economy."
In August near the end of the fair, Dogwood Festival Market hosts a Family FUN Day for the community for their participation, as well as the seasons to come.
"The past two years we've held a harvest festival on the last day of the Green Market & Craft Fair, which is free for the community, to celebrate the end of the growing season, and we then return in the spring," Denard says.
The Green Market and Craft Fair began in June and continues throughout the summer months of July and August. The fair is every Saturday from 11 a.m. to 3 p.m. in the Dogwood parking lot near Metro Boulevard.
"We wanted to bring the community into Dogwood Festival Market on a weekly basis, to not only see the stores, restaurants and services at the shopping center, but also to reinforce the importance of shopping local," Denard said.