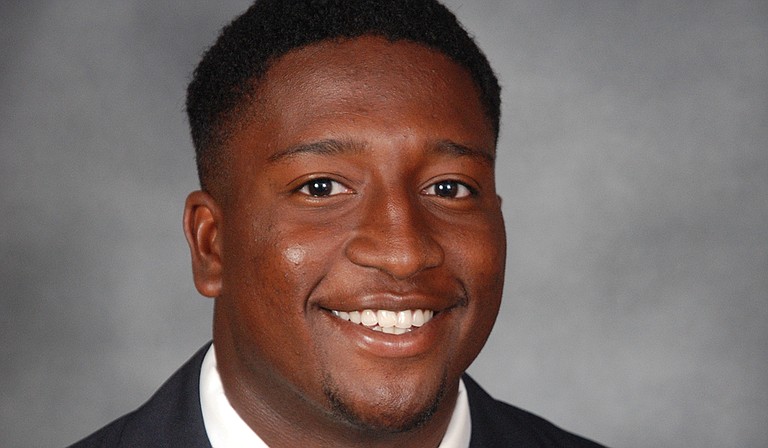 Jackson State University left SWAC Media Day as the pick to finish third in the East Division. The Tigers are hoping to improve from last year's 3-8 record under second-year head coach Tony Hughes.
The Tigers' defense could end up leading the team in returning to the top of the SWAC, and the pressure to wreak havoc on opposing offenses will fall on defensive end Keontre Anderson, who was named Preseason Defensive Player of the Year during the conference's media day. Anderson led the nation at the FCS level last season in tackles for a loss with 25.5.
The 6-foot, 4-inch, 230-pound defensive end stands out by wearing the number 14 on his jersey, which is normally the one for a quarterback, wide receiver or kicker, but Anderson is also becoming a beast on the field for JSU.
Several scouting sites, including ESPN.com and 247sports.com, had him as a three-star recruit out of Canton High School. He picked Jackson State over several offers, including the University of Mississippi, Mississippi State University and the University of Southern Mississippi.
As a true freshman, he played in 10 games for the Tigers and made 36 total tackles with 10 solo tackles, seven tackles for a loss, 2.5 sacks, one pass breakup and one forced fumble.
Anderson didn't have to worry about a sophomore slump. The defensive end played in 11 games the next season and racked up 59 total tackles with 15 solo tackles, 12 tackles for a loss, 3.5 sacks and two pass breakups. It is impressive that Anderson improved on his freshman stats, with opposing coaches and players being better prepared to face him in this second season.
Anderson broke out as a superstar for the Tigers and potential NFL prospect last season. The junior posted 55 total tackles with 31 solo tackles, 25.5 tackles for a loss, 8.5 sacks and one forced fumble. He even returned one punt for 22 yards last season.
In his three seasons at JSU, Anderson has made 150 total tackles, 56 solo tackles, 44.5 tackles for a loss, 14.5 sacks, three pass breakups and two forced fumbles. He led the SWAC in tackles for a loss, second in sacks and tied for 32nd in tackles.
Anderson was not only was named Preseason SWAC Defensive Player of the Year but was also named first-team All-SWAC during Media Day. He is the only JSU player to earn first-team honors.
Jackson State opens the season on Saturday, Sept. 2, on the road against Texas Christian University. The game will be one of the first tape NFL scouts put on when they want to see how he might fit in at the next level.
More like this story