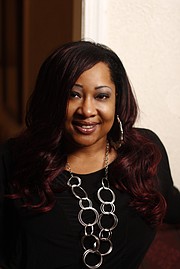 Whenever Daddy drove to the top of our street and turned to the left, I knew we were heading to "The Garden." I wasn't a kid who enjoyed playing in dirt much, so I wasn't a huge fan of driving to Bolton, Miss., to The Garden. Besides, it required so much time. It wasn't very entertaining for a youngster like me. I spent most of the time on the curb watching. I was fascinated by the big tractor that turned flat land into rows of plowed earth. Sometimes Daddy would let me ride with him. But mostly, I just watched and tried to stay out the way. The Garden started as a dream intended to service the community. But it had an even larger purpose.
My family's first real lesson in teamwork began in those fields in Bolton. When we were working in that garden, everyone having a job of their own sparked the backbone of togetherness for us. We learned to lean on each other. Each person's contribution was significant, and no one's job could be done well if the person before them didn't do their job well. If each person did their assigned task, the vegetables were planted, picked, cleaned and packed in the van so that the next day would be "Sell Day."
My part didn't start until all the veggies were ready for distribution. I repeated after my daddy, yelling from the passenger side window, "Fresh vegetables here! Get your turnips, mustards, greens for sale!" Oh my, the power I felt sitting next to him. He'd often just look over at me and smile. I am certain he was proud of himself for having a daughter so excited about doing something he enjoyed.
It was indeed exciting. It was an opportunity to see my dad take something he'd nurtured and cared for and turn it into something profitable. It became a significant part of his income, and I got to see him take the steps to make it a reality.
I had no idea that money was a challenge, and this was his way to make ends meet. For him, my glee was pleasurable, but he still had the pressure of feeding his family. A pressure that, as a youngster, I knew nothing about.
My daddy probably had days when he wanted to just stay in bed and call in. But he was the head of this family and the business, so who would he call in to? How would we eat if he didn't get up and go get the food? How would my mom feed us if she had nothing to cook? We had a good meal for breakfast, lunch and dinner. I'm sure that was his first thought every day. He took careful consideration into making plans and nurturing these plans into reality. He didn't simply decide, "I'm going to start a garden," and then start laying out fresh foods on the kitchen table.
He had to take steps to accomplish the end result, which was selling the vegetables. A lot of work went into getting to the final pay off. Each person had a responsibility, and each job had significance.
The value of creating something worthwhile from start to finish seems to have lost its steam. People want to go from idea to being rich, skipping the work in the middle. The idea of working to serve others gets crossed with the need to gather fans, followers and fame. Having a mind of leadership is a blessing, and I don't believe everyone has it innately. I do believe people can achieve it through pure desire and hard work. But having a heart to serve isn't something that can be taught.
It's an awesome notion to want to be in business for oneself. It's commendable to want to make your own money and not have to clock in or make someone else rich. We all have dreams of being great. But, a dream without action is a plan. A plan without precise study is an idea. Ideas don't turn into successful businesses without determination and sweat. It doesn't matter what you choose to do—success will not fall in your lap while you hope and dream. The only way to win is to prepare and suit up for the game. When you fail, you don't stop. You keep going. That is, if you really have a desire to succeed, and you're not just pitching ideas into the wind.
Be prepared to fall down. Be prepared to make sacrifices to get to the big pay off. Even if the pay-off only feeds you one day, it gives you strength to go back the next day and start again.
One day I may find myself in a garden, growing my own food—or not. The point is that my daddy taught me how to, and if I chose to, I could do it. I could feed my family and create another business owner by simply dragging my daughter along for the ride. Thanks, Daddy!
Funmi "Queen" Franklin is a word lover, poet, a truth yeller and community activist. She is the founder of an organization that promotes self love, awareness and sisterhood.